As your travel guardian angels we often write about and share our experiences of the destinations we've been lucky enough to visit, but enough about us, let's talk about you. Let's talk about the amazing places and experiences we've organised for our lovely clients this year. We're talking intrepid honeymoons, adventurous sabbaticals, secret beach breaks, fun-filled family getaways, cultural escapades and much, much more. We've sent people to over 100 countries so far this year (102, to be precise) and here are just a few of our favourites...
An African Adventure
This African adventure took in three countries and countless experiences, from guided tours of Victoria Falls in Zambia (and activities like bungee jumping, white water rafting and gorge swinging, for all you adrenaline junkies out there), to wildlife and epic scenery in Botswana's Okavango Delta, followed by some serious R&R on the beautiful beaches of Mozambique.
An Intrepid Honeymoon in Nicaragua
Nicaragua, although the largest country in Central America, is most certainly not on the well-worn travel path; it is bustling, mesmerising and completely charming. For two intrepid honeymooners we organised the ultimate exploration of this relatively hidden gem, taking in its comic book conical volcanoes, tropical forests, the inland sea of Lake Nicaragua and finishing up in total luxury on the Pacific Coast.
A Foodie Jaunt Around Puglia
Cured meats, artisan cheese, fresh seafood, gelato, pasta and yes, a fair amount of Prosecco. Italy has long been known as the foodie capital of the world and Puglia, on the heel of Italy's boot, absolutely lives up to the reputation. Add to that historic towns typified by winding streets and beautiful architecture, undulating hills covered in olive groves and a beautiful coastline and you're on to a winner.
An Indonesian Volcano Odyssey
Indonesia is a land of wild, rugged scenery typified by verdant jungle, unspoilt beaches and volcanoes looming large. And it was the volcanoes that took centre stage of this trip, during a tour of the islands of Java, Lombok and Bali. From watching the sunrise over Mount Bromo on Java, to visiting Bali's sacred mother mountain, Agung and finally Rinjani on Lombok, a trek that includes an overnight stay on the crater rim, looking out over a bright aqua crater lake, with spectacular views of the Gili Islands.
A Birthday Bash in Morocco
Excuse us for a moment of unabashed self trumpet-blowing but this next trip was something of a triumph of logisitical planning. The brief was to send 26 people, flying at different times from different places, to the exclusive Amanjena resort in Marrakech for the birthday bash to end all birthday bashes. And what a place to celebrate; Amanjena, situated in the tranquil Palmeraie area on the edge of Marrakech, has a 100ft swimming pool, tennis courts, beauty centre, golf course and is ideally placed for trips into Marrakech and out to the Atlas Mountains.
A Family's First Holiday, Cyprus
Your first holiday en famille can be, how to put this, stressful - when really all you want is to really relax and get away from the chaos that is child-rearing for a time. Which is where we come in. Our pick of the bunch this year for families with young children has been Cyprus, and in particular the Anassa. Its Baby Go Lightly offering allows families to pre-order all the necessary paraphernalia, from high chairs to bottles, toiletries to swimming aids, and everything in between. All you need to do is give us a ring and we'll do the rest.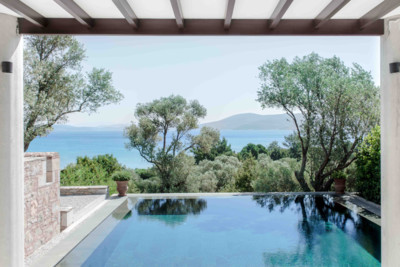 And in other news...
The weather. It's really all we Brits talk about these days. Will it be sunny today? Will it rain? Probably both, to be honest - the Great British Summer seems to have something of a split personality this year. If only there was somewhere you could escape the uncertainty and soak up some late summer sun... oh wait, what's this? Turkey's Amanruya has some fantastic special offers for both families and couples at the moment, which include a complimentary upgrade at the time of booking, exclusively for Original Travel clients. Apart from the glorious weather and luxurious surroundings, Amanruya is a great base for some cultural exploration of nearby villages and towns.