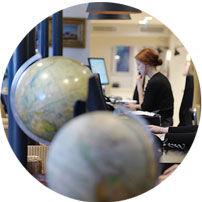 As interest in the 'Stans' grows, Kyrgyzstan is starting to appear on the radar for savvy travellers looking for unspoilt, off the beaten track destinations. This beautiful country is dominated by the Tian Shan, a heavenly (literally - 'Tian' means heavenly in Mandarin) mountain range that borders neighbouring China. The range is home to some of the tallest peaks in the world, with the highest being Jengish Chokusu (coming in at 24,
400ft), but most walkers gravitate to Khan Tengri, the country's spiritual mountain and the world's most northerly 24,000ft plus peak. The Tian Shan mountains are a magnet for hikers, climbers, and alpinists from Europe and Russia looking for adventure in pristine, glorious surroundings.
A few of the benefits of travelling with us
Review
What our clients say about us
This is the first time we went on a trip with Original Travel, a specialist advisor who listens to our expectations, and really the feeling of being pampered from departure to arrival. The concierge service is so efficient that we quickly become addicted.
Kyrgyzstan Guide
Practical advice, client testimonials and inspiration to help you prepare for your holiday
Contact one of our Kyrgyzstan specialists