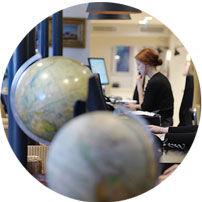 Georgians are kindred spirits to the English thanks to a shared patron saint, although neither country can claim too much ownership of the dragon-slaying medieval superhero, who actually hailed from latter-day Turkey. The Georgians went one step further and named their country after him, and it's by far the most common name for both male babies and churches. As to the country itself; well, it's lovely, and anyone with an interest in cultural and religious history or, for that matter, good food and fine wine, will savour Georgia holidays.
Georgia Holiday Ideas
A few suggestions to get the holiday planning process started
A few of the benefits of travelling with us
What our clients say about us
Georgia customer reviews (1 reviews)
4.5/5
Hats off to the Original Travel team, who once again showed their creativity and responsiveness on our recent trip to Georgia. We love your attention to detail and attention to your customers as if they were the most important people in the world. There was excellent organisation, a very good itinerary

and great support throughout from our consultant as well as our guide, driver and the excellent local concierge. Thank you so much, and we look forward to our next trips!
Georgia Guide
Practical advice, client testimonials and inspiration to help you prepare for your holiday
Contact one of our Georgia specialists