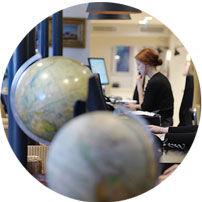 A trip around the world is the traveller's ultimate dream. Some imagine circumnavigating the globe in record time, stopping only to see the unmissable highlights; others prefer a more leisurely pace, selecting just the most unusual places; and others still set off by boat or by train, on the most extraordinary round the world honeymoon. Whatever your motive, your preferred route, or your longed-for destinations, our world experts will help you fine-tune your plan according to your heart's desire.
A few of the benefits of travelling with us
Review
What our clients say about us
This is the first time we went on a trip with Original Travel, a specialist advisor who listens to our expectations, and really the feeling of being pampered from departure to arrival. The concierge service is so efficient that we quickly become addicted.
World Tours Guide
Practical advice, client testimonials and inspiration to help you prepare for your holiday
Contact one of our specialists