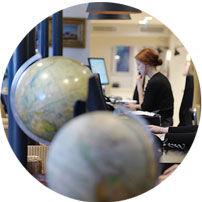 UEA holidays offer sun-starved northern Europeans that most precious of commodities: all but guaranteed sunshine, but also an ever increasing amount of activities to enjoy under that sun. The tiny Emirate of Dubai lead that particular charge, and has seen a seismic shift in growth over the past thirty or so years. Dubai may have lost some of its lustre after the 2008 financial crisis, however, but the
sun continues to shine and this remains an archetypal winter sun holiday destination. Abu Dhabi - the largest emirate - watched and took more than a few notes during neighbouring Dubai's meteoric rise. Not only have they now bailed out their profligate neighbours to the tune of $10 billion, but Abu Dhabi has learnt lessons and plotted its post-petroleum future far more strategically. So what does this strategy involve? Well, for starters, far more emphasis on culture. Yes, there are plenty of shopping malls flogging luxury goods, just as in Dubai, but also immaculate architecture such as an outpost of the Louvre, a spanking new mosque that cost a cool $545 million and the (hopefully) soon to open Guggenheim Abu Dhabi. The good news is that Abu Dhabi has even more to offer the luxury traveller, from cultural attractions to some extremely beautiful (and entirely natural) landscapes from offshore islands to the dunes of the Empty Quarter landscapes making it another great short(ish) haul winter sun destination.
United Arab Emirates Collections
A few of the benefits of travelling with us
Review
What our clients say about us
This is the first time we went on a trip with Original Travel, a specialist advisor who listens to our expectations, and really the feeling of being pampered from departure to arrival. The concierge service is so efficient that we quickly become addicted.
United Arab Emirates Guide
Practical advice, client testimonials and inspiration to help you prepare for your holiday
Contact one of our United Arab Emirates specialists