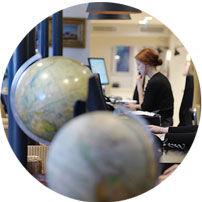 Argentina draws you in with its beautiful and diverse landscapes of tropical flora and fauna, fertile plains, dazzling white glaciers and colourful cities. Not to mention the fabulous cuisine and friendly people. Pretty much all Argentina holidays start in Buenos Aires, and that means mornings spent wandering the belle époque streets that look like Paris, but feel way hotter - and long nights spent drifting between bars and milongas, shrines to the sophisticated and seductive art form of tango. And then there's beef: great chunks of it. Bife de Lomo is tender and salty and instantly addictive; mate, the national drink, more an acquired taste.
Then hit the road, crossing Patagonia, and further south, Mount FitzRoy and the Perito Moreno glacier. At the bottom of the so-called 'Land of Fire', discover Ushuaia at the end of the world...
A few of the benefits of travelling with us
What our clients say about us
Argentina customer reviews (5 reviews)
4.4/5
Our Argentine experience was great, thank you for all your hard work. Buenos Aires was an amazing city, we had a wonderful guide and the Tango, I know a bit of a tourist trap, but it was terrific. We were most impressed by the level of professionalism. Both hotels were perfect. Glacier was also simply perfect.
Argentina Guide
Practical advice, client testimonials and inspiration to help you prepare for your holiday
Contact one of our Argentina specialists