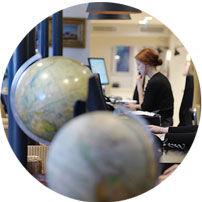 Mauritius is a delicious 'melanje' (creole for blend) of different cultures - Indian, Chinese, Malagasy, West African, French and British - making this a wonderfully diverse destination with an exceptionally eclectic cuisine to match. Exploring the lyrical landscapes here - sweeping white sands, turquoise seas, swaying palm trees and rose-tinted sunsets - makes it feel like you have fallen head-first into a postcard (and head-over-heels in love). From hiking through forests and boating around offshore islands to mooching around botanical gardens and treating your taste buds to a fiery dish of camerons
(freshwater prawns in a hot sauce) we guarantee that, no matter the length of your getaway, when your Mauritius holidays come to an end you won't be ready to leave.
Mauritius Holiday Ideas
A few suggestions to get the holiday planning process started
A few of the benefits of travelling with us
What our clients say about us
Mauritius customer reviews (1 reviews)
4/5
Great gym, fantastic spa, lovely tennis. Villa was brill, super comfy, had everything. Transfer company great. All in all, amazing.
Mauritius Guide
Practical advice, client testimonials and inspiration to help you prepare for your holiday
Contact one of our Mauritius specialists