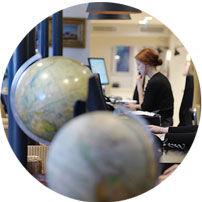 Iceland feels like the end of the earth. Often referred to as the 'land of fire and ice', Iceland's landscapes vary from one extreme to the other - ancient volcanoes and moss-clad lava fields sit in stark contrast to majestic fjords and ridiculously beautiful glaciers. In Reykjavik, the world's northernmost capital, you'll find architectural wonders such as the striking Hallgrímskirkja church with curved wings and the Perlan glass dome offering 360 panoramas of the surrounding mountains and sea. Beyond the city, Iceland holidays are all about admiring the fabled beauty of thundering waterfalls,
pale-blue lagoons and the natural phenomenon that is the Northern Lights, in a country that is - geologically speaking - the world's youngest, and still very much a work in progress. From the rainbow falls at Skogafoss and the explosive water fountain of Geysir to the Blue lagoon with its healing properties and nature's basalt steppingstones at Vic Beach, Iceland is brimming with weird and wonderful natural wonders. If you're lucky, while exploring the verdant rolling hills that fill the country, you may spot a troll or two hiding among the hillocks, or maybe it's the traditional Brennivin (Icelandic spirit) that is lulling your brain to believe wacky Icelandic folklore…
Iceland Holiday Ideas
A few suggestions to get the holiday planning process started
Iceland Regions
Discover more 100% tailor-made holiday ideas
A few of the benefits of travelling with us
What our clients say about us
Iceland customer reviews (3 reviews)
4.3/5
Iceland was AMAZING!!! It was the most incredible place and everything went to plan so well - you guys did an absolutely brilliant job. Thank you!
Iceland Guide
Practical advice, client testimonials and inspiration to help you prepare for your holiday
Contact one of our Iceland specialists