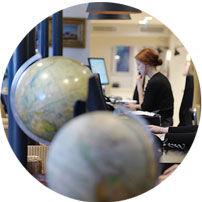 Barbados was the only island in the Caribbean to remain under the flag of one nation throughout the 300 year island-hopping, allegiance-swapping colonial era, and as a result there is still a strong sense of Englishness here. Palm-fringed, supercharged, 'Bling-land' admittedly, but England none the less.
A few of the benefits of travelling with us
What our clients say about us
Barbados customer reviews (2 reviews)
4.5/5
We were very satisfied with our trip to Antigua. We were delighted with the choice of hotel we were suggested, which was ideally located, and the food was really good (we were blown away by the variety of dishes they offered!). The people there were very friendly and cheerful. That's it, really, other than to say thank you for your advice,

we had a great holiday and will use definitely use Original Travel for our next trip.
Barbados Guide
Practical advice, client testimonials and inspiration to help you prepare for your holiday
Contact one of our Barbados specialists