Meet William and Nicola
A young couple from London, William and Nicola were hoping for the honeymoon of a lifetime. William loved planning things himself while Nicola was in the 'leave it to the experts' camp. Here's what happened when we asked them to record every step of the two different approaches.
What they wanted to book
A ten-day honeymoon of a lifetime in Brazil
Return flights in economy
Accommodation at three different lodges
All in-country transfers and local guides
The Results
How their booking experiences compared
Before confirming, we ensured that the honeymoons they had come up with were like for like, star for star.
Not recorded: Time spent day dreaming.
How easy was it to get impartial, first hand advice?
'The information I read as I researched online seemed biased in places but cross referencing on forums was helpful to get a more balanced view.'
'Original Travel's advice felt completely honest. Oliver knew Brazil well and was very frank about what he thought we wouldn't like as well as giving us lots of inspiring options'
Confirmation emails received
15
Printouts required for travelling
14
Did you receive a personalised digital itinerary, complete with tips and advice, and available on an exclusive app?


Access to our local Concierge throughout the trip
✕
An app, loaded with your itinerary, maps, and a detailed dossier on your destination
✕
Protection from exchange rate movements
✕
Financial protection through travel industry bonding
✕
Booking complete, how much management will you have to do while you're away?
'I've printed everything but a couple of the day trips still need confirming so I'll have to do a spot of WiFi hunting in location.'
'None! The app works brilliantly, and the concierge is on hand should I wish to make any changes while away.'
The Verdict
Time difference: 50 hours
'Choosing Original Travel seems like a no brainer now. The support, experience, guidance and honest advice we received from them was incredible and we still felt totally in control. Oliver has not only made us excited about the trip but well prepared and relaxed!'
William and Nicola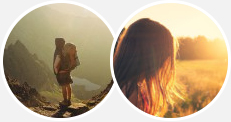 Don't risk exposing yourself to exchange rate movements
You might be booking your holiday as much as a year in advance. You come to pay your bill at the end of your holiday and because your home currency has weakened by 15% you're suddenly paying much more than you expected plus all sorts of nasty bank charges. OK, the currency might just as easily strengthen and it could end up being cheaper for you. But do you really want to take that risk? It's worth also being aware that some travel companies may sting you for a currency moving the wrong way between booking and travel. Amazingly they are legally allowed to do this. We never surcharge because of foreign currency movements. We manage our foreign currency requirements very closely and always aim to protect our clients from the horrors of surcharging.
If you still want to go it alone
NO HARD FEELINGS
We're passionate about our destinations and want to make sure you have a wonderful time irrespective of whether or not you decide to book with us, so we're happy to send you our destination dossier to help you enjoy your holiday more. Request a free destination dossier.
And finally, even if you don't book with us we'd love to know how it went. No, we're not joking - we'd like to hear if you had a nice time, what worked, what didn't, and yes, maybe we'd like to know whether or not we can help with your next trip!