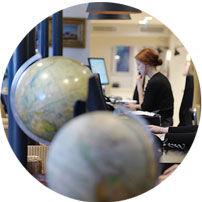 The Philippines consists of an archipelago of over 7,000 islands, with a combined shoreline longer than the US. Colonised by the Spanish in 1521, the country takes its name from king Philip of Spain. In 1898, it became a colony of the United States, as a result of which it is now the third largest English speaking country in the world. Filipinos have a rich and colourful culture, combining Asian, European,
and American influences, and the country's natural physical beauty is making it an increasingly popular destination for travellers. The immaculate Amanpulo on Pamalican Island has long been an Original Travel favourite, but that left 7,099 other islands in the Philippines just begging to be turned into luxurious eco-retreats. Many of the islands don't even have a name, and the Philippines seems to float on its own in the Pacific. Separated from Indonesia and Indochina by miles of ocean, the country's history is relatively undramatic; unlike many of its neighbours, it has not seen the rise and fall of dynasties. This may be due to the archipelago's linguistic, cultural and racial diversity - over 111 dialects are spoken in its various regions.
Philippines Holiday Ideas
A few suggestions to get the holiday planning process started
A few of the benefits of travelling with us
Review
What our clients say about us
This is the first time we went on a trip with Original Travel, a specialist advisor who listens to our expectations, and really the feeling of being pampered from departure to arrival. The concierge service is so efficient that we quickly become addicted.
Philippines Guide
Practical advice, client testimonials and inspiration to help you prepare for your holiday
Contact one of our Philippines specialists