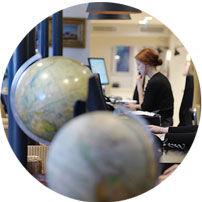 Jamaica is the third largest of the Caribbean islands, and one of the most attractive. The island's interior is characterised by beautiful mountains and valleys covered in lush tropical vegetation, while the coast has many beautiful beaches, all of which presumably explains why Christopher Columbus once described Jamaica as 'the fairest isle mine eyes ever beheld'. Even better, this fair isle also has
a rich history and a vibrant melting-pot culture, which means that Jamaica holidays offer far more than those on many smaller Caribbean islands.
A few of the benefits of travelling with us
Review
What our clients say about us
This is the first time we went on a trip with Original Travel, a specialist advisor who listens to our expectations, and really the feeling of being pampered from departure to arrival. The concierge service is so efficient that we quickly become addicted.
Jamaica Guide
Practical advice, client testimonials and inspiration to help you prepare for your holiday
Contact one of our Jamaica specialists