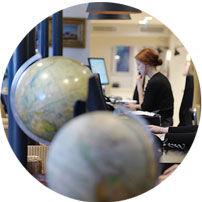 South Africa is an exhilarating and spectacularly beautiful destination, sometimes described as 'a world in one country' as it's home to everything from deserts, forests and savannahs to mountains, beaches, game reserves and vibrant cities. In short, South Africa is one of the most, if not the most, stunning and varied countries on the planet, but South Africa holidays are about more than appreciating the scenery - the fun is in engaging with it. Sample the sensational vintages produced in the Cape Winelands with a picnic in the sunshine. Track game in one of the many family-friendly game reserves to the soundtrack of the savannah.
Spot the infamous 'Big Five' and track the very smallest dung beetle or create a paw print plaster of Paris and collect porcupine quills with your expert guide. Watch whales breaching on boat trips off the south coast. Walk the trails of the Drakensberg Mountains, visit Gandhi's house in Johannesburg or gain a better understanding of life in the country on a visit to Soweto. Only then can you truly appreciate the 'Rainbow Nation', which is brimming with things to do, see and experience.
South Africa Holiday Ideas
A few suggestions to get the holiday planning process started
A few of the benefits of travelling with us
What our clients say about us
South Africa customer reviews (3 reviews)
4.3/5
To say we had the holiday of a lifetime would be an understatement. The attention to detail was unbelievable and it's those things that helped contribute to the great time we had. Given my brief was pretty vague(!), you did an incredible job at creating the most magical of holidays. I could wax lyrical

about all the amazing things we saw and did but I won't bore you. But suffice to say, it really surpassed all of our expectations and then some! My husband loved it and both boys have got some memories that will last them a lifetime. The team (and I mean a team!) listened to my rather vague ideas and came up with a wonderful plan for my holiday, which had a significant meaning and they were really respectful of that. Their attention to detail was fantastic, their communication was great and the holiday itself was wonderful in every way. They even handled my last-minute panic (my son was ill 48 hours before we were due to travel!) with calmness, reassuring me and putting an alternative plan into place, should we have needed it (thankfully we didn't!). I would not hesitate to recommend them or indeed use them again. The only downside - they have rather spoilt me for holidays as I only want to do big, 'holidays of a lifetime' with them....! Incredible on every level. The locations, the staff, the resorts, the little touches, the smooth transitions, the planning, the detail - just fantastic.
South Africa Guide
Practical advice, client testimonials and inspiration to help you prepare for your holiday
Contact one of our South Africa specialists
What are the best options for a South Africa holiday?
Our experts at Original Travel have travelled the length and breadth of South Africa, staying at the best lodges, trying out the best activities and sampling the finest wines (how could they not). Our favourites include the Kruger National Park and adjoining private game reserves, which are easily combined with those in KwaZulu-Natal, the kingdom of the Zulus, where some of the fiercest battles of both the Anglo Zulu and the Boer Wars took place, under the peaks of the dramatic Drakensberg Mountains. The Kruger National Park is a haven for wildlife, so keep your eyes peeled for anything from elegant impalas and waterbucks to trundling warthogs and zebras zipping to and fro.
The Cape Province, stretching the length of the southern coast, has a marvellous Mediterranean climate so it ideal for South African luxury holidaysbetween December and April. The province's capital, Cape Town, is the ideal place from which to begin an exploration of the south, starting with its own stand out attractions of Table Mountain, Kirstenbosch Gardens and Robben Island, followed by a road trip along the Wine Route and further still into the Great Karoo or east via the Garden Route.
South Africa is a great destination for couples, solo travellers or families (owing to the fact that many parts, and game reserves, are malaria free). The safari experiences, which are somewhat overlooked compared to other African counterparts, exhibit wide varieties of wild game and stunning landscapes, especially in the likes of the Eastern Cape and Sabi Sands Game Reserve. However, if you are short on time and fancy a quick getaway, Cape Town and the Winelands are ideal for a long weekend of wine, walking and whale watching. At risk of sounding like a broken record, South Africa can cater for all, making it a perfect destination for a tailor-made experience.
CAPE TOWN
The city of Cape Town is a great place to stay on any South Africa holiday. Bordered by the Atlantic and Indian Oceans and nestled at the foot of the amazing Table Mountain, Cape Town offers multigenerational activities that will be loved by couples, honeymooners, families and solo travellers alike. The city boasts fantastic white sandy beaches, such as Camps Bay, and plenty of great places to explore local drinks and cuisine along the Waterfront or on Long Street. There are also lots of sporting activities available for those who want an adrenaline kick, including hiking Table Mountain, shark cage diving, parachute jumping, surfing and kitesurfing. There are many remarkable sites to visit: Robben Island where Nelson Mandela was imprisoned, the Cape Peninsula and Cape of Good Hope, as well as Hermanus for one of the world's best whale watching spots. From Cape Town, take a trip along the wine route into the Cape Winelands. A weekend gives you plenty of time to discover the vineyards of Paarl, Franschhoek and Stellenbosch, with afternoons spent in the sunshine with a picnic. Finally, Cape Town is also the starting point for a road trip around South Africa, along the Garden Route, exploring the beaches of Plettenberg Bay, Knysna (famous for its oysters), Tsitsikamma Park and Jeffrey's Bay - a surfer's paradise. Some trips to South Africa will take you further north, to Durban, Kwazulu-Natal, and Swaziland, where you can admire beautiful handicrafts or even for a stay in the Drakensberg Mountains or on the wild beaches of Maputaland.
PARKS, LODGES AND SAFARIS
South Africa is an exceptional country for a safari holiday. The country has about twenty national parks and many private reserves brimming with wildlife and wilderness. The most famous is still Kruger National Park: one of Africa's largest animal reserves (roughly 7,500 square miles), which is a five-hour drive from Johannesburg. During your South African safari in a 4x4, you will have the chance to see the 'Big Five': lions, leopards, elephants, rhinos and buffaloes, which can all be seen throughout the year, with the best period between July and October.
Heading east to Limpopo, you will have the chance to discover the amazing views of the Blyde River Canyon. From here, head to Marakele National Park in the heart of the Waterberg Range where you can make a pit stop at the Marakele Animal Sanctuary, before venturing further north, on the border with Zimbabwe, to Mapungubwe National Park, which offers a vast zoological and archaeological heritage. Accommodation within the park is usually in lodges and these luxury establishments have been designed to protect the environment and to extend the animal watching experience as much as possible. If you want to travel with your family to South Africa, be sure to let us know in advance as lodges sometimes only accommodate children of a certain age.
JOHANNESBURG
Johannesburg has a bad reputation, yet it has many historical, natural and cultural treasures as any other South African hub. Spending two or three days in the city is a must when on a South Africa holiday. A particular favourite of ours is discovering the many sites linked to Gandhi, who lived in this country for 21 years. Among them is Constitution Hill, the seat of the current parliament and the place where Gandhi was previously imprisoned. Travel to Soweto and follow in the footsteps of Nelson Mandela, symbol of the anti-apartheid struggle, with a visit to Mandela House and Museum. Equally worth a visit is the deeply moving Apartheid Museum for an insight into South Africa's traumatic past. Johannesburg is also an artistic city, with many galleries including 70 Juta as well as plenty of opportunities for shopping in the CBD and Sandton neighbourhoods.
Discover our homely hub in Johannesburg - Satyagraha House. Built at the turn of the last century, it was home to a special guest: Mohandas Gandhi. Now restored to its former glory, it is listed as part of the city's historic heritage and is home to a museum – history afficionados will love it. This site of historical importance has also been converted into a guesthouse so take the opportunity during your stay in South Africa to relive an important part of the country and the Mahatma's history.