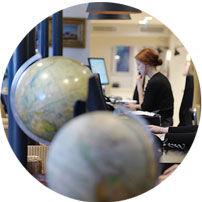 The land of lights, glitz and gold. The only question you should be asking yourself before a USA holiday is what role you want to play. Whether it be donning a cowboy hat and boots on a Western set in Monument Valley, starring in a Nora Ephron film in Manhattan or heading to California to make it big under the Hollywood spotlight, the United States is the place to go big. With so many classic American landscapes and movie moments to choose from too, you are sure to be spoilt for choice. Stop by New England to see autumn in action and travel to New York to see where dreams are made of. In Florida, it's all about coast, colour and cuisine.
Drive in style down Miami's Art Deco Ocean Drive and dive deep into its underwater utopia, past reefs, shipwrecks and sharks. And if you're after a soundtrack to boot, then look no further than New Orleans and Nashville, Tennessee. Home to some of the best blues and country stars and bars in the land, you'll find yourself toe tapping, yeehawing and drink shotting in no time. And if you feel the urge to blow the cobwebs away, the United States of America isn't short of fresh air, with 423 national parks under its belt. Thanks to the likes of Ansel Adams and the Kolb Brothers, even its parks feel like they've had a bit of Hollywood fairy dust sprinkled on them. Really, every USA holiday will make you feel like you are part your very own Hollywood classic. So, without further ado – action!
USA Holiday Ideas
A few suggestions to get the holiday planning process started
A few of the benefits of travelling with us
What our clients say about us
USA customer reviews (3 reviews)
4.7/5
Yet again you guys delivered! We had a fantastic trip, wonderful accommodation. Well done to you and your team.
USA Guide
Practical advice, client testimonials and inspiration to help you prepare for your holiday
Contact one of our USA specialists