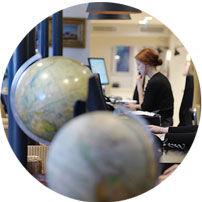 Don't let the weather or the prevalence of teen vampire novels set in the Pacific Northwest put you off visiting. The destination takes in the US region to the north of California and to the south of the Canadian border (some interpretations even include British Columbia in Canada) and this is a lesser-visited gem, with rugged landscapes, towering mountains and spectacular lakes. This is also prime road trip territory, where you can take your time driving up from San Francisco to Seattle through Oregon and Washington (State, not D.C; if you find yourself in front of the White House you've taken a serious wrong turn).
En route, you'll pass thriving vineyards on the sunny eastern slopes of the Cascade Mountains, temperate rainforests further upstate and lakes and waterfalls in abundance in Olympic National Park. Talk of rainforests, lakes and waterfalls might indicate a healthy amount of rain, and we're not going to lie - there's plenty of precipitation in the Pacific Northwest - but the silver lining to this particular raincloud is that this translates to lush green landscapes and a slew of watersports from white water rafting and kayaking to kitesurfing. Back on dry land there's hiking, cycling, mountaineering, skiing (from November to April) and generally gawping at the sheer magnificence of the Mount Rainier and Mount St Helens National Parks. So far so rural, but the Pacific Northwest's urban centres are every bit as intriguing as their country cousins. American coffee shop culture (and grunge, remember that?) began in Seattle with the launch of Starbucks, and Seattle and Portland are now home to countless artisanal coffee roasteries, the natural habitat of the region's skinny-jeaned hipster population. In a similar vein, the Pacific Northwest also produces some excellent craft beers, and this is the epicentre of the farm-to-table and locavore (only eating locally sourced produce) movements in the US. It's safe to say that wherever you go in the region you will be well fed and watered. It is even possible to enjoy a 'damn fine cup of coffee' and a slice of cherry pie at Twede's Café, the old school American diner made famous by David Lynch's seminal Pacific Northwest-set Twin Peaks.
The Pacific Northwest Holiday Ideas
A few suggestions to get the holiday planning process started
A few of the benefits of travelling with us
What our clients say about us
USA customer reviews (3 reviews)
4.7/5
Yet again you guys delivered! We had a fantastic trip, wonderful accommodation. Well done to you and your team.
USA Guide
Practical advice, client testimonials and inspiration to help you prepare for your holiday
Contact one of our USA specialists