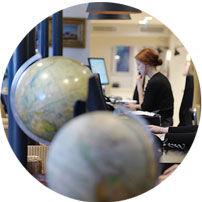 Visiting Morocco is an immediate and exciting immersion into another world, where Arab and Berber heritage, history and culture are inextricably bound. Put simply, Morocco is the most exotic destination in easy reach of the UK. To explore Morocco is to explore one of the most exotic countries in the world and in Marrakech - the country's one-time capital - you're right in the middle of it all. Head to the magical square of Djemaa el-Fna and you'll discover snake charmers and souqs, water carriers and public scribes scribbling love letters, all set against a backdrop of colour and commotion that
will leave you whirling from the very best kind of sensory overload.
Morocco Holiday Ideas
A few suggestions to get the holiday planning process started
Morocco Regions
Discover more 100% tailor-made holiday ideas
A few of the benefits of travelling with us
What our clients say about us
Morocco customer reviews (3 reviews)
4.7/5
Overall, I'd give the trip a 5+ out of 5. Very well planned and executed, even with last minute changes to my husband's travel. Thanks so much for one of our favorite trips thus far! We look forward to working with you again.
Morocco Guide
Practical advice, client testimonials and inspiration to help you prepare for your holiday
Contact one of our Morocco specialists