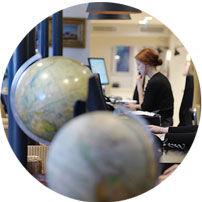 Turkey is home to some of the most noteworthy destinations on the planet, but your abiding memories of Turkey holidays are just as likely to be of the hospitality of this wonderful country's gentle people. One of the most fascinating cities on Earth, the capital Istanbul (one time Byzantium and Constantinople) is a must, as are the bizarrely sculpted landscape of Cappadocia and the shimmering coastline of the Aegean. Want to dig a little deeper - quite literally - in Eastern Turkey and you can visit Gobekli Tepe, built around 9500 BC and the oldest ever discovered temple. Or simply take a seat at
a taverna table anywhere in rural Turkey and while away the meal talking, laughing and gazing in awe as endless meze (small dishes) and pillowy pitta breads are placed in front of you. As the evening ebbs on, you'll be made to feel like part of the family and when you reach into your pocket to pay, you may be told 'not this time'. You'll have to, and will want to, revisit.
Turkey Holiday Ideas
A few suggestions to get the holiday planning process started
Turkey Regions
Discover more 100% tailor-made holiday ideas
A few of the benefits of travelling with us
What our clients say about us
Turkey customer reviews (1 reviews)
5/5
All in all we had a great time and it was pitched well, so thanks for all your hard work. All the contact with London and the fixer in Istanbul were positive and helpful, we were met and guided and driven everywhere and felt safe and looked after the whole time, so thanks again, it was really appreciated.

The food was good everywhere and service was mostly excellent.
Turkey Guide
Practical advice, client testimonials and inspiration to help you prepare for your holiday
Contact one of our Turkey specialists