Itinerary Highlights
Combine a visit to the great archaeological sites, with some beachtime and time spent discovering Cappadocia
Our selection of hotels offer both charm and comfort
Private tour of the ancient Greek city of Ephesus, boat trip and cooking lessons: design your trip to suit your interests
Dive into the Mediterranean Sea...
Contact one of our Turkey specialists + 44 (0) 20 3958 6120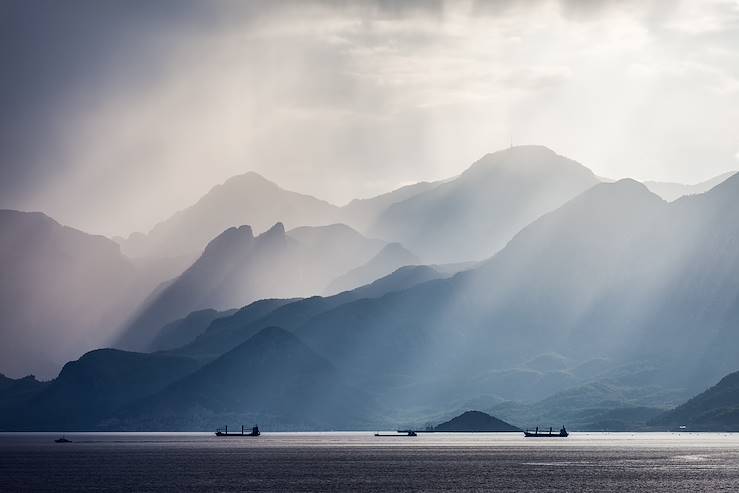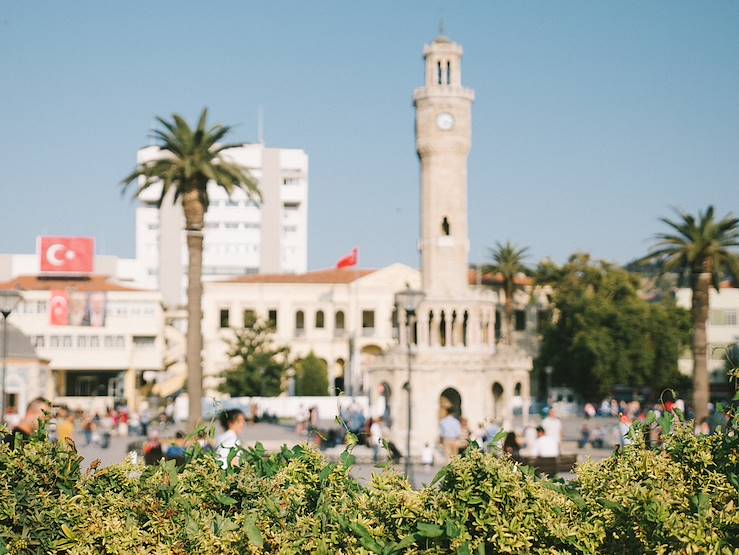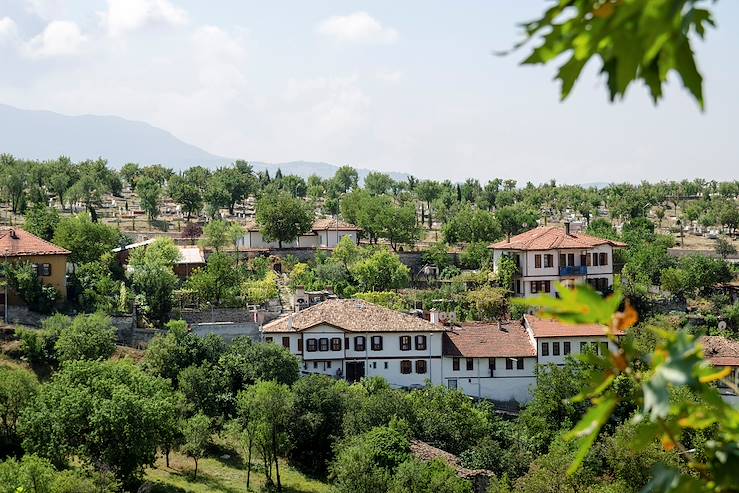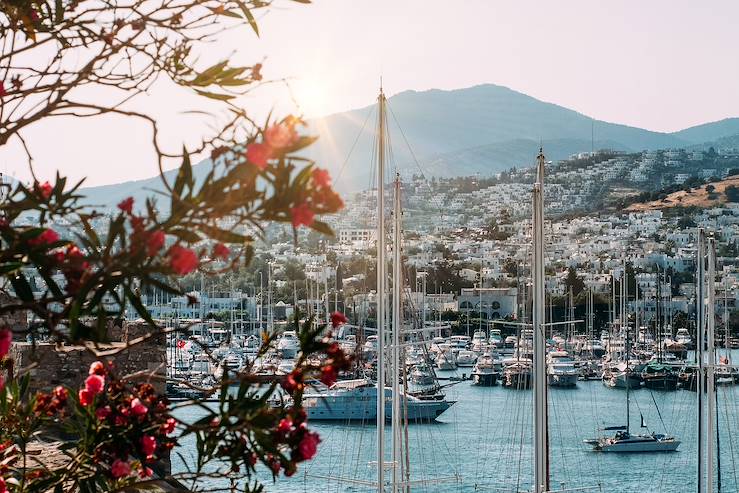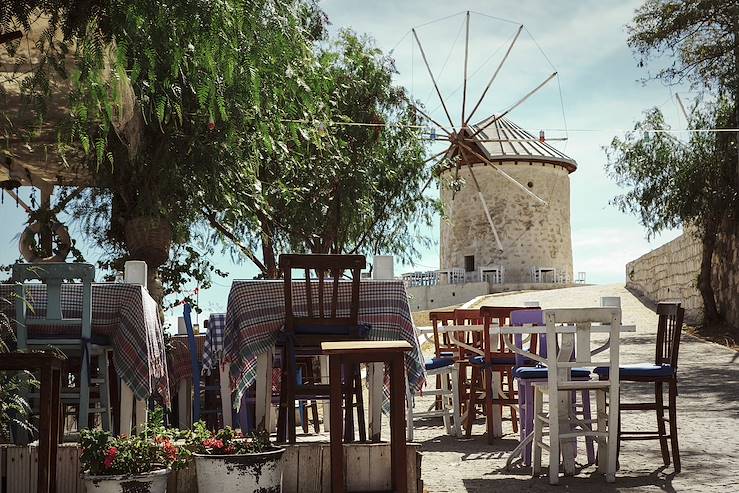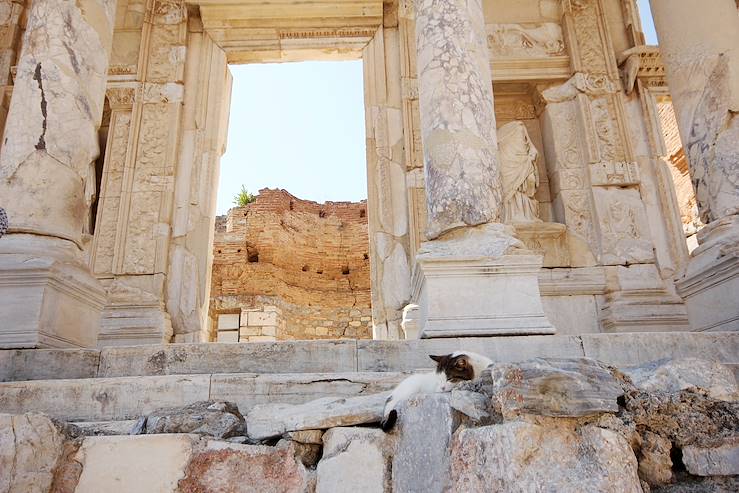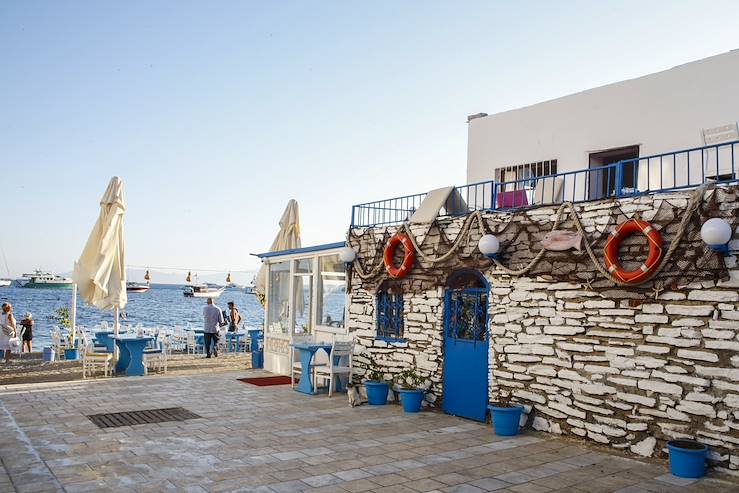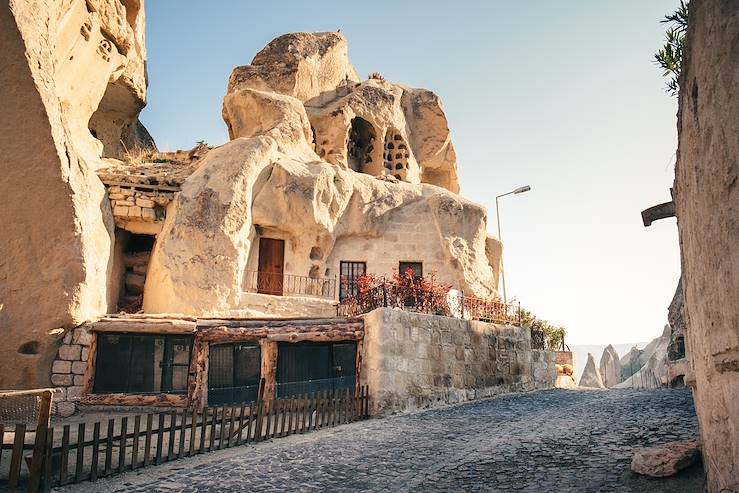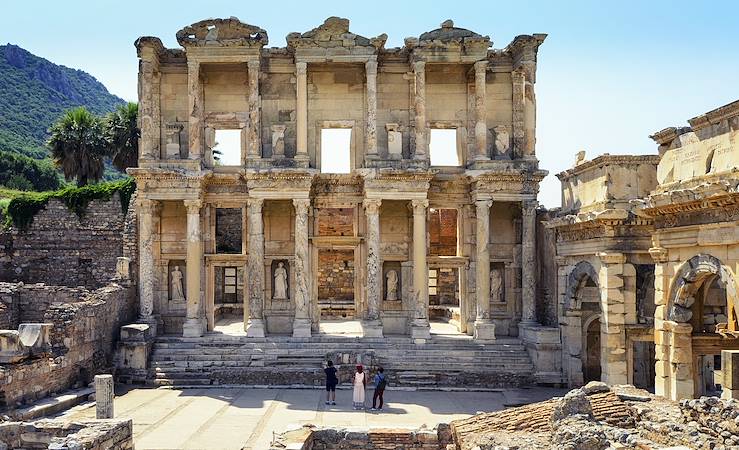 Your trip to Turkey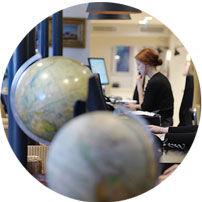 Ideal for a first visit to Turkey, this trip is great for discovering the iconic sites of ancient times (Ephesus, Didim and Aspendos) and includes accommodation chosen with great care for their comfort, views and charm, either in a historic setting or in a more contemporary style. The other advantage of this trip is that it combines cultural tours with bathing opportunities along the Aegean Sea and beautiful nature treks on the Cappadocian plateau. We've also punctuated this trip with legs of two to three days to make sure you're not always on the move and to give you the opportunity to discover different regions easily (or just relax). Recommended list of places to visit, your own personalised app and our
local Concierge service
: all
reasons to travel with us on this supremely organised and seamless trip.


On the way...
Visit Ephesus and the Aegean Sea
Blessed by the gods, the banks of the Aegean have a natural beauty thanks to their translucent waters lined with fine sand and fragrant pine trees, as well as the wild and little-known hills in the hinterland. A strategic area on the road to Asia Minor and the Far East, the region offers a rare concentration of ancient sites of which the largest (and most visited) is Ephesus, one of the greatest sites in antiquity.


Antalya Bay
Located in the heart of a large bay with crystal clear waters, Antalya is more than just a beach resort. Part rural and rustic, part modern and cosmopolitan, Antalya has a distinct cultural identity, clearly identifiable in its historic centre of Kaleiçi as well as its archaeological museum, renowned for housing one of the most beautiful collections of antiques in the Mediterranean. Surrounded by dizzying mountains, Antalya is also the perfect base for exploring natural wonders and captivating archaeological sites.


Cappadocia
The region is home to some of Turkey's most interesting ruins: a heritage built around medieval fortresses, underground cities and stone churches. A diversity that dates back to the early days of Christianity, which can be read in fascinating landscapes, sometimes lunar, sometimes dizzying (a case in point: Mount Ercies is 13,123ft above sea level).
Route
Everything is 100% tailored to you
DAY 1
Flight to Izmir - Sirince (56 miles)
Pick up your hire car when you arrive at the airport.
Things to see - Izmir, the cosmopolitan city where Greek was spoken as much as in Thessaloniki when it was re-seized from the Greeks by Mustafa Kemal Ataturk in 1922 to become Istanbul's commercial and industrial rival. Head to Sirince for a two-night stay in a charming hotel composed of two traditional houses hidden among roses and olive trees. A historic location that seduces guests with its rural feel and the incredible attention paid to their wellbeing.
Things to see - The site of Ephesus, miraculously well-preserved with its temple and a marvel of antiquity, is a definite must-see. The House of Virgin Mary on Mount Aladag and the Byzantine citadel are also worth a visit.
Things to do - Enjoy wine tasting in a cellar in the old village of Sirince - Stroll among the whitewashed houses of Kirazli (and check out the Sunday market).
DAY 3
Sirince - Bodrum (112 miles)
Head for the Aegean coast. The itinerary includes a visit to Priene, a perfect example of ancient town planning, and a relaxing break at the beautiful Lake Bafa. Don't miss: the Temple of Apollo within the ancient site of Didyma.
The fertile plains slowly give way to the sea... Welcome to the Bodrum Peninsula where you'll stay at a wonderful property with one of the finest views of the bay, complemented by beautiful contemporary decor, copious amounts of light and ethnic influences that blend neatly into the hotel's stylish design.
DAY 4
Bodrum - Gocek (125 miles)
On the way - Stop at Mugla, a picturesque village with its Ottoman homes, 'caravanserais' (roadside inns) and mosques. Two-night stay in a wonderful hotel with sea views and contemporary decor. This is an excellent base for your stay with several swimming pools, an enchanting spa and crystal clear waters at the beach, which is easily within walking and cycling distance... Walk to the nearby village and marina, stay a while, and when dusk falls, soak up the magical atmosphere of the lively terraces.
Wide bays, countless islands, soft sand: time to enjoy the endless delights of the beach.
Optional -Sail to Fethiye's 12 Islands.
DAY 6
Gocek - Kas (87 miles)
Things to see and experience -Visit the archaeological sites of Xanthos and Letoon - Enjoy the ancient theatre of Patara - Wander the small harbour of Kalkan or explore the abandoned streets of the ghost village of Kayakoy - Experience a diving or snorkelling session (the underwater world in this area is particularly beautiful).
Two-night stay in Kas in one of our favourite hotels in the region, with its refined design, balconies that open out onto the sea and respectful approach to the environment, starting with the cuisine, based on organic and local market produce.
DAY 8
Kas - Antalya (100 miles)
This beautiful coastal road, winding between land and sea, offers some wonderful stops: the village of Kaleucagiz, the beach of Cirali, the port and pine forest of Phaselis...
Three-night stay in the historic heart of Antalya in a beautiful and cosy 18th-century house, displaying the best workmanship in the region in the purest Ottoman tradition. This charming property takes on the appearance of a vast guesthouse rather than a traditional hotel thanks to its period mosaics, woodwork and tapestries.
Picking delicious fruit straight off the trees in the garden and relaxing on shaded patios make this a truly unforgettable stay.
A wonderful playground of discovery, starting with the old town of Antalya.
A little farther on - The ancient sites of Aspendos, Termessos, Perge, and Selge... Embark on your own adventure or explore with a private guide (optional).
DAY 11
Antalya - Konya (186 miles)
En route to the heart of Anatolia via Konya, regarded as Turkey's spiritual capital. Overnight stay in Konya.
DAY 12
Konya - Uchisar (143 miles)
It's time to visit Cappadocia. Three-night stay in a charming hotel full of character, which turns into a magical sight when dusk falls and the terrace lights up with lanterns.
Things to see - Goreme Open-Air Museum, fairy chimneys, the rock citadel of Uchisar and Pigeon Valley. There's a treasure trove of ancient wonders waiting to be explored.

DAY 15
Urgup - Kayseri - Return flight
Return your hire car and catch your flight home.
A la carte
Guided tour of Ephesus
The ancient city of Ephesus is one of the largest archaeological sites in the Mediterranean basin. Enjoy a tour with a private guide to gain a better understanding of the temples, caves and numerous ruins you encounter. This day trip includes an early start (the opportunity to have a traditional Turkish breakfast on your way) as well as a visit to the main attractions of the site (the Catholic shrine of the House of the Virgin Mary, the Temple of Artemis, the Ephesus Archaeological Museum and the Basilica of Saint John in Selcuk).
Optional - From Sirince


Cooking lesson in Anatolia
An original and gourmet discovery of Cappadocia: from your hotel, head to one of the region's oldest districts, Ortahisar. In a traditional kitchen, find out how to prepare 'tandoor' recipes: once a week, Cappadocian families light their clay tandoor ovens to bake their bread dough. Then, walk off lunch and explore the spectacular fairy chimneys of Akvadi.
Optional - Cappadocia


Goreme Valley
This delightful open-air museum and UNESCO-listed site features beautiful frescoes from the tenth to the 13th century. During this trip, discover the Zelve Valley (important Christian site since the ninth century), the Dervent Valley, the Gulludere Valley, and Urgup, a wine village with cellars waiting to be explored. Plan for a walk of one hour to 90 minutes.
Optional - Cappadocia
A Rough Idea of Price
Dependent on season, accommodation and activities
The estimated cost for this trip is £3,800 to £4,700 per person. The final cost of the trip depends on the way we tailor it especially for you. The final cost will vary according to several factors, including the level of service, length of trip and advance booking time. The exact price will be provided on your personalised quote. The average price for this trip is £4000 per person.
International flights with a scheduled airline to Izmir/Return from Kayseri (airport taxes included)
Car hire for two weeks
Stops mentioned in breakfasts
Our local Concierge service
A few of the benefits of travelling with us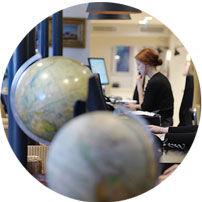 Get in touch
Our experts have the inside track on the destinations they sell and will tailor-make a holiday to your unique requirements.
Contact one of our Turkey specialists