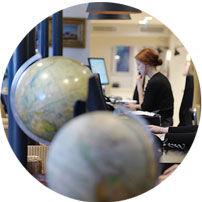 Tanzania holidays are all about that most potent of combinations: 'bush and beach', or, in non-industry speak, safari in glorious savannah followed by R&R and watersports galore along beautiful coastline. Tanzania's infinite plains and acacia-filled savannahs play host to a staggering amount of wildlife and world-renowned insta-worthy scenes – the one with a giraffe nibbling a tree in front of Mount Kilimanjaro springs to mind. In the famed Serengeti National Park, you're almost guaranteed to see the Big Five roaming through the short grasslands – ideal for animal spotting. Astonishing sights continue
in the wildlife utopia that is the Ngorongoro Crater: a must-see for any visitor, as well as at Lake Manyara, famed for its tree-climbing lions. Tarangire's great baobab trees and wild elephants are reason enough to visit this scenic national park while the remote Ruaha offers a wealth of wildlife you can enjoy almost entirely to yourself. And there's more to Tanzania than safari; think miles of Indian Ocean coastline, emerald islands and azure water. Zanzibar's streaks of white sand beaches are some of the most idyllic in the world and home to some of the most luxurious hotels. In short, the perfect place for some post-safari R&R, or diving, fishing, snorkelling and more.
Tanzania Holiday Ideas
A few suggestions to get the holiday planning process started
Tanzania Regions
Discover more 100% tailor-made holiday ideas
A few of the benefits of travelling with us
What our clients say about us
Tanzania customer reviews (9 reviews)
4.6/5
I wanted to take the time to say a HUGE thank you for organising our dream honeymoon right down to the smallest details. We had an amazing time across all three locations and loved the letters you had handwritten and sent to our accommodations to welcome us in each of them, we also received a welcome home card which was a lovely touch.

Our holiday was amazing and the Rayavadee was a particular highlight on the trip. We've never been anywhere quite as brilliant. We filled our days on the beach, by the pool, drinking cocktails, eating amazing food and visiting the beauties of Pang Nam Bay and the Phi Phi Islands. We also had a cooking class which was amazing as well, we're going to attempt a new Thai recipe every week. Once again, thank you so much for everything, we'll be sure to recommend you to anyone planning a holiday in the future. Fantastic service and job well done.
Tanzania Guide
Practical advice, client testimonials and inspiration to help you prepare for your holiday
Contact one of our Tanzania specialists