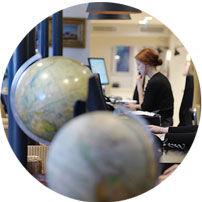 Alongside Kenya, Tanzania offers the finest opportunity to enjoy a 'bush and beach' experience in East Africa, and as such luxury Tanzania holidays are one of the great bucket list experiences. If we talk 'bush' first, Tanzania is famous for hosting some of the world's most famous safari destinations and experiences, with the Ngorongoro Crater and the Serengeti's wildebeest migration as the obvious two. We work with the best lodges to take your experience to the next level, but for a truly luxury Tanzania safari experience, we can arrange for you to follow the migration with a mobile camp, so you
get to see the spectacle and drama of millions of wildebeest (and attendant predators) moving across these massive plains play out over a number of days. Another seriously exclusive luxury Tanzania safari experience is to visit Mahale on the shores of Lake Tanganyika, where you can trek with a guide to spend the day with a troop of habituated chimpanzees. An experience possible almost nowhere else on the planet. After this surfeit of safari, it's time for the 'beach' element of your luxury Tanzania holidays. Head to the coast or the Spice Islands such as Pemba and, of course, Zanzibar, and you can stay in luxurious beachfront hotels or beautiful villas (ideal for a 3G or three-generational holiday) and enjoy some well-earned R&R or luxurious sunset dhow cruises, snorkelling and kitesurfing.
Ideas
A few suggestions to get the holiday planning process started
Luxury Holidays by country
Other Tanzania collections
A few of the benefits of travelling with us
What our clients say about us
Tanzania customer reviews (9 reviews)
4.6/5
I wanted to take the time to say a HUGE thank you for organising our dream honeymoon right down to the smallest details. We had an amazing time across all three locations and loved the letters you had handwritten and sent to our accommodations to welcome us in each of them, we also received a welcome home card which was a lovely touch.

Our holiday was amazing and the Rayavadee was a particular highlight on the trip. We've never been anywhere quite as brilliant. We filled our days on the beach, by the pool, drinking cocktails, eating amazing food and visiting the beauties of Pang Nam Bay and the Phi Phi Islands. We also had a cooking class which was amazing as well, we're going to attempt a new Thai recipe every week. Once again, thank you so much for everything, we'll be sure to recommend you to anyone planning a holiday in the future. Fantastic service and job well done.
Tanzania Guide
Practical advice, client testimonials and inspiration to help you prepare for your holiday
Contact one of our Tanzania specialists