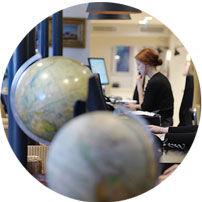 On your Romania holidays we recommend you bypass Bucharest, one of Europe's less interesting capitals, and head instead to Transylvania, home of mythical monsters; actual bears, wolves and lynx, and some of the most beautiful countryside and finest medieval architecture anywhere in Europe. For an even more travel-back-in-time experience, head further north still to Maramures and Bucovina, famed for their painted monasteries. Way out east on the coast is Romania's other outstanding destination, the Danube Delta, where this mighty river finally completes its 1,777 mile journey from source to Black Sea.
Visit at the right time of year and the resulting wetlands are home to millions of migratory birds, creating one of Europe's greatest wildlife experiences.
Romania Holiday Ideas
A few suggestions to get the holiday planning process started
Romania Regions
Discover more 100% tailor-made holiday ideas
A few of the benefits of travelling with us
What our clients say about us
Romania customer reviews (1 reviews)
4/5
The holiday was great. The Inn on Balaban was a wonderful start to the break, with lovely rooms and views to die for. Excellent guided tour of Bran Castle. Sighisoara citadel was beautiful as was Miklosvar - very relaxing and our Szeckler guide was very eager to show us his part of Transylvania. Our room in the annex there was wonderful.

Dinner in the cellar after the cows were seen home was very pleasant too. Zalanpatak has the most spectacular setting. Our last day was spent on a horse and cart trip up into the hills and a delicious BBQ lunch in a spectacular flower meadow. All in all, amazing forests, views, vistas and flower meadows; very relaxing environment and slow pace. Thank you!
Romania Guide
Practical advice, client testimonials and inspiration to help you prepare for your holiday
Contact one of our Romania specialists