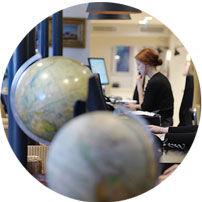 'At the birth of our planet,' claimed Lord Byron, 'the most beautiful encounter between land and sea must have happened at the Montenegrin littoral.' That might explain why the Serbs were so disappointed when the Montenegrins chose to go it alone in 2006. Overnight Serbia lost its complete coastline, and what a coastline it is - 200 miles of beaches (117 in total, if you like a good stat), coves, fjords, dramatic cliff faces and picture perfect medieval towns such as the UNESCO World Heritage site of Kotor. That should be enough to have you dreaming of Montenegro holidays, but the country's dramatic hinterland is also well worth exploration.
A few of the benefits of travelling with us
What our clients say about us
Montenegro customer reviews (1 reviews)
4/5
We had a dream holiday in Montenegro that perfectly met our request. Our consultant arranged high quality services throughout. We highly recommend it. We had an excellent time at Forza Mare. Staff terrific, food excellent. Montenegro is beautiful.
Montenegro Guide
Practical advice, client testimonials and inspiration to help you prepare for your holiday
Contact one of our Montenegro specialists