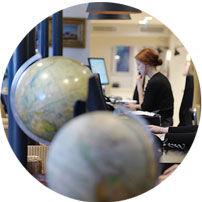 We'll let you in on a secret. One of our founders goes on Greece holidays every single year, such is his love for this magical country. So what is it that appeals so much about Greece as a destination? Well, there's the colour palette of bright white and azure blue that adorns everything from the national flag to the island idylls surrounding the mainland. Then there's the fresh, fresh food. Think gyros stuffed with salty halloumi, warm pitta dipped in pillowy taramasalata and fresh seafood drizzled with olive oil. Add into the mix a cultural legacy that every person in the West owes a debt to Greece for,
a gently lulling pace of life (except in Athens and Mykonos, maybe) and many, many memorable activities, and it begs the question: why doesn't everyone go on holiday to Greece at least once a year? According to mythology, many of the Greek islands were handcrafted by the gods and with 227 inhabited islands to choose from, there really is an option for everyone. Mykonos is the self-proclaimed party island (akin to a Greek Ibiza), Corfu can be described as a jack-of-all-trades, Amorgos appeals to avid walkers and Sifnos claims the title of the foodie island. With a whole host of pristine white-sand beaches, ringed by impossibly blue ocean, Greece holidays can cater to both beach bums and thrill seekers. Discover idyllic hidden coves, fringed with pine trees, or opt for kitesurfing, diving and climbing. Turn your trip into an island-hopping excursion and travel to more than one to experience the very best that Greece has to offer.
Greece Holiday Ideas
A few suggestions to get the holiday planning process started
Greece Regions
Discover more 100% tailor-made holiday ideas
A few of the benefits of travelling with us
What our clients say about us
Greece customer reviews (3 reviews)
4.7/5
We had a great time. We loved both hotels you suggested in Greece. Your team were fantastic and I would definitely use your services again – it was really well organised and made it much easier and less stressful.
Greece Guide
Practical advice, client testimonials and inspiration to help you prepare for your holiday
Contact one of our Greece specialists