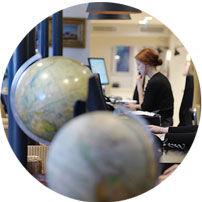 We'll let you in on a secret. One of our founders goes on Greece holidays every single year, such is his love for this magical country. So what is it that appeals so much about Greece as a destination? Well, there's the colour palette of bright white and azure blue that adorns everything from the national flag to the island idylls surrounding the mainland. Then there's the fresh, fresh food. Add into the mix a cultural legacy that every person in the West owes a debt to Greece for, a gently lulling pace of life (except in Athens and Mykonos, maybe) and many, many memorable activities, and it begs the question:
why doesn't everyone go on holiday to Greece at least once a year?
Greece Holiday Ideas
A few suggestions to get the holiday planning process started
Greece Regions
Discover more 100% tailor-made holiday ideas
A few of the benefits of travelling with us
What our clients say about us
Greece customer reviews (3 reviews)
4.7/5
We had a great time. We loved both hotels you suggested in Greece. Your team were fantastic and I would definitely use your services again – it was really well organised and made it much easier and less stressful.
Greece Guide
Practical advice, client testimonials and inspiration to help you prepare for your holiday
Contact one of our Greece specialists