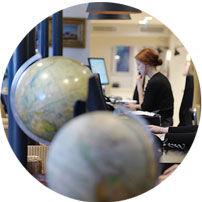 The island of St Barthélemy (or St Barts, as it is commonly known) is situated towards the northern end of the chain of islands that make up the Lesser Antilles. The island was named by Columbus after his brother, Bartolomeo, and is considered by many to be the most beautiful island in the Caribbean. Today, the island is a French colony, so St Barts holidays offer a great combination of pristine white-sand beaches, calm turquoise waters, stylish accommodation and - perhaps unsurprisingly - good restaurants. We have stayed on, and sailed round, St Barts on numerous occasions, so can suggest the best
places to stay and things to do while there - like absolutely nothing. For the more active souls, activities on the island (aside, of course, from lying on the beach looking gorgeous) range from horse riding in the green hills of the interior to diving and snorkelling on the nearby reefs, all of which we can organise.
Saint Barthélemy Holiday Ideas
A few suggestions to get the holiday planning process started
A few of the benefits of travelling with us
What our clients say about us
Saint Barthélemy customer reviews (1 reviews)
5/5
Thank you so so much for all your help with our holiday; I cannot recommend all your efforts highly enough. Everything went so smoothly and it was bliss having the afternoon at Cobblers Cove; it really finished off our trip on a high and so much nicer than sitting in an airport so thank you. The staff

at St Barts were really helpful and it was a lovely resort. I really can't thank you enough for all your help and for such a wonderful trip.
Saint Barthélemy Guide
Practical advice, client testimonials and inspiration to help you prepare for your holiday
Contact one of our Saint Barthélemy specialists