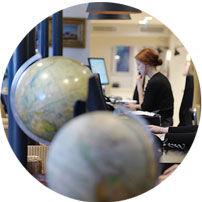 Sitting (extremely) pretty between Eastern and Western Europe, Slovenia is a little country that has been trampled by just about every marauding historical empire, from the Romans to the Communists. In the end, though, Slovenian grit and patience won out, and the country finally gained autonomy from Yugoslavia in 1991. An independent Slovenia firmly announced its arrival on the scene by joining the Euro in 2007,
which Slovenes - modestly, of course - point out was well ahead of any of its former Yugoslavian bedfellows. Latter-day Slovenia holidays also have a lot to shout about, because it's perfectly possible to walk in stunning alpine scenery, swim off a sliver of the Adriatic coast and gaze across beautiful lakes and forests in even a short stay.
Slovenia Holiday Ideas
A few suggestions to get the holiday planning process started
Regions Slovenia
Discover more 100% tailor-made holiday ideas
A few of the benefits of travelling with us
Review
What our clients say about us
This is the first time we went on a trip with Original Travel, a specialist advisor who listens to our expectations, and really the feeling of being pampered from departure to arrival. The concierge service is so efficient that we quickly become addicted.
Slovenia Guide
Practical advice, client testimonials and inspiration to help you prepare for your holiday
Contact one of our Slovenia specialists