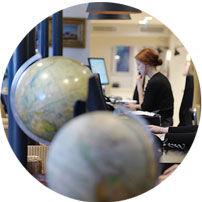 From jam-packed stations, or smoke-hazed docks, there's the frantic surge of passengers, then the whistle blows - and you're off. The train eases out of the city, free at last, and shoots off towards the horizon, while beautiful landscapes scroll serenely past the windows. There is nothing quite like train travel - arguably the most pleasing of all the ways to get from A to B. It brings an undeniably romantic quality to any trip, and is the ideal way to immerse yourself in your destination. There are practical trains - linking European towns, or Japanese megacities. Then there are trains which feel like expeditions to far-flung lands:
to the Canadian Rockies, or the Peruvian Altiplano. And then there are the trains of legend, monuments to the art of train travel, like the Venice Simplon-Orient-Express or the iconic Trans-Siberian railway. If you too love train travel, we will always try to weave a train trip into your itinerary, or tailor-make entire luxury train holidays because it allows you the chance to really appreciate your destination in a way air travel just can't, and without the faff inherent in driving yourself. One last thought: in an age where flying is increasingly a dirty word, travelling by train is also helping save the planet too.
Train Travel Ideas
A few suggestions to get the holiday planning process started
A few of the benefits of travelling with us
Review
What our clients say about us
This is the first time we went on a trip with Original Travel, a specialist advisor who listens to our expectations, and really the feeling of being pampered from departure to arrival. The concierge service is so efficient that we quickly become addicted.
Train Travel Guide
Practical advice, client testimonials and inspiration to help you prepare for your holiday
Contact one of our specialists