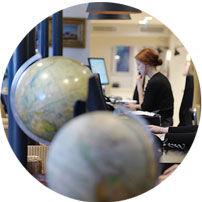 Coming in to land in the Maldives is one of the most iconic arrivals you could experience anywhere in the world. Make sure you've snaffled yourself a window seat to truly appreciate the pearl string of tiny islands surrounded by azure water that lies below you. You may well get a second bite of this beautiful cherry as many of the finest island idylls are a short onward seaplane flight away. When there you can expect soft powder-white sand, sheltered emerald lagoons and threads of bungalows suspended between the sky and pale-blue water below, and from that moment on, Maldives holidays tend to feel
like you've left the real world behind to embrace complete escapism, be that swinging in a hammock, being pampered at the spa or snorkelling with tropical fish without another person in sight. There's no denying that this will be a holiday unlike any other. In fact, this idyllic location is the perfect sun trap and its home to all things natural beauty. It's a nation of over a thousand coral islands that have redefined the meaning of the word 'paradise'. Now lucky travellers to this haven on Earth can experience everything from world-class diving to surfing and so much more, as you uncover the treasure trove of marine life and hospitable locals coexisting here. For guaranteed serenity, seclusion and relaxation, a trip to the Maldives is a must.
Maldives Holiday Ideas
A few suggestions to get the holiday planning process started
A few of the benefits of travelling with us
What our clients say about us
Maldives customer reviews (4 reviews)
4.5/5
We were lucky enough to meet Amy whilst in Belize and so were able to describe what we were looking for in a Maldives holiday. She matched it perfectly. Every aspect of the resort was exactly what we were looking for.
Maldives Guide
Practical advice, client testimonials and inspiration to help you prepare for your holiday
Contact one of our Maldives specialists