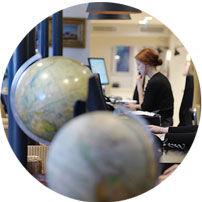 How do you sum up a country that's home to almost a quarter of humanity and an ancient civilisation stretching back 5,000 years? With immense difficulty, is the answer, but we'll give it a go. Modern China contains striking contemporary metropolises such as Shanghai and Hong Kong, and rural areas where life has changed little for centuries, and it's this curious combination that makes China holidays so intriguing.
After the upheavals of Maoism, China has become a capitalist powerhouse in all but name, a transition symbolised by the hosting of the 2008 Beijing Olympics. Compare and contrast that with the London Olympics four years later - we Brits did an austerity budget, ironic pastiche of the UK as a bucolic 'Shire' for the opening ceremony; Beijing did thousands of perfectly synchronised drummers and the biggest ever firework (their invention) display. In the UK we do pop-up restaurants while China's blast furnaces (their invention) produce enough steel to create pop-up cities almost overnight with populations larger than that of Holland.
China Holiday Ideas
A few suggestions to get the holiday planning process started
A few of the benefits of travelling with us
Review
What our clients say about us
This is the first time we went on a trip with Original Travel, a specialist advisor who listens to our expectations, and really the feeling of being pampered from departure to arrival. The concierge service is so efficient that we quickly become addicted.
China Guide
Practical advice, client testimonials and inspiration to help you prepare for your holiday
Contact one of our China specialists