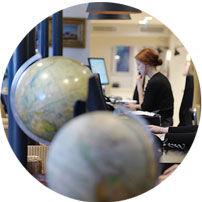 Beijing has served as China's capital for many centuries, and Original Travel - having visited and revisited this historic city many times - can arrange for private guided tours with highly knowledgeable guides to explore the sights and sounds of the capital, as well as nearby sections of the Great Wall, the Ming Tombs and other highlights. The heart of Beijing is the massive Tiananmen Square, one of
the largest public spaces in the world and scene of the brutal crackdown in 1989. Chairman Mao proclaimed the birth of People's Republic of China here in 1949 in front of half a million people, and his body lies in state in a massive mausoleum that is still visited by thousands every day. Capitalism may be in place in all but name, but there is still reverence for the founder of the communist state - Mao's giant portrait also hangs over the entrance to the fascinating Forbidden City, the main residence for a succession of pre-Maoist leaders of equally dubious moral certitude, the dynastic emperors. Meanwhile the Great Wall - despite clichéd descriptions to the contrary - is categorically not visible from space, but remains one of the most impressive feats of human endeavor and well worth a visit. We can recommend several less visited parts of the wall worth exploration and within striking distance of the city.
Beijing & the Great Wall Holiday Ideas
A few suggestions to get the holiday planning process started
A few of the benefits of travelling with us
Review
What our clients say about us
This is the first time we went on a trip with Original Travel, a specialist advisor who listens to our expectations, and really the feeling of being pampered from departure to arrival. The concierge service is so efficient that we quickly become addicted.
China Guide
Practical advice, client testimonials and inspiration to help you prepare for your holiday
Contact one of our China specialists