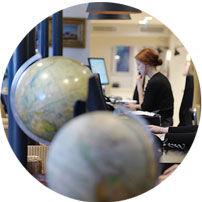 In a country the size of a continent Australia holidays boast all the ingredients for an unforgettable trip. It doesn't matter if it's your first or fifth time, you'll find once-in-a-lifetime experiences at every turn, whether it's traversing the cliffs of wild Tasmania or soaking up the drama at Sydney's Opera House, a symbol of national pride. Cue awesome UNESCO World Heritage wilderness areas inhabited by wildlife that has evolved in isolation for over 50 million years; the spellbinding Great Barrier Reef and the immense desert Outback in particular provide an outdoor playground like few others.
Uluru, the Aboriginal sacred site, offers life-altering perspectives with ancient rock paintings and dwarfing red rock formations while you'll also find dreamy white-sand beaches and cosmopolitan cities. As far as hospitality goes, Australia knows no limits, with rolling vineyards growing superlative wines, and an overwhelming choice of foodie escapes such as Margaret River, lauded for its hedonistic gourmet restaurants. And then there are the cities, with Sydney forever retaining the title for best urban beaches and laidback lifestyle, while Melbourne is a fun and cultural hub with a distinctly European flavour.
Australia Holiday Ideas
A few suggestions to get the holiday planning process started
A few of the benefits of travelling with us
What our clients say about us
Australia customer reviews (2 reviews)
4.5/5
We wanted to say a massive thank you for your help and hard work in putting together your part of our Australia adventure. We had such a wonderful time and Orpheus was the highlight - we loved it. All the arrangements worked brilliantly and it couldn't have been more perfect. Your recommendation was spot on.
Australia Guide
Practical advice, client testimonials and inspiration to help you prepare for your holiday
Contact one of our Australia specialists
Who is Australia best for?
With cool cities, gorgeous beaches and innumerable culinary hotspots, Australia holidays are ideal for honeymooners. Sail off to the Whitsunday islands and find a romantic paradise, where you can explore tropical rainforests, enjoy beach picnics and cruise to secret swimming coves. The country is also ideal for families - the whole gang will be blown away exotic wildlife and stunning scenery. In Sydney's Taronga Zoo, take a cable car ride to see wombats, koalas and gorillas up close. Journey further afield to Kangaroo Island - the whole island is a protected sanctuary for wildlife such as the tammar wallabies, southern brown bandicoots, brushtail possums and short-beaked echidnas. Australia's intriguing and spectacular landscapes make for exciting outdoor adventures whether it's camping under the stars with direct views of Ayers Rock, or helicopter safaris over the enormous crater-like Wilpena Pound. Divers will be champing at the bit to get stuck into the Great Barrier Reef. The World Heritage listed Ningaloo Reef is also well worth a trip, between March and July you can snorkel with whale sharks.
What can you find in Australia that you won't find elsewhere?
Rich Aboriginal heritage in the ochre-coloured plains surrounding Uluru. Here you'll find traces of Australia's indigenous people - 50,000 year-old rock art and wild territories, that are still utilised by Aboriginal families today. Discover immense natural beauty from Tasmania's rugged wilderness to Queensland's dreamy white-sand islands that largely remain unspoiled. Visit some of the most iconic beaches in the world such as the world-famous sands of Bondi and laidback Manly - popular with families. Great surf, sand and restaurants make Sydney a highlight for most Australian holidays. And there's good reason to visit Western Australia, which is home to the up-and-coming city of Perth and vineyards as far as the eye can see.
What are the best ways to discover Australia?
If you have time, consider exploring Australia's vast landscapes on a road trip. Before you go, we'll give you maps, tips and our little black book so that you can pause, linger and explore as you please armed with the best intel. Perhaps you'll choose an eco-lodge, glamping or a swish hotel with all the bells and whistles. Sweep through the country to experience the highlights - an ideal trip for first timers would cover Sydney, Kangaroo Island, Ayers Rock and the Great Barrier Reef. If you are an absolute foodie yet love to surf to shed the previous night's shrimp barbecue (sorry- couldn't resist), then maybe we'd suggest the cosmopolitan highlights of Melbourne combined with a jaunt on Australia's Western coast for, let's face it, first class surfing. And if you have more time, why not ponder a trip to New Zealand? Just leave the logistics to us.
Queensland
Australia has seven states, all as different as the next. Queensland boasts pristine beaches, tropical rainforests, the stunning Whitsunday islands and the diving Mecca that is the Great Barrier Reef. Brisbane, the Sunshine Coast and Cairns are the three main towns/cities in Queensland, and each to their own they have very individual characters, whilst retaining the laid back personality of Queensland.
New South Wales
New South Wales is where you'd find that popular city some call Sydney, as well as the beautiful Blue Mountains, wineries, tablelands and miles of undulating bushland. The beaches in this area of Australia are wild and not to be missed. A particular favourite of travellers and luxury holiday makers alike is Byron Bay, a surfer's retreat with a slow pace of life and quirky little cafes and restaurants.
South Australia
South Australia is home to the Southern outback, ocean, the city of Adelaide, and the wildlife wonder of Kangaroo Island. This area of Australia is great for wildlife, wine and walking.
Tasmania
Tasmania is a land of rugged wilderness; the fjords, bays, magnificent beaches and dramatic sea cliffs make this one of the best places to visit while on a luxury holiday in Australia.
Victoria
Victoria is a popular state for those wanting to sample Melbourne's cosmopolitan scene, with year round festivals, fine dining, arts events and so on. Victoria also has magnificent bushwalking trails and scenic coastal drives along the Great Ocean Road.
Northern Territory
Northern Territory is at the very heart of Australia and home to the iconic Ayers Rock, or Uluru. But there's more to the Northern Territory than just the rusty plains of the 'Red Centre' and the chameleon-like quality of Uluru (it changes colour many times between dawn and dusk); the lush green floodplains of the Kakadu National Park are calling from its northern reaches.
Western Australia
Lastly we have Western Australia, the largest state in Australia occupying the entire western third of the country. As expected with such a huge state, there is a huge diversity of landscapes, from the urban (state capital Perth), to the coastal (brilliant beaches and world class diving on Ningaloo reef), vineyards as far as the eye can see near to Margaret River, and the rugged Kimberley region, home to creeks, caverns and some of the world's oldest rock paintings.