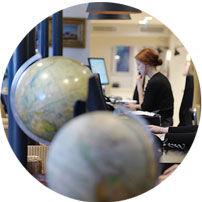 Uluru and Northern Territories holidays are the ideal way to see another side to Australia. At the heart of this continent-sized country is the 'Red Centre', a dry, sparsely vegetated and even more sparsely populated region of the country. The landscape is starkly beautiful and renowned for its chameleon-like quality as it changes colour many times between dawn and dusk. At the centre of this ancient landscape is the extraordinary natural wonder of Uluru (formerly known as Ayer's Rock). To the west, the equally impressive Kata Tjuta is a spectacular collection of 36 weathered red domes separated by narrow valleys.
Original Travel can arrange your Uluru and Northern Territories holiday itinerary to include exploration of this desert scenery and the dynamic ecology that exists in this harsh and barren environment, or to discover the cultural relationship between the aboriginals and the surrounding land - their medicines, music, customs, legends and art that have adapted to suit this arid environment. Then head to the so-called 'Top End' of Australia, the Northern Territory, home to huge quantities of wildlife and impressive bird life across thousands of square miles of national parks - including the magnificent Kakadu National Park - criss-crossed by waterways, spectacular gorges and valleys. In Kakadu's neighbouring Arnhem Land there is also a labyrinth of caves and rock overhangs with rock paintings that date back an estimated 50,000 years. We can organise a guided tour through the Northern Territory to discover the ancient Aboriginal heritage of the area with Sab Lord, the best local guide. This is Australia at its finest and both the Northern Territory and Uluru are well worth including on your holiday itinerary.
Uluru and the Northern Territory Holiday Ideas
A few suggestions to get the holiday planning process started
A few of the benefits of travelling with us
What our clients say about us
Australia customer reviews (2 reviews)
4.5/5
We wanted to say a massive thank you for your help and hard work in putting together your part of our Australia adventure. We had such a wonderful time and Orpheus was the highlight - we loved it. All the arrangements worked brilliantly and it couldn't have been more perfect. Your recommendation was spot on.
Australia Guide
Practical advice, client testimonials and inspiration to help you prepare for your holiday
Contact one of our Australia specialists