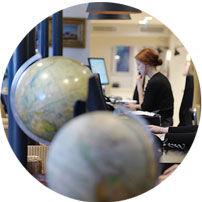 Located to the southeast of the Bahamas, the Turks & Caicos Islands are made up of eight major islands and numerous uninhabited smaller ones, known as 'cays'. They are renowned for their numerous white sandy beaches and pristine coral reefs. Providenciales, the largest island, is just over an hour's flight from Miami, and thanks to weekly flights from London, it's even more accessible for Brits, but amazingly remains off the main Caribbean radar - for now. This blissfully overlooked corner of the Caribbean was placed firmly back on the map by the opening in 1998 of the excellent Parrot Cay. Further
legitimacy arrived on the coat-tails of the opening of Amanyara in 2006. Development of luxury hotels here is slow, but in Turks it's all about quality, not quantity; the handful of luxury hotels here really are the cream of the crop. Spend days reclining on powder sand beaches, with a view of turquoise, azure and ultramarine ocean between your toes, indulging in the freshest seafood (especially with a lobster season that runs from August to April), and retreating to the spa for the rejuvenation of body and mind. Those of a more active disposition can try their hand at a range of watersports, from paddle boarding, kayaking, and even kitesurfing. Snorkelling and diving are also key activities for visitors here. The Turks & Caicos Islands has some exceptional diving, with more than 1,000 square miles of coral reef encircling the islands, excellent wall diving and a healthy marine environment.
Turks and Caicos Islands Holiday Ideas
A few suggestions to get the holiday planning process started
Contact a specialist directly at + 44 (0) 20 3958 6120
A few of the benefits of travelling with us
Review
What our clients say about us
This is the first time we went on a trip with Original Travel, a specialist advisor who listens to our expectations, and really the feeling of being pampered from departure to arrival. The concierge service is so efficient that we quickly become addicted.
Turks and Caicos Islands Guide
Practical advice, client testimonials and inspiration to help you prepare for your holiday
Contact one of our Turks and Caicos Islands specialists