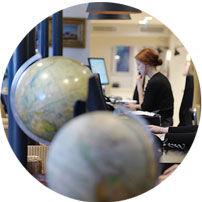 A country suffering from an image problem? Certainly in the UK, but we're out to change all that. The Germans are a deeply cultured bunch, and be it in Berlin or Munich or beyond, there are museums and high art institutions to sate the most ravenous of culture vultures. Above and beyond the obvious cultural attractions there are other pleasant surprises awaiting open minded travellers on a luxury Germany holiday - excellent food, seriously under-rated wines and some of Europe's most beautiful woodland and mountains. Berlin itself also defies stereotyping, and is one of the hippest and most vibrant destinations in Europe.
It's there that we concentrate on for now, but with more destinations to come...
Germany Holiday Ideas
A few suggestions to get the holiday planning process started
A few of the benefits of travelling with us
What our clients say about us
Germany customer reviews (1 reviews)
5/5
Seamless organisation, high quality experiences which perfectly matched our expectations: everything was perfect before we left, and then again on the trip itself with great acocmmodation and guides who spoke impeccable English. Their kindness and the depth of their knowledge were beyond perfect! Thank

you to Original Travel for our wonderful trip to Germany.
Germany Guide
Practical advice, client testimonials and inspiration to help you prepare for your holiday
Contact one of our Germany specialists