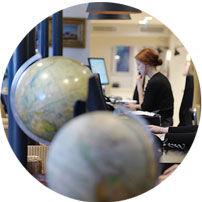 With over 17,000 islands, Indonesia is easily the world's largest island chain, a 3,000 mile long archipelago of tropical volcanic islands comprising one of the most diverse and exotic nations on Earth. Enjoy untouched beaches, jagged mountain ranges, ornate temples and more in a destination that belongs on everybody's bucket list. While many make a beeline for Bali's beaches and the rice terraces that blanket Ubud, Indonesia offers so much more (although these trendy shores sure are tempting). In Java alone, there are eight UNESCO World Heritage sites to visit, including the jaw-dropping Buddhist temple,
Borobudur, whose stupas and volcanoes are best admired at sunrise. Hopping over to Sumatra, where orangutans swing freely in the steaming forest canopy, could mean you also encounter seemingly prehistoric Komodo dragons lumbering around the Komodo National Park, acting as the hard-scaled nod to this ancient and mysterious land. On your Indonesia holidays, sail the sun-dappled waters of Raja Ampat - a great starting point for seafaring adventures - or escape to Lombok, considered the new-wave Bali for its wonderfully unspoiled beaches. Whichever destination you opt to travel to, you'll be sure to catch a glimpse of Indonesia's awe-inspiring landscapes, architectural feats and deeply woven cultural traditions in every corner and crevice of this string of islands, as it pearls its way through the warm (and inviting) tropical waters.
Indonesia Holiday Ideas
A few suggestions to get the holiday planning process started
Indonesia Regions
Discover more 100% tailor-made holiday ideas
A few of the benefits of travelling with us
What our clients say about us
Indonesia customer reviews (7 reviews)
4.7/5
Holly made excellent suggestions and creates the perfectly balanced trip that ticked all our boxes. The Concierge was very helpful throughout and the absolutel highlights were seeing monkeys and deer on Manjangan Island, and watching the sunset from the magnificent tower.
Indonesia Guide
Practical advice, client testimonials and inspiration to help you prepare for your holiday
Contact one of our Indonesia specialists
Who are Indonesia holidays best for?
While sun worshippers and surfers make the pilgrimage to the plethora of tropical beaches in search of adventure, culture vultures can take their pick from hundreds of temples and revel in local ceremonies and traditional rituals. A diving fanatic? Head to the Gili Islands to snorkel off coconut-palm lined shores, or the UNESCO-listed Raja Ampat which is known for its eyewatering natural beauty, wildlife and diverse marine life. Whether it's the family holiday of a lifetime or a solo self-discovery excursion, the promise of an Indonesian adventure awaits. Even those in search of some seriously romantic Indonesian landscapes are in luck as these must-visit spots are scattered throughout the islands. They also make the perfect location for honeymooners, as do the scores of exceptional hotels, from thatch-roofed hilltop resorts to barefoot jungle retreats There really is something for all the family, friends and intrepid explorers to discover here. The hotels here have upped the ante too and we can recommend the one to perfectly suit your island endeavours. Spa hunters will discover massage huts with ridiculous views while adrenaline-seekers can let loose white-water rafting, mountain biking and hiking in lush terraced rice paddies.
What can you find in Indonesia that you won't find elsewhere?
Smoking volcanoes, Komodo dragons and ancient jungle temples, Indonesia holidays offer some of the most extraordinary visual spectacles on earth. In our humble opinion (and that of our clued-up diving team), Raja Ampat with its extreme biodiversity, hosts some of the best diving opportunities in the world. Sound tempting? Forego the hotel and opt for a traditional teak phinisi sailing boat to go island hopping. Aside from landscapes, the archipelago is home to around 300 native ethnic groups. Experience the region's great cultural diversity from island-to-island, learning distinct weaving techniques and ceremonial rites of passage from kind-faced locals keen to tell of the wonders their home has. Original Travel consultants have travelled widely throughout the islands visiting the latest immaculate hotels, diving from luxury liveaboards, surfing and sampling all the best spa treatments imaginable (it's a hard job but someone has to do it!). All in the name of luxury holiday research, naturally. The team can recommend the place to take in a spot of buffalo racing (Jembrana in Bali) or the restaurant that serves the most delectable Nasi Goreng in Indonesia (we're keeping that one up our sleeves for the time being).
You really are spoilt for choice in this foodie's paradise, here the vast array of islands and its near 260 million inhabitants fold their cultural differences and region-specific traditions into each lovingly prepared dish. Bringing with them a wealth of flavours and fresh ingredients they're keen to share with hungry travellers. Indonesia has it all, from perfectly fluffed rice dishes, warming noodle and soup combinations to fried street-side snacks and top dollar plates. Whatever you're craving, you'll likely find it here, so hit the markets, don an apron as you whip up a storm in a cookery class or take a food tour down the bustling Indonesian streets, dodging mopeds and more in the name of flavour. In a country that has so much to offer, especially in terms of culinary delights, delicious meals to quell stomach rumblings are always just around the corner.
Best Time to Visit Indonesia
Indonesia bridges the Equator, meaning it's hot all year-round, with the only noticeable change in climate between November and March when the string of islands sees widespread rain downpours (most notably in the south). This is something to consider when deciding on the best time to visit, with most travellers opting to holiday between April and October, when the weather is perfect for all your island-hopping, diving and beach day needs. That's not to say a little rain doesn't bring with it cooler temperatures and lower humidity. In fact, travelling out of season provides the perfect conditions for those brave enough to brace the elements, as you're able to enjoy the quieter temples and scenic spots that are still rich with wildlife, both above and below the water, throughout this time of year.
What are the best ways to discover Indonesia?
Indonesia's sheer size means a holiday calls for careful planning. It deserves all the attention it can get, so why not combine several islands with a driver and guide so you can sit back and take it all in. You won't want to miss the chance to cruise your way through the inlets, hike the jagged landscapes or dip into the warm waters that lap the coastlines throughout this slice of paradise. You can fly to the far-flung islands, boat your way around (for the genuine experience), drive or train for a slower way of navigating to appreciate the rural surrounding scenery or weave all the modes of transport into one for an epic holidaying experience. We recommend you take two weeks exploring Sumatra, Bali, Java and Sulawesi, with Bali's stylish jungle setting and blissful beaches being the perfect antidote to all that adventure. Although, you might just find yourself captivated by the Indonesian charm and longing to stay even longer...
Special Things to Do in Indonesia
Finally, we couldn't talk about luxury holidays to Indonesia without focusing on the diving, which is some of the very best in the world. There are few places on earth that offer the depth and breadth of variety as Indonesia, whether you're hunting for the Giant Mola Mola (sunfish) in the Balinese waters or dipping into the marine biodiverse waters of Sulawesi, you're sure to experience the extraordinary here. The Indonesian region of Raja Ampat is also the centre of the almost mythical Coral Triangle - regarded by those in the know (including our dive division, Original Diving) as the best diving destination in the world. Some accolade, and a region best explored from aboard a luxury yacht plying the waters between beautiful - and often completely deserted - islands.