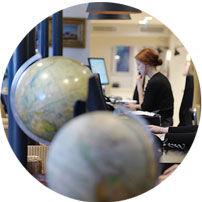 With over 17,000 islands, Indonesia is easily the world's largest island chain, a 3,000 mile long archipelago of tropical volcanic islands comprising one of the most diverse and exotic nations on Earth. While many make a beeline for Bali's beaches, Indonesia offers so much more (although its trendy shores sure are tempting). In Java alone, there are eight UNESCO World Heritage Sites including the jaw-dropping Buddhist temple, Borobudur, whose stupas and volcanoes are best admired at sunrise. In Sumatra, orangutans swing freely in the steaming forest canopy while you can encounter seemingly prehistoric
Komodo dragons lumbering around the Komodo National Park. On your Indonesia holidays, sail the sun-dappled waters of Raja Ampat - a great starting point for seafaring adventures - or escape to Lombok, considered the new-wave Bali for its wonderfully unspoiled beaches.
Indonesia Holiday Ideas
A few suggestions to get the holiday planning process started
Indonesia Regions
Discover more 100% tailor-made holiday ideas
A few of the benefits of travelling with us
What our clients say about us
Indonesia customer reviews (6 reviews)
4.7/5
We absolutely had a great time on our trip. The staff at Papua Paradise were absolutely top notch - everyone from the kitchen staff, to the bartender, to the front desk folks knew our names from day one. They absolutely went out of their way to make sure our stay there was very memorable. Your trip planning was spot on.

We had folks waiting for us at every stop, which made everything almost too easy. You have our vote, and we'll definitely be planning our next major dive trip through you!
Indonesia Guide
Practical advice, client testimonials and inspiration to help you prepare for your holiday
Contact one of our Indonesia specialists
Who are Indonesia holidays best for?
While sun worshippers and surfers make the pilgrimage to the plethora of tropical beaches, culture vultures can take their pick from hundreds of temples and revel in local ceremonies and traditional rituals. A diving fanatic? Head to the Gili Islands to snorkel off coconut-palm lined shores, or the UNESCO-listed Raja Ampat which is known for its eyewatering natural beauty and diverse marine life. Romantic Indonesian landscapes are perfect for honeymooners as are the scores of exceptional hotels, from thatch-roofed hilltop resorts to barefoot jungle retreats. The hotels here have upped the ante and we can recommend the one to perfectly suit your island endeavours. Spa hunters will discover massage huts with ridiculous views while adrenaline-seekers can let loose white-water rafting, mountain biking and hiking in lush terraced rice paddies.
What can you find in Indonesia that you won't find elsewhere?
Smoking volcanoes, Komodo dragons and ancient jungle temples, Indonesia holidays offer some of the most extraordinary visual spectacles on earth. In our humble opinion (and that of our clued-up diving team), Raja Ampat with its extreme biodiversity, hosts some of the best diving opportunities in the world. Sound tempting? Forego the hotel and opt for a traditional teak phinisi sailing boat to go island hopping. Aside from landscapes, the archipelago is home to around 300 native ethnic groups. Experience the region's great cultural diversity from island-to-island, learning distinct weaving techniques and ceremonial rites of passage. Original Travel consultants have travelled widely throughout the islands visiting the latest immaculate hotels, diving from luxury liveaboards, surfing and sampling all the best spa treatments. All in the name of luxury holiday research, naturally. The team can recommend the place to take in a spot of buffalo racing (Jembrana in Bali) or the restaurant that serves the most delectable Nasi Goreng in Indonesia (we're keeping that one up our sleeves for the time being).
What are the best ways to discover Indonesia?
Indonesia's sheer size means a holiday calls for careful planning. It deserves all the attention it can get, so why not combine several islands with a driver and guide so you can sit back and take it all in. Take two weeks exploring Sumatra, Bali, Java and Sulawesi with Bali's stylish jungle setting and blissful beaches being the perfect antidote to all that adventure.
Special Things to Do in Indonesia
Finally, we couldn't talk about luxury holidays to Indonesia without focusing on the diving, which is some of the very best in the world. The Indonesian region of Raja Ampat is the centre of the almost mythical Coral Triangle - regarded by those in the know (including our dive division Original Diving) as the best diving destination in the world. Some accolade, and a region best explored from aboard a luxury yacht plying the waters between beautiful - and often completely deserted - islands.