Itinerary Highlights
Travel from rice paddies to UNESCO heritage status temples and to the secluded Karimunjawa archipelago, our favourite
It offers a fine range of locations: rice paddies, a former coffee plantation and even a secret beach
Cooking lesson in Bali, private tour of the temple of Borobudur, Javanese picnic, scenic bike ride... it's all on the itinerary
Concierge service, smartphone app, all our usual additional services
Contact one of our Indonesia specialists + 44 (0) 20 3958 6120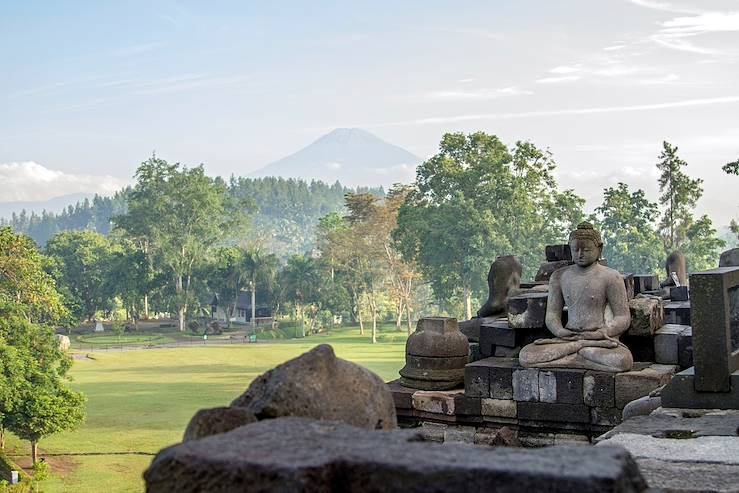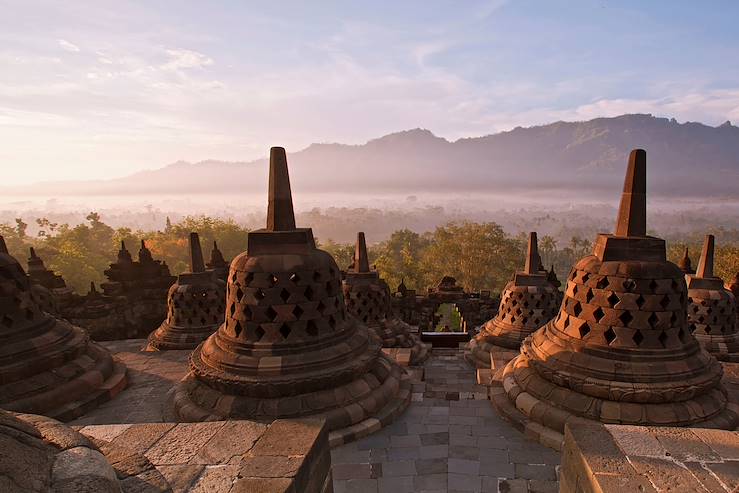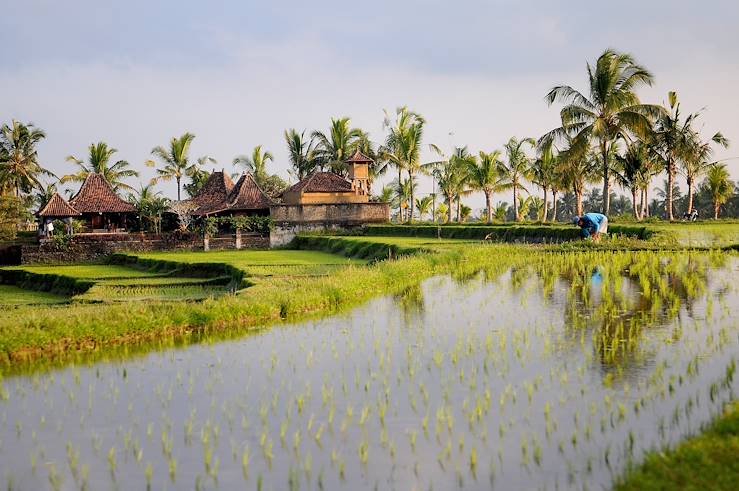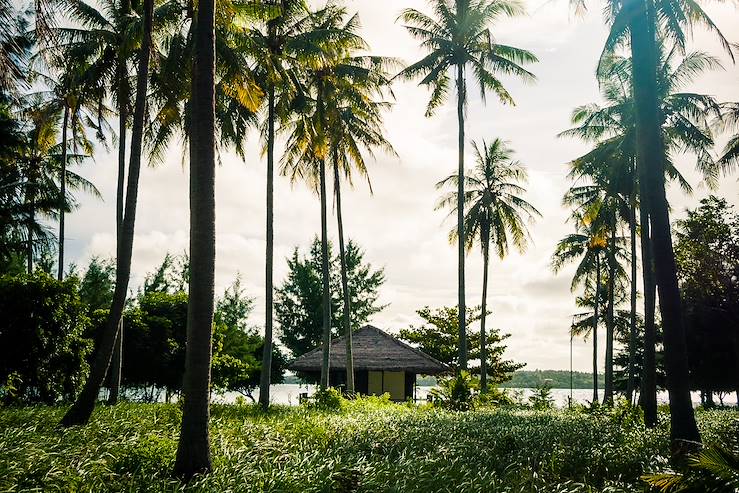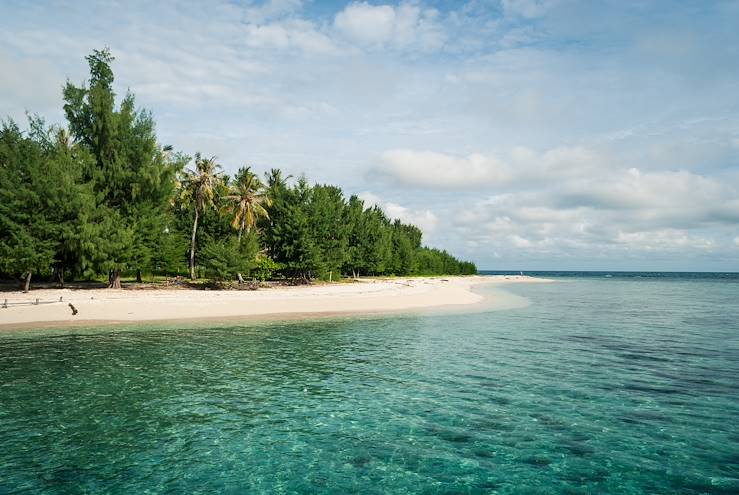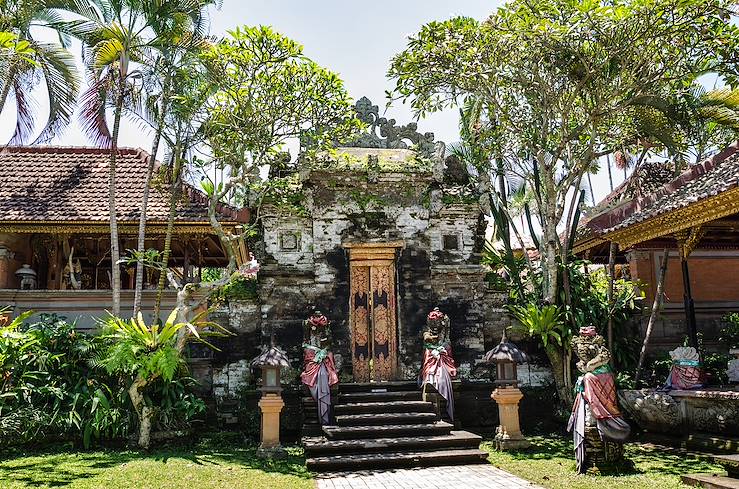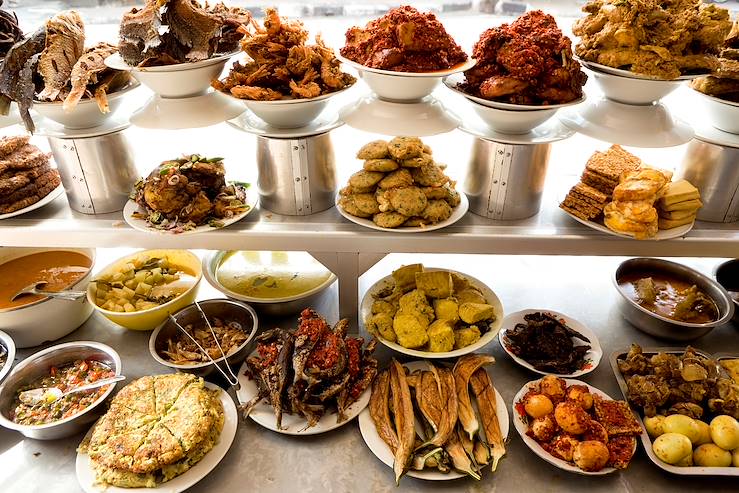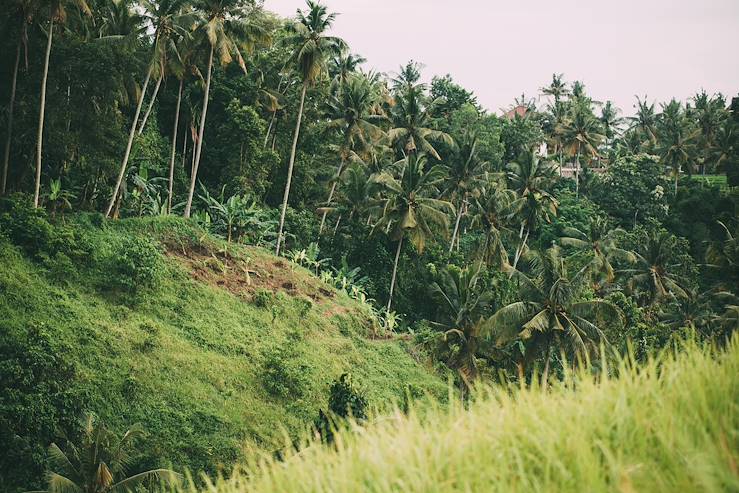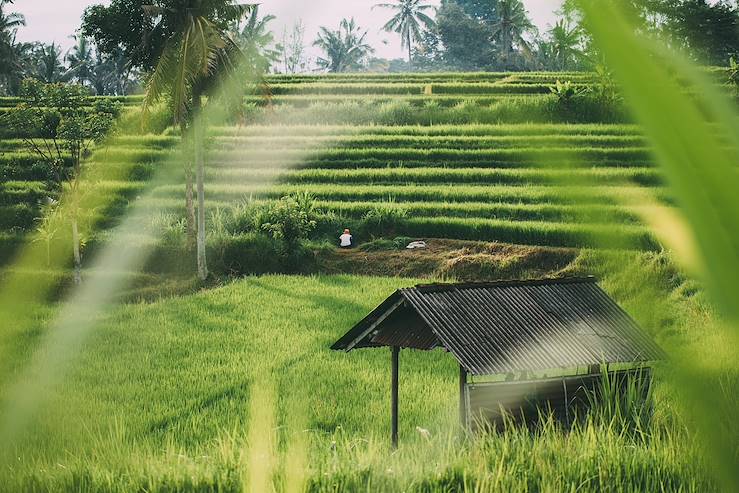 Java to Bali or Bali to Java?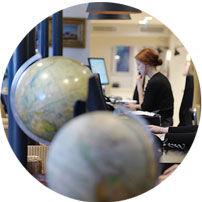 This trip is all about striking the right balance of stunning nature, delightful monuments and unique hotels. It's up to you how you do it. A spot of hotel luxury here, a temple there, with a few hours at the spa and coral diving in the Java Sea in between. Just pick the blend that suits you best. Start in Bali, in the rice fields around
Ubud
. A blessed place, where farming meets painting, sculpting and landscaping. The natural environment is also perfect for outdoor cooking lessons. Then, head to
Magelang
, in central Java. Stay on a chic coffee plantation a few miles from the UNESCO World Heritage Site of Borobudur. Cycle to the bathing pools at Umbul temple.
The jury is out whether they had some sacred purpose or were just swimming pools used by ancient monarchs. Finally, head to the Karimunjawa archipelago in the Java Sea. The sea is just a stone's throw away from your hotel. And, what a sea it is... with water like this, it's about more than just a dip; the clarity of the seabed, colours and fragrances is simply stunning. It's the ideal spot for utter relaxation.


Your trip
Going on any trip clearly involves travel, but in a country the size of Indonesia it's a given. There are two domestic flights between Bali and Java, then between Java and the Karimunjawa archipelago. These alone are a real time-saver. There is also an air-conditioned private car and a speedboat. Once settled at your accommodation, switch to bikes and boats, which are the best ways to get around. The schedule of three days, three days, five days allows enough time to soak up the endless experiences without ever feeling rushed. The hotels we have carefully chosen will become some of your fondest memories of the trip, from the fine residence in the rice fields of Ubud and a hotbed of Javanese lifestyle in Magelang, to a villa on a dream beach in the Karimunjawa Islands. Style, comfort and a keen understanding of the location and the landscape are everywhere you look. There's also a spa at each leg of your trip. There are already several activities planned on the itinerary: Balinese cooking lessons, romantic meals, Javanese picnic, traditional massage, private tours of the Borobudur and Umbul temples. Plus, a car with a driver for a full day's exploration of Bali... But don't worry, you're still in the driving seat and the adventure is tailored to your interests. If there are any issues or you have a last-minute request to do something along the way, contact our on-site Concierge service.

Route
Everything is 100% tailored to you
DAY 1
Flight to Denpasar (Bali) via Singapore
Transfer to Ubud. Two-night stay in the hills. Rice fields surround the hotel, alongside a vast park, large trees, lotuses and water lilies. Stay in the beautiful buildings of the former summer residence of an important family. The bungalow offers comfort and a 'rustic chic' atmosphere, with an open-air bathroom and charming surroundings. A few steps away, the restaurant serves organic dishes in a lovely dining room. There is also the option to eat from the barbecue or try the 'rijsttafel' (Indonesian-style buffet), an ideal way to sample a variety of Indonesian dishes. There is also a spa offering treatments, as well as a seemingly never-ending swimming pool.
Ubud is the island's hub for artistic traditions; there are many painters and sculptors in the area and their creations aren't just souvenirs for tourists. The island's love of kite flying will delight the inner child in everyone. Visit Bali Bird Park, set in five acres of gardens, is home to Indonesia's largest collection of birds, including Home to 250 species, the birds fly freely and can easily be approached for a closer look at their tropical colours and shapes. Bali starlings, Javan hawk-eagles and birds of paradise. For generations, the rice fields have been central to the lives of the people of the Ubud region. They have sculpted them into beautiful undulating terraces on hillsides with sweeping curves.
Included in the itinerary - A car with a driver, to explore freely.

Included in the itinerary - An Indonesian cooking lesson. Experience a private outdoor cooking lesson with the hotel chef. Under his guidance, make some of Bali's iconic dishes: 'lawar nangka', which combines vegetables, coconut and jackfruit; 'mie goreng', a spicy fried noodle dish; 'bubur injun', a dessert with black sticky rice, coconut milk and cane sugar. Enjoy your creations as you cook and look forward to wowing your friends back home. Dinner in the paddy fields. Retreat to a private lodge that opens out onto the countryside. The peace and tranquillity are captivating; the sounds of the rice paddy are like the crackling sound on an old gramophone record. There's a succession of dishes, each one serving up new flavours.
DAY 5
Ubud - Denpasar - Semarang, Java - Magelang
Transfer to Denpasar airport and flight to Semarang. Welcome and transfer to Magelang. Three-night stay in a coffee plantation. Forests, rice fields, mountains, there are harmonious vistas as far as the eye can see. From the meticulously maintained garden to the stunning infinity pool, the effects are captivating. The buildings hail from the four corners of Java. They offer stunning craftsmanship, antique furnishings, and a chic yet beautifully relaxed atmosphere. The chef uses local and organic ingredients to showcase the very best of Javanese cuisine, making the delicious food one of the highlights of this trip. The spa combines ancient therapies from the Middle East, Southeast Asia and the very best in modern techniques, to offer the most luxurious selection of treatments and massages.
Already in the itinerary - Tour of the temple of Borobudur. With an expert guide, discover a wonder of Buddhist art: the stupas and mandalas of Borobudur. It was built in the eighth and ninth centuries and depicts the cosmos and path to enlightenment. It features a huge set of bas-relief sculptures, which, in a series of panels, guide the pilgrim from the ambiguous acts and values of earthly life to the attainment of perfect wisdom. The sculptors who created it were among the finest in their field. There is a certain sense of awe at the scale and consistency of the design, and wonderment at its teachings. Then, there are the some five hundred statues of Buddha, a true sight in themselves. A massage at the hotel. Traditional Javanese massage relieves muscle tension and reinvigorates. Feel like a whole different person after 50 minutes on the treatment table.

Included in the itinerary - A cycling tour to the bathing pools of the Umbul Temple. Umbul Temple, founded in the ninth century, consists of two large spring-fed stone-lined bathing pools. There is a surrounding garden, dotted with piles of antique rubble, and stones in the shape of 'lingam' (a symbol of the Hindu god Shiva) and 'yoni' (a symbol of the Hindu goddess Shakti). This Hindu site is believed to have had some special ritual function, but it still remains a mystery. However, water has long had a religious and political value and the monarchs of the kingdom of Mataram are believed to have bathed here. Modern-day visitors can bathe like kings too in the sparkling green water. Join in on this lovely cycling tour with an English-speaking private guide. While you're out, the hotel kitchen prepares a delicious picnic for you, to be enjoyed in one of the countless peaceful and charming places nearby.

DAY 8
Magelang - Semarang - Karimunjawa archipelago
Transfer to Semarang airport. Help with check-in. Flight to the Karimunjawa Islands, then speedboat to the hotel for a five-night stay. The incredible white sandy beach is framed by palm trees. The villas are a modern take on Indonesian style and the decor reflects this. The result is a fluid, open environment with light colours and cleverly designed wood panelling. The garden is a seamless extension of the private beach, and home to a swimming pool, solarium, sunloungers, day beds, etc. There is a spa for those in search of a little pampering and also a gym. There is also a restaurant, where the chef prepares sumptuous fish and shellfish dishes.

Viewed from above, the island is a slightly off-centre green circle in a ring-shaped lagoon. The shallow waters out to the reef contrast with the deep blue Java Sea beyond. Kayaking, snorkelling and diving are absolute musts. Underwater encounters can range from dives with whale sharks, measuring 45ft in length, to inch-long pygmy seahorses. Coral reefs feed an immense underwater population with their stunning array of colours. Speedboats trips help you reach some of the most impressive diving spots on Earth and you're always in the safe hands of highly-experienced instructors. Karimunjawa National Park is also a protected area for dense mangroves. Venture inland too as this stunning island has more to offer than just the coast. Especially since it is home to astonishing sights such as red-breasted parakeets and the magnificent green wings of green imperial pigeons.

DAY 13
Karimunjawa - Semarang - return flight
Transfer to the airport and fly to Semarang. Then return flight, via Singapore.
A la carte
With a few extra days - Stop off in Singapore
Singapore is a city that has kept pace with the modern world, but one of the first definite must-dos has a distinctly retro feel: a Singapore Sling at the Raffles Hotel bar. Then, walk to Clarke Quay, where former warehouses and junk boats have been transformed into trendy boutiques, restaurants and nightclubs. Enjoy chicken rice from one of the 'hawker centres', open-air food centres, which feed Singapore's army of workers each day. The National Orchid Garden in the Botanic Gardens is a magical peaceful haven. Gardens by the Bay is a beautiful and educational space that highlights major environmental projects to raise awareness about our Earth. Parkview Square, designed by DP Architects in 2002, is an amazing example of Art Deco revival. The Dravidian-style 'gopura' (entrance tower) of Singapore's oldest Hindu temple, the Sri Mariamman Temple, dates from 1925 and is a sight to behold with its array of multicoloured statues. In Chinatown, the Taoist temples have beautifully ornate rooftop spikes that curl towards the skies.
Optional
A Rough Idea of Price
Dependent on season, accommodation and activities
The estimated cost for this trip is £5,800 to £6,600 per person. The final cost of the trip depends on the way we tailor it especially for you. The final cost varies according to several factors, which include the level of service, length of trip and advance booking time. The exact price will be provided on your personalised quote. The average price for this trip is £6100 per person.
International and domestic flights with a scheduled airline
Airline taxes and fuel surcharge
Private transfers
In Bali, a car with a driver for a day
Three-night stay in Ubud in a double suite with breakfast
Dinner in the rice paddies; a private Indonesian cooking lesson, with a private guide
Three-night stay in Magelang in a double villa with breakfast
Tour of Borobudur, with a private guide
50-minute massage at the hotel; a picnic
Bike ride to Umbul Temple bathing pools with a private guide
Five-night stay in the Karimunjawa archipelago, in a double villa with sea view and full board
Our local Concierge service
A few of the benefits of travelling with us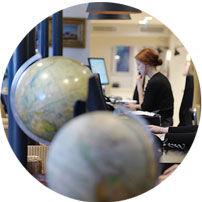 Get in touch
Our experts have the inside track on the destinations they sell and will tailor-make a holiday to your unique requirements.
Contact one of our Indonesia specialists