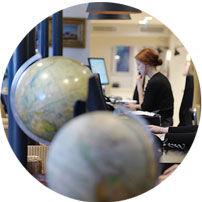 Bali, just off the eastern tip of Java, is easily the best known of the 17,000-odd islands that make up Indonesia - the world's largest archipelago. This tropical, volcanic island offers beautiful beaches and scenic landscapes of terraced hills, together with cultural attractions, all kinds of water and land-based activities and a number of top-quality hotels to choose from on your Bali holiday. Soaking up Bali's strong spiritual culture is also a must as you pass by colourful flower offerings and enjoy visits to tranquil temples (there are an estimated 10,000 in total on the island). Acquaint yourself
with the island's iconic flavours as you savour sate lilit (a coconut flavoured meat skewer) and babi guling (roasted pork) and for something sweet, tuck into a refreshing mangosteen fruit. Known as the 'island of the Gods' for good reason, tailor-made Bali holidays promise everything from active peaks that emerge from the watery depths and inquisitive monkeys swinging overhead to the countless pockets of secluded serenity that feel far removed from the tourist hordes. Experience the deep-rooted spirituality and natural charm of this captivating pint-sized islet with a holiday in Bali, that's sure to be unlike any other..
Bali Holiday Ideas
A few suggestions to get the holiday planning process started
Indonesia Regions
Discover more 100% tailor-made holiday ideas
A few of the benefits of travelling with us
What our clients say about us
Indonesia customer reviews (7 reviews)
4.7/5
Holly made excellent suggestions and creates the perfectly balanced trip that ticked all our boxes. The Concierge was very helpful throughout and the absolutel highlights were seeing monkeys and deer on Manjangan Island, and watching the sunset from the magnificent tower.
Indonesia Guide
Practical advice, client testimonials and inspiration to help you prepare for your holiday
Contact one of our Indonesia specialists