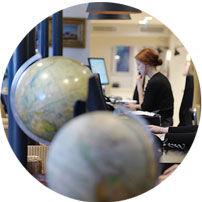 Bali and Lombok nab most of the tourist trade in Indonesia, but as more and more travellers appreciate this truly beautiful destination, they are exploring further afield. Java was the first wider foray and now, hard on Javanese heels, come these twin island gems. Flores and Komodo holidays allow you to experience Indonesia in the raw, with the emphasis on appreciating the authentic local culture, landscapes and wildlife. As a result, this is a far cry (and compelling contrast) from the immaculate hotels and luxurious lifestyle available on Bali - don't expect seven star accommodation, on Flores holidays,
you'll more likely be staying in a guesthouse where local nuns might join you for the night. The lack of creature comforts is all well worth it when exploring the otherwise inaccessible surroundings, with particular highlights being the bizarrely morphing coloured crater lakes at Kelimutu, and trekking to the traditional village of Belaragi. But arguably the greatest attraction, despite the island's name, is not the flora but the fauna, and in particular the vast colonies of bats, and, on the neighbouring islands of Komodo and Rinca, the eponymous dragons. Seeing these extraordinary beasts in the wild is pretty unbeatable, and beneath the waves of the Komodo National Park lie further giant creatures, this time mantas and whale sharks, and some of the best diving in the region. While travelling overland in Flores is for the hardy and adventurous, exploring the islands, beaches and reefs of the Komodo archipelago can be done in relative luxury - particularly if sailing on some of the luxurious phinisi schooner boats that ply these waters from April to October each year.
Flores & Komodo Holiday Ideas
A few suggestions to get the holiday planning process started
Indonesia Regions
Discover more 100% tailor-made holiday ideas
A few of the benefits of travelling with us
What our clients say about us
Indonesia customer reviews (7 reviews)
4.7/5
Holly made excellent suggestions and creates the perfectly balanced trip that ticked all our boxes. The Concierge was very helpful throughout and the absolutel highlights were seeing monkeys and deer on Manjangan Island, and watching the sunset from the magnificent tower.
Indonesia Guide
Practical advice, client testimonials and inspiration to help you prepare for your holiday
Contact one of our Indonesia specialists