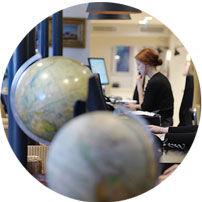 As children many of us dreamed of a trip to Finland – the snowy home of Father Christmas, his elves and a certain red-nosed reindeer. Finland holidays still hold enough magic to turn those dreams into reality. Inside the Arctic Circle, with its mystical Northern Lights, frozen seas, and midnight sun – Finnish Lapland welcomes you in for a wealth of winter adventures in a place dominated by lakes and trees. In fact Finland is home to an amazing 187,888 lakes, and what's not covered with water is pretty much all forest - 75% to be precise. Beyond the wilder frontiers, Finland is a strange world brimming with rare encounters,
cosy corners and a fascinating culture.
Finland Regions
Discover more 100% tailor-made holiday ideas
A few of the benefits of travelling with us
What our clients say about us
Finland customer reviews (1 reviews)
5/5
Just a quick note to say thank you for all your help in organising us for our trip to Finland, it was absolutely awesome! One of our boys has autism and so structure and planning is always his thing, so we doubly appreciated the careful management of our itinerary and calm approach to everything! The trips were truly wonderful.
Finland Guide
Practical advice, client testimonials and inspiration to help you prepare for your holiday
Contact one of our Finland specialists