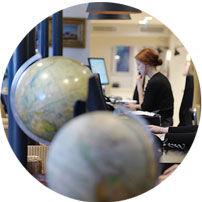 Sitting pretty at the southern tip of India, the teardrop-shaped island of Sri Lanka is a small country with a big combination of attractions - culture, beaches and nature - that make this arguably the perfect long haul destination. No wonder the country was known as the 'island of serendipity' by those fortunate European powers with an eye on spice markets and trade routes who stumbled across it over the centuries. The fascinating vestiges of colonial control left by first the Portuguese and Dutch and, latterly, the British can be seen around the country, and add yet more layers to Sri Lanka holidays
in an already rich and intriguing cultural landscape.
Sri Lanka Holiday Ideas
A few suggestions to get the holiday planning process started
Sri Lanka Regions
Discover more 100% tailor-made holiday ideas
A few of the benefits of travelling with us
What our clients say about us
Sri Lanka customer reviews (3 reviews)
4.7/5
Miranda has been really wonderful throughout and was always ready to address any point of detail no matter how small. You've provided exceptional customer service which has been really appreciated by all of the family. So on behalf of each one of us thank you so very, very much.
Sri Lanka Guide
Practical advice, client testimonials and inspiration to help you prepare for your holiday
Contact one of our Sri Lanka specialists
These are some things that can only be found in Sri Lanka.
Arugam Bay offers a variety of surf spots and almost deserted beaches. Visit giant stone Buddhas, like those in Buduruwagala and Maligawila, or go blue whale watching off the beautiful beaches between Mirissa and Tissamaharama. See the fast-flowing Kelaniya Ganga river where you can go rafting. Explore the city of Galle, founded by the Portuguese in the 16th century. Then head to Kandy, the last capital of the Sinhalese kingdom before the British arrived. Kandy and its Temple of the Sacred Tooth with the relic of Buddha's tooth. A major site of pilgrimage for faithful Buddhists. See the Buddhist and Brahmanic remains in Polonnaruwa - Sri Lanka's former royal capital. Above all, Sri Lanka holidays offer the delights of a gentle lifestyle and hospitality like nowhere else. And last but not least, it offers sublime cuisine.
Enjoy an original experience on your Sri Lankan journey
As the sun rises over the Maskeliya district and the town of Dikoya, take a walk along dirt trails in the tea plantations and see women with their wicker baskets, leaning over and tending to the shrubs. With their delicate hands, they pick just two buds between their fingers; no more, no less. Continue along the paths and you will see children on their way to school or perhaps a woman adjusting her bright pink sari. At the bottom of the hill, a Buddha watches over a selection of amulets and offerings. Sit and rest for a while and allow yourself to be overcome by an immense sense of calm. Feel the light breeze, hear the call of a bird, the laughter of a child, the whispering of the wind among the tea pickers. Experience a sense of fulfillment. A feeling of gratitude. This is what Sri Lanka can do to you.
Visit the banyan tree at Anuradhapura that - 2,300 years ago - Sangamitta brought back as a cutting from India. This was the tree beneath which Buddha attained awakening, and which continues to thrive, attended to night and day by a team of seven monks who care for it, and a crack team of 1,000 soldiers and policemen who protect it. Votive lamps illuminate the sacred tree to a soundtrack of mantras chanted by devotees who believe that one day the venerable and venerated tree will return to the void where everything springs from.