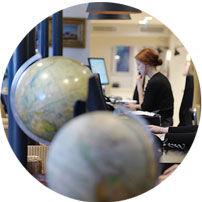 Tucked away in the soft curve of Sri Lanka's southeast, partly bordering the Indian Ocean, Yala National Park is the country's oldest and most popular national park. Once the hunting ground for the elite when Sri Lanka was under British colonial rule, it became a designated wildlife sanctuary in 1900 and a national park in 1938. Within its 378 square-mile protected borders there's a startling array of wildlife and during a visit here there's a good chance you'll come across elephants, crocodiles, wild boar, sloth bears and buffalo. Perhaps the most famous residents of all though are Yala's leopards.
Known worldwide for having the highest population density of wild leopards in the world, some reports even claim that in certain areas of Yala there's more than one leopard per square mile. The landscapes on which this crew of wonderful creatures tread is beautifully varied and includes misty green forests, stretches of rugged golden sand, grasslands, rocky outcrops, scrubs and hidden lagoons. Yala National Park holidays are an exploration of Sri Lanka's wilderness and the magnificent animals that live there. Climb into a 4x4 for a pre-dawn safari and dig out your binoculars to spy some of the park's amazing birdlife (there are 215 species in the park) and its numerous reptiles; encounter black-necked storks wading into wetlands; spot beady-eyed crocodiles lazing on river banks; take pictures of elephants and their calves stomping through grasslands and, if you're lucky, catch the steely gaze of a leopard as it sips from a waterhole.
Yala National Parks Holiday Ideas
A few suggestions to get the holiday planning process started
Sri Lanka Regions
Discover more 100% tailor-made holiday ideas
A few of the benefits of travelling with us
What our clients say about us
Sri Lanka customer reviews (3 reviews)
4.7/5
Miranda has been really wonderful throughout and was always ready to address any point of detail no matter how small. You've provided exceptional customer service which has been really appreciated by all of the family. So on behalf of each one of us thank you so very, very much.
Sri Lanka Guide
Practical advice, client testimonials and inspiration to help you prepare for your holiday
Contact one of our Sri Lanka specialists