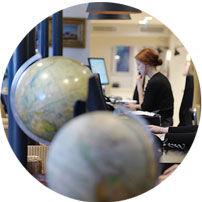 Oman sits between Africa and the Indian subcontinent on the edge of the Arabian Sea, and this gem of a country offers visitors some of the most incredible landscapes in the Middle East, from deserts and mountains to fjords and lush wadis, as well as a thousand-year-old civilisation that means (in stark contrast to its glitzy neighbours) that this singular sultanate has very much kept its identity and values. Oman holidays can take many forms, from stays in beachfront or mountaintop luxury hotels to adventures in the desert, a trip to the spa or snorkelling and diving excursions on luxury liveaboard
boats – appropriate in a country that has produced some of history's finest navigators. This is a destination unlike any other, one that's known for its warm Arabian hospitality and plentiful natural habitats and culture, where you can visit a millennia-old city such as Muscat or Al Hamra and explore natural wonders such as Wadi Shab, the slopes of Jebel Akhdar and the deep canyons in the Hajar Mountains, as well as the Wahiba Sands and Empty Quarter deserts and the beach-rich Salalah in the south. Learn more about all our Oman holidays by contacting one of our expert consultants today...
Oman Holiday Ideas
A few suggestions to get the holiday planning process started
A few of the benefits of travelling with us
What our clients say about us
Oman customer reviews (3 reviews)
4.7/5
The holiday was perfect thank you. We fully relaxed in the Chedi then managed a good hike in the mountains. Just wish we could have stayed longer at the Alila!
Oman Guide
Practical advice, client testimonials and inspiration to help you prepare for your holiday
Contact one of our Oman specialists