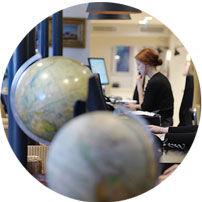 If you can tear yourself away from the immaculate five star hotels on the Muscat coast, the north of Oman splits neatly into three categories - mountains, deserts and coastline - a combination of which makes for a memorable safari in a comfortable 4x4 with a knowledgeable driver/guide. We can even arrange a self-drive safari if that's of interest. The magnificent Western Hajar range runs along the coastline of northern Oman in total contrast to the flat and featureless scrubland of the UAE to the west. Where there are mountains there are wadis, and Oman has some of the most dramatic of these gorges in the world,
and massive canyons too - a haven for adrenaline junkies looking to climb, abseil or tackle some of the best via ferrata in the world. If you are feeling adventurous, the best way to reach the Hajar Mountains from Muscat is off-road via Wadi Bani Awf (not one for self-drive). Visit the famous fort at Nakhl, perched spectacularly on a rocky prominence, before heading deep into the mountains, passing the towering cliffs that mark the beginning of Snake Canyon and the photogenic village of Bilad Sayt before heading and up and over the Jebel Shams region. If you arrive in the mountains on a Thursday, we recommend getting up early on the Friday to visit the famous Nizwa livestock market, which starts at dawn. From the mountains, head to the Wahiba Sands for a taste of desert living - camel rides, sundowners and stargazing included - before returning to Muscat.
A few of the benefits of travelling with us
What our clients say about us
Oman customer reviews (3 reviews)
4.7/5
The holiday was perfect thank you. We fully relaxed in the Chedi then managed a good hike in the mountains. Just wish we could have stayed longer at the Alila!
Oman Guide
Practical advice, client testimonials and inspiration to help you prepare for your holiday
Contact one of our Oman specialists