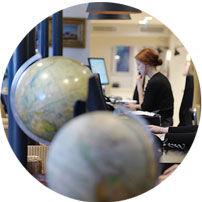 While some countries spend a fortune coming up with fancy marketing campaigns, the UK's is right there in the name. The United Kingdom of Great Britain and Northern Ireland (to give it its full title) may not be great in terms of size, but this diminutive collection of islands anchored off the west coast of Europe most certainly punches above its weight in terms of attractions to enjoy on a luxury holiday. With the benefit of local knowledge, Original Travel is developing a network of superb suggested (and completely tailor-made) UK holidays itineraries around the British Isles, starting with the capital and cultural hub, London.
Further afield, narrowing down what's on offer to a list of highlights is mighty difficult, but any visit of more than a few days should consider including the majestic Scottish Highlands, some quintessential English rural scenes, the mysterious Neolithic ruins of Stonehenge and the Georgian elegance of Edinburgh or Bath. Chuck in some Roman ruins, an ancient cathedral or castle or two, a monument to Britain's industrial heritage and one of the many sporting highlights of 'the season' and there's a luxury holiday as diverse as you could wish for to any country, anywhere. Great, indeed.
United Kingdom Holiday Ideas
A few suggestions to get the holiday planning process started
United Kingdom Regions
Discover more 100% tailor-made holiday ideas
United Kingdom Collections
A few of the benefits of travelling with us
What our clients say about us
United Kingdom customer reviews (1 reviews)
4.5/5
Our tour guides and drivers were extremely friendly, knowledgeable and very representative of England and Scotland. We can't thank you enough for all of your help & expertise throughout this process. In addition, during the trip there were wonderful little things (from being told congratulations during check in,

to the flower petals on the bed at the Bloomsbury, and the hand written note at Fonab) that made this such a memorable trip and wouldn't have happened without you.
United Kingdom Guide
Practical advice, client testimonials and inspiration to help you prepare for your holiday
Contact one of our United Kingdom specialists