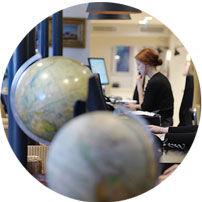 Cambodia is like a phoenix rising from the ashes of its turbulent past, and is fast becoming the South-East Asian holiday destination of choice for keen explorers to visit. Cambodia holidays offer something different, with vestiges of the once fantastically wealthy Khmer kings, who in their wake left behind vast swathes of elaborate Hindu and Buddhist temples (that await exploration) and a deep-rooted history that continues to encourage positive change and growth. Of course, countless unspoilt soft-sanded shores line the country's edge (which are perfect spots for lounging and enjoying a well-earned beach day) and the townscapes,
as you drift further inland, continue to thrive. These bustling hubs co-exist alongside the thick forest and vegetation, with rivers and pools of water ribboning their way through the once wild Cambodian land. Of course, it's virtually impossible to go to Cambodia without visiting Angkor Wat, the ravishing beacon of the Khmer Empire and undoubtedly the country's star attraction. Siem Reap and the country's capital Phnom Penh are also not to be missed. Meanwhile, the watery marvels of the iconic Mekong River and Tonle Sap offer quieter and still authentic rural scenes of traditional floating villages, farmers in waist-high paddy fields and friendly saffron-robed monks walking barefoot in prayer. Add the charm of Cambodia's people, and food that is a delicious culinary blend of French and Asian influence and you can see why Cambodia holidays offer such an alluring combination.
Cambodia Holiday Ideas
A few suggestions to get the holiday planning process started
Cambodia Regions
Discover more 100% tailor-made holiday ideas
A few of the benefits of travelling with us
What our clients say about us
Cambodia customer reviews (3 reviews)
4.5/5
Firstly we had a great holiday. Thank you for organising everything at such last minute. We thoroughly enjoyed the trip from start to finish and it all worked very smoothly (thanks!). Pace was really good too - not too hurried but never felt we were killing time.
Cambodia Guide
Practical advice, client testimonials and inspiration to help you prepare for your holiday
Contact one of our Cambodia specialists