Itinerary Highlights
From the Red River to the Andaman Sea, explore some of South-East Asia's top sites
Sailing in Halong Bay, admiring the temples of Angkor and getting up close and personal with Hanoi... this itinerary has it all.
Your final stop is a bungalow on the beach at Koh Yao Noi, a desert island far from the crowds
All our usual additional services are included, such as our local Concierge service.
Contact one of our Vietnam specialists + 44 (0) 20 3958 6120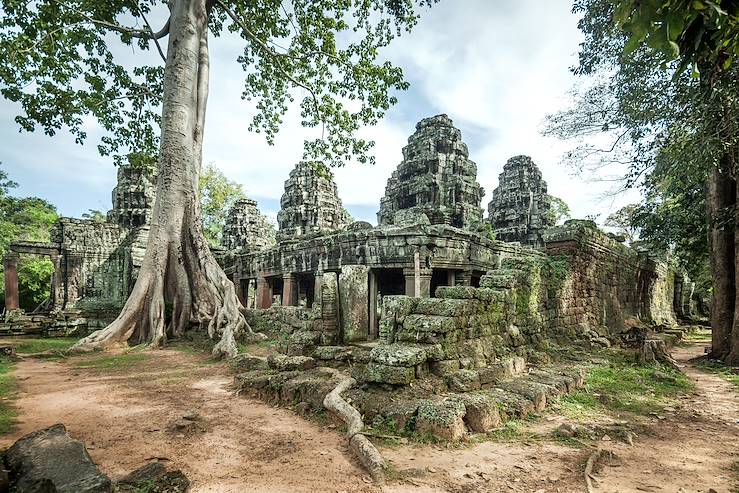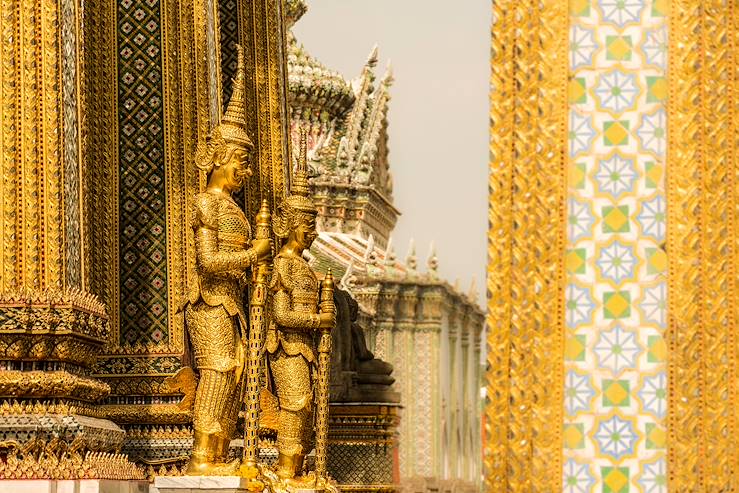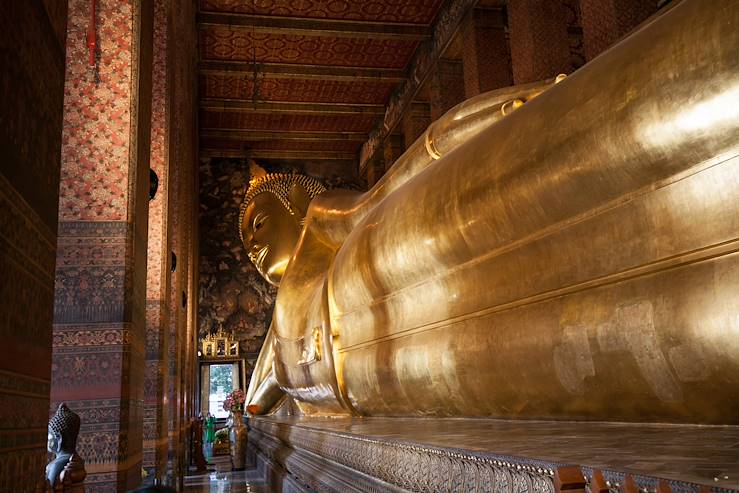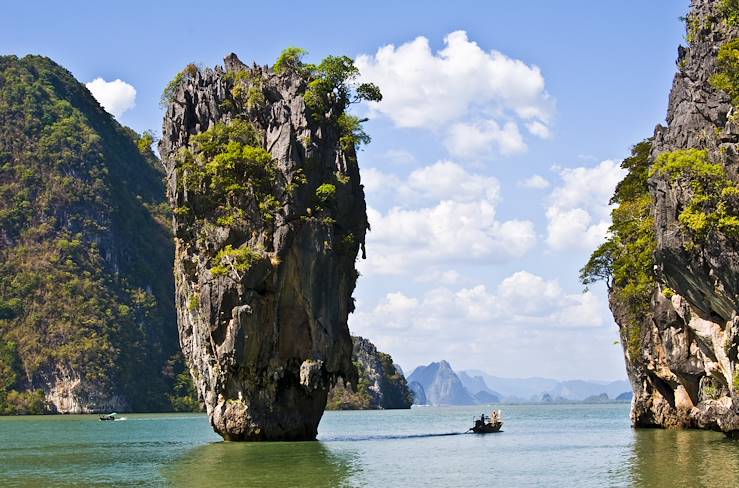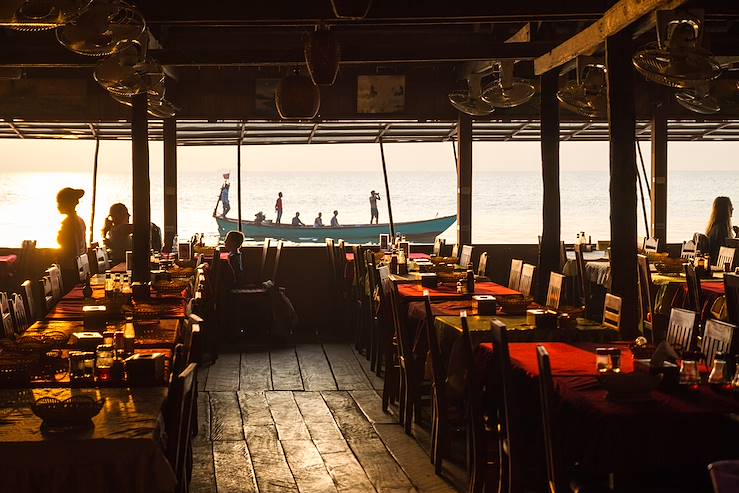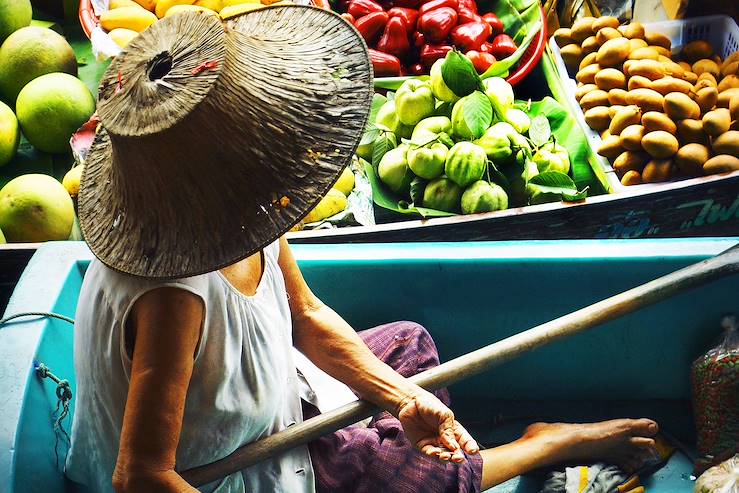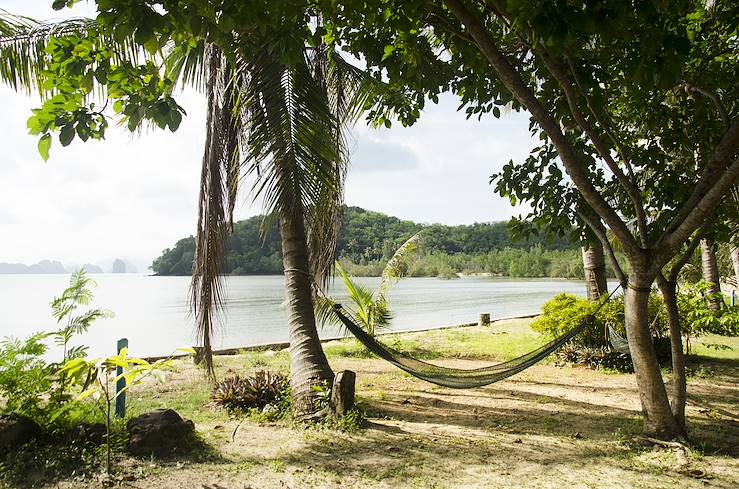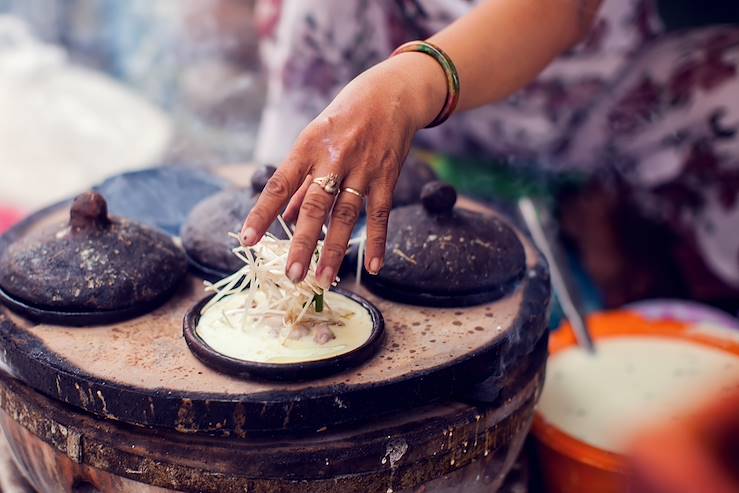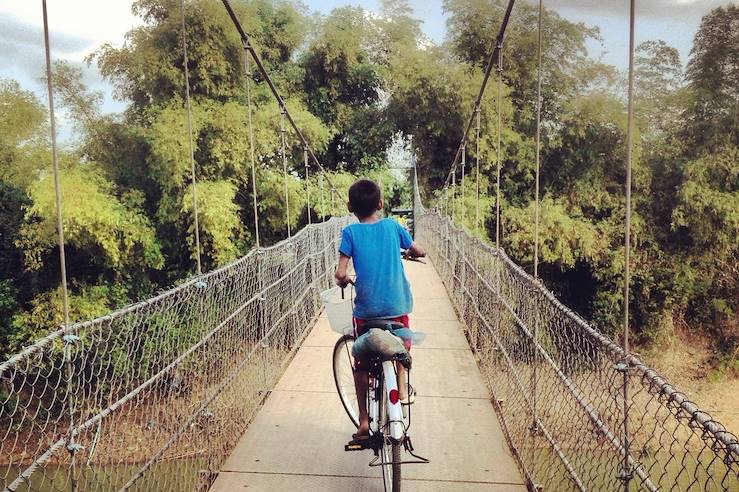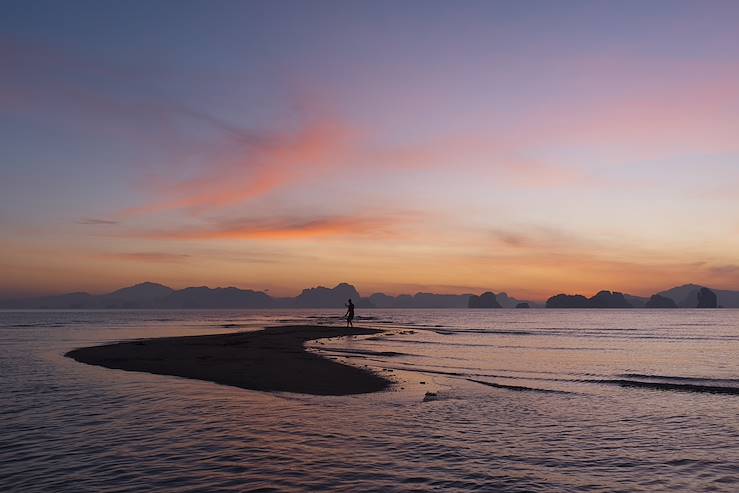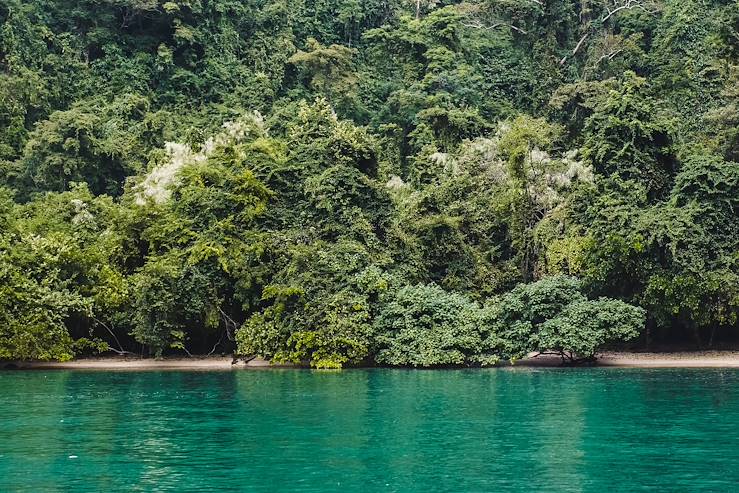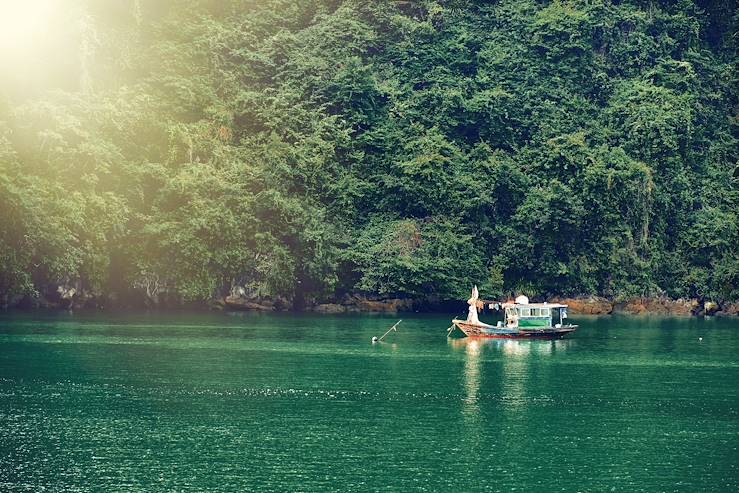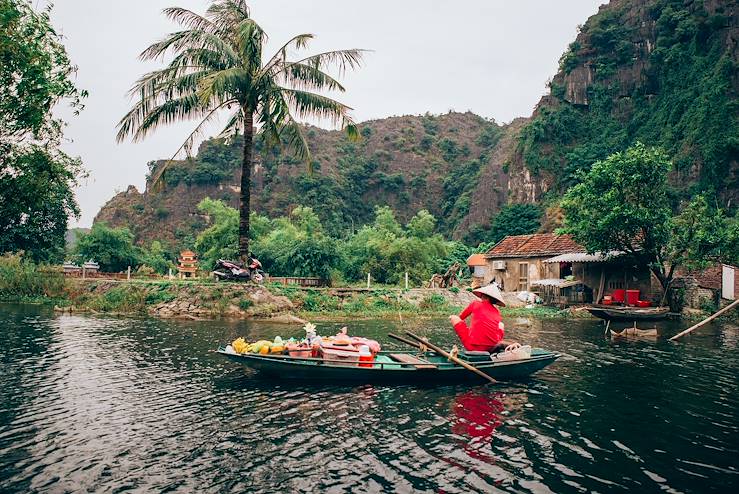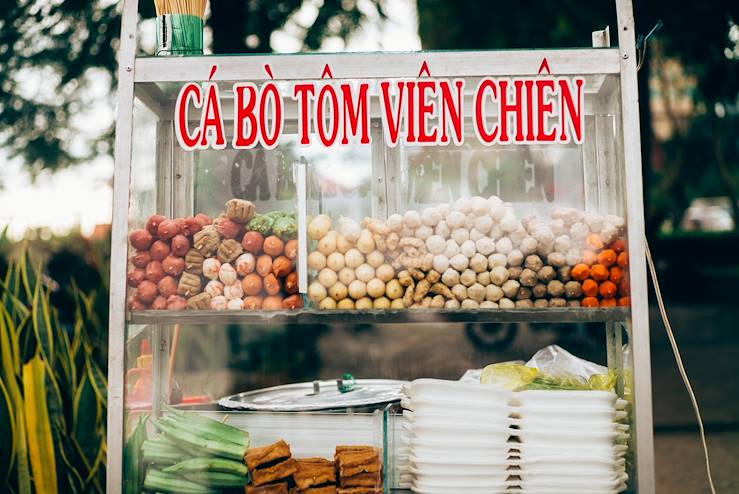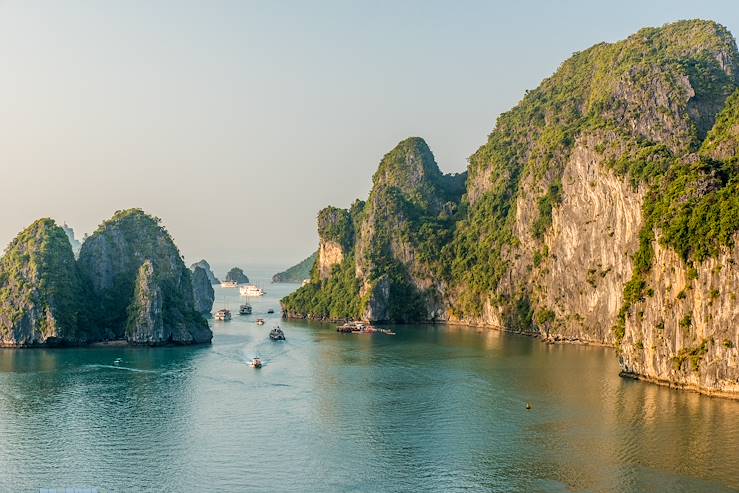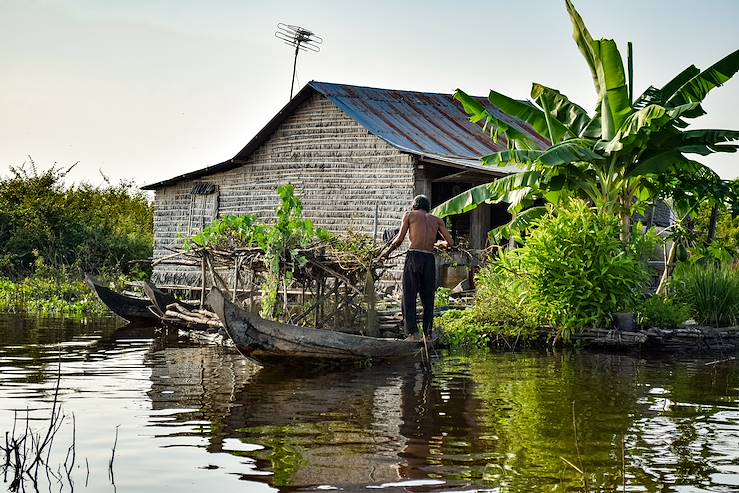 Three South-Eastern Hotspots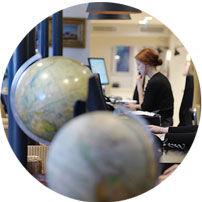 Journey through three countries in two weeks. The aim of this trip is to give a better understanding and take a deeper look at the destinations included. First stop, the bustling northern city of Hanoi. Then, still in the Red River Delta, visit
Ninh Bình
and the Trang An Scenic Landscape Complex, which was inscribed as a UNESCO World Heritage Site for its exceptional landscape, and the lands surrounding Halong Bay. Next, enjoy an offshore experience of
Halong Bay
, on board a real junk boat; another World Heritage Site. Then, fly to
Siem Reap/Angkor
, yet another World Heritage Site. Here, discover the Khmer civilisation in the splendour of its templed capital, where Cambodians have taken up worship again.
The flurry of motorcycles, the gold-plated goods of Chinatown, the glistening buildings and shopping malls change the tone in Bangkok. Then, it's time to head south to Phang Nga Bay and the Andaman Sea. Koh Yao Noi is not the complete opposite of Phuket, but it's a peaceful, relaxed island where inhabitants fish and grow pineapples. Spend four days by the water's edge enjoying the amazing facilities and perfect location.


Your Trip
From the retro modern hotel in the historic centre of Hanoi to the Koh Yao Noi seafront bungalow, you'll be staying in our top-pick hotels in each region. This trip packs quite a punch when it comes to the amount of ground covered so careful planning is required and we have worked hard to do everything at the highest possible standard: early check-in and late check-out at both ends; flights for long trips; air-conditioned cars with drivers for medium-length trips and tuk-tuks, scooters, bikes and boats for local trips. The day trips and tours that we have included in your itinerary take you straight to the main attractions: street food, temples of Angkor, the fishing village on the Tonle Sap Lake and Bangkok must-sees. The Halong Bay cruise is, naturally, a bit different and we aim to give you a truly local experience here. If there are any issues or you have any last-minute requests to do something along the way, just contact our local Concierge, who will respond to you quickly and efficiently. Our local Concierge is knowledgeable, responsive and provides a valuable service.

Route
Everything is 100% tailored to you
DAY 1
Flight to Hanoi (Vietnam)
Overnight flight, arriving the next day.
Private transfer and two-night stay in Hanoi's city centre. The hotel is in a small colonial building where the decor blends Vietnamese style with Art Deco. The dark wooden flooring, clean and comfortable furniture and lovely bedding provide a harmonious ambiance for a good night's sleep. The restaurant serves classic regional dishes with a contemporary twist, while the spa and gym feature great facilities..

Included in the itinerary - Tour Hanoi of Hanoi with a Local. This is a half day tour with a local resident, who knows the city and its people like the back of their hand. This is your opportunity to see the city from a truly authentic perspective. Feed your curiosity exploring the streets, squares and parks throughout the city. This outing is also a great way to gain first-hand information for your own adventures.
Private transfer to Ninh Binh. Overnight stay just a couple of miles out, in what looks like a small traditional Tongan village. The small houses are neat, made of traditional materials and full of charming simplicity. Your room opens onto a private terrace, providing complete comfort. The restaurant gets its vegetables and herbs from the estate garden. The swimming pool is great for relaxing the body, while the lotus pond is great for relaxing the mind. The hotel is surrounded by rice paddies, rivers and limestone karsts. Activities you can do from the hotel include boating and cycling.
DAY 5
Ninh Binh - Halong Bay
Private transfer to Halong. Board a lovingly restored junk boat - think red lacquered wood, large windows, a beautiful deck and excellent onboard restaurant. Nearly 2,000 karst peaks emerge from the water as if they were on a giant pinball machine. Dotted with caves, swathed in luscious jungle vegetation and surrounded in the evening by the swirling flight of bats, the landscape is nothing short of spectacular. You'll stop off at secret beaches and swimming spots along the way.
DAY 6
Halong Bay - Hanoi - Siem Reap/Angkor (Cambodia)
Time to disembark. Private transfer to Hanoi airport and flight to Siem Reap. Another transfer and three-night stay in a comfortable contemporary hotel, whose spa is particularly impressive. But, unlike many others, it doesn't try to be rustic, and boasts a comforting urban feel.
Included in the itinerary - Street food tour on a scooter. Hop onto the back of a scooter with a driver to tour the night markets and sample local street food. This is the best way to soak up the hustle, bustle and buzz of this vibrant city. The street food here is some of the best you'll find anywhere in the world. From meat, fish and shellfish to vegetables and fruits, all regional produce is prepared in front of customers. Stop and have dinner at whichever stall takes your fancy.
Included in the itinerary - Angkor Wat and Angkor Thom. The best way to visit these two ancient monuments is by tuk-tuk. Angkor Wat, the temple and capital city of Suryavarman II, was built in the 12th century and is the largest and best-preserved monument on the site. Archaeologists are still carrying out research and restoration on these temples - there is much still to be discovered. Buddhist worship continues in the shrine (which was first dedicated to Vishnu). Jayavarman VII built the Royal City of Angkor Thom in the early 13th century. The immense carved faces of the southern gate; the natural Bayon bas-relief sculptures; the central temple and the Terrace of the Leper King, once a royal cremation site, are all must-sees while here.
Included in the itinerary - A private tour of Kompong Khleang. Boat trip on Tonle Sap with an expert guide. As the largest freshwater lake in Southeast Asia, it contributes to the natural flow regulation of the Mekong River. Sail to the village of Kompong Khleang, where the houses are built on tall stilts and water levels reach several feet. Life on stilts, where everything depends on the river, feels like a different era and a different world. Meet with fishermen who fish from abundance of fish in the lake. The lake also feeds a diverse array of bird wildlife, including spot-billed pelicans and Oriental darters.
DAY 9
Siem Reap - Bangkok (Thailand)
Private transfer to the airport and flight to Bangkok. Welcome on landing and priority clearance through customs and immigration. Transfer and two-night stay in Chinatown in an early 20th century building, which is ancient for this area! The decor replicates the glamour of 1930s Shanghai. Brick and lacquered wood are seamlessly combined with Art Deco motifs. In the rooms, the cheerful cushions contrast with the strict geometry of the Chinese furniture... and you wouldn't be in Asia if some sophisticated technology wasn't thrown into the mix. In the restaurant, the atmosphere is as delicious as the food.
Included in the itinerary - Bangkok must-sees. In old Bangkok, discover two major cultural centres: the Royal Palace, with the Wat Phra Kaeo (Temple of the Emerald Buddha), and the Wat Pho (Temple of the Reclining Buddha). In the royal chapel, the Emerald Buddha, carved in 15th-century green jade, symbolises the ruling Chakri dynasty. Wat Pho, undoubtedly the oldest temple in Bangkok (late 18th century), houses a monumental statue of a reclining Buddha covered in gold leaf: 150ft long and 50ft high. The soles of Siddharta Gautama's feet are inlaid with mother-of-pearl: 108 symbols of awakening. Then, glide along the 'khlongs' – canals – of the Thon Buri district in a motorboat. This provides a rare glimpse of ancient Bangkok with its temples, wooden houses on stilts, vegetable gardens and orchards. Day with a private expert guide.
Optional - Street food in Chinatown.

DAY 11
Bangkok - Phuket - Koh Yao Noi
Private transfer to the airport and flight to Phuket. Another transfer to Koh Yao Noi by private boat with an English-speaking guide. Four-night stay on the east coast of the island. From the beach, the offshore landscape looks a little like Halong Bay. Your bungalow – Thai-style with a palm roof – opens out to the sea air through a system of sliding bay doors and woven roller blinds. Immaculate bedding, hand-crafted furniture, waxed woodwork and a surprising canopy bed make up a very elegant Robinson Crusoe-style home. The restaurant serves refined Thai cuisine based on basic flavours and international influences. There's also a spa to honour the national tradition of well-being, a long infinity swimming pool and yoga classes. And there's a bar, of course, where you can enjoy the colourful evenings.
To explore the land and sea, you can rent bicycles and kayaks from the hotel. The soft sand and crystal clear water are just a stone's throw away, the hammocks hang under the coconut trees and the beautifully designed garden is breathtaking. If you can tear yourself away from the hotel, the rest of the island is ripe for exploration; lush rainforests, diverse culture from village to village and picture perfect beaches.
Included in the itinerary - Treasures of Koh Yao Noi. With a private guide, go for a long bike ride and sail in a long-tail boat. Pass through the fishing villages first, then head north, which is home to Ao Phang Nga National Park. On the way, stop off at rubber plantations, pineapple plantations and rice paddies. Then, board the boat and head to south of Koh Kudu Yai and a cove enclosed by impressive tooth-like rocks. Here, go for a swim, relax and take some photos. On the way back, jump back on the bike to head up to a stunning view of the bay.
DAYS 15 & 16
Koh Yao Noi - Phuket - return flight
Private transfer to Phuket airport and return flight via Bangkok. Overnight flight, arriving the next day.
A la carte
Bangkok - Street Food in Chinatown
In the streets of Yaowarat where red and yellow dominate, the stores will blow you away. Fried garlic, broth, roasted meat... the aromas coming out of the restaurants and stalls set in single file will have a similar impact, and you'll suddenly feel very hungry. You might not be able to pronounce the names, but that doesn't matter, you'll have an expert guide with you who knows a lot about this never-ending list of dishes. With their help, visit the best stalls and choose whatever takes your fancy.
Option - Half day
A Rough Idea of Price
Dependent on season, accommodation and activities
The estimated cost for this trip is £5,400 to £6,600 per person. The final cost of the trip depends on the way we tailor it especially for you. The final cost varies according to several factors, which include the level of service, length of trip and advance booking time. The exact price will be provided on your personalised quote. The average price for this trip is £5800 per person.
Flights with a scheduled airline
Airline taxes and fuel surcharge
Welcome on arrival and assistance with customs and immigration at Bangkok airport
Private transfers
Two-night stay in Hanoi in a double room with breakfast included
Getting up close and personal with Hanoi with a private guide
Overnight stay in Ninh Binh in a double room with breakfast included
Overnight stay in Halong Bay on board a junk boat in a double cabin with full board
Three-night stay in Siem Reap in a double room with breakfast included
With a private guide, sample street food at night on a scooter; visit Angkor Thom and Angkor Wat in a tuk-tuk with a private expert guide; discover the floating village of Kompong Khleang with a private expert guide
Two-night stay in Bangkok in a double room with breakfast included
The highlights of Bangkok with a private expert guide
Four-night stay in Koh Yao Noi in a double beach bungalow with breakfast included
Treasures of Koh Yao Noi, with a private English-speaking guide
Our local Concierge service
A few of the benefits of travelling with us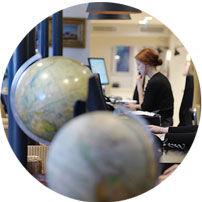 Get in touch
Our experts have the inside track on the destinations they sell and will tailor-make a holiday to your unique requirements.
Contact one of our Vietnam specialists