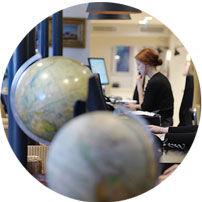 The best Japan holidays start by throwing you in at the deep end of this extraordinary country, with an experience-led adventure you won't forget. Despite his jet lag, Bill Murray shone a light on the poetic and urban chaos of Tokyo in the film 'Lost in Translation' and captured the essence of Japan perfectly, from neon-lit cities to the tranquillity of the cherry-filled parks found in secluded pockets. There is so much to see: salarymen out enjoying themselves; Shibuya girls pulling out all the stops in their Prada, Chanel and Louis Vuitton; futuristic Shinjuku beauties straight out of a manga
drawing; college girls with their sailor-suit collars. It's an eclectic melting pot of subcultures, traditions old and new and stunning natural beauty, which is why a tour is a must as it reiterates how Japan holidays are unlike any other destination. Then, out of nowhere, you could be on a Shinkansen bullet train passing Mount Fuji, cherry blossom filled parks and more in a brief, almost subliminal flash. Next up: Kyoto, a low-rise city full of temples and gardens, ryokan traditional inns or minshuku family B&Bs. In the evenings, hear the sound of geta clogs on the cobblestones as a geisha glides by. Even after contrasting Kyoto and Tokyo you'll only have scratched the surface of Japan...
Japan Holiday Ideas
A few suggestions to get the holiday planning process started
A few of the benefits of travelling with us
What our clients say about us
Japan customer reviews (2 reviews)
4.5/5
Thanks for arranging such a great holiday, we had a wonderful time. All of the guides were excellent, we can't praise them enough. The hotel choices were inspired, each for different reasons, and we had a great experience overall. So again thanks for a terrific holiday, we look forward to coming back to you soon to consider next year.
Japan Guide
Practical advice, client testimonials and inspiration to help you prepare for your holiday
Contact one of our Japan specialists
Who is Japan best for?
Japan holidays are, above all, an immersion in Japanese culture. Enjoy bewitching encounters with Edo-era 'floating world' culture; Japanese cinema; the imagery of Kabuki theatre or a tea ceremony; the subtle symbolism of a traditional kimono motif or Ikebana flower arrangement; and the often-enigmatic universe of Japanese writers and illustrators. Lovers of nature will also be captivated by Japan's majestic, romantic scenery, we're talking cherry blossom petals carpeting the streets, perfectly manicured Japanese gardens and surrounding park areas. For travellers who love a new and original experience, a stay at an onsen (hot spring spa), a ryokan (traditional inn) or a Buddhist temple is the perfect way to reiterate that this country really is like no other place on Earth. Known as a profoundly spiritual place, Japan is perfect for anyone looking to find themselves, or their inner peace. Japan is also a superb family holiday destination, and ideal for teens particularly thanks to the abundance of adolescence, Manga, state-of-the-art gadgets, electronics, gaming consoles and inter-active games, robotics, and very creative fashion all ready and waiting for you to explore.
What to do in Japan?
What you can find in Japan that you cannot find anywhere else:
Quite simply, a holiday to Japan is like visiting another planet. It is a country that is both strangely familiar yet totally unpredictable, surprising and original in its traditions, culture and civilisation. Japan is home to an ancient civilisation which is very attached to its values, codes, rituals, beliefs and roots and yet resolutely looks towards the future. Japanese culture is unlike any other, with the contrasts here stronger and more striking than arguably anywhere else in the world. Japan is one of the few countries that speaks as much to the heart as they do to the head. It's a destination to visit and discover.
The best things to discover on your Japan holidays:
The best option for Japan holidays when it comes to flights, accommodation and train passes is a combination of slick organisation and freedom to ensure you have the best experience. Many often find themselves gravitating towards a Japanese excursion during July but it really is exquisite all year round, essentially there is always a right time to visit. Despite the language barrier, the Japanese will do their best to listen to your needs and you will find that they are as interested in listening as they are about anything else. A typical 15-day itinerary and tour could include Tokyo, Hakone, Takayama, Kanazawa, Kyoto, Mount Koya-san, Miyajima Island and Osaka, staying alternately in international hotels and ryokan traditional inns, and with one night staying in a temple.
What are the best options for a Japan holiday?
Few places in the world offer visitors such a diverse a range of experiences as Japan, from the snow-covered mountains of Hokkaido in the north to the pristine beaches of Okinawa 2,000 miles further south. A tour here is unlike any other and with so much to see and do in the archipelago visitors simply do not have the luxury of enough time to see it all in one visit. Despite the wonders (particularly to someone from Britain) of the Japanese railway system, a nation that stretches some 2,000 miles from north to south is just too big to see all at once, and that's where we come in, with expert knowledge on which bits you should prioritise and which you should save for next time. In fact, of all the destinations in the Original Travel portfolio, Japan is probably the one that requires the most expert advice, given language barriers and the sheer alien nature (in a good way) of the country.
And what a country it is, with 127 million inhabitants living on increasingly over-crowded coastal plains beneath rugged mountain ranges that stretch the length of the islands, and with these megalopoli some of the most vibrant, innovative city destinations an urban warrior could wish to visit. Equally, those in search of calm and serenity can find respite from the hubbub surrounded by mountain peaks or in one of the country's remarkable Zen gardens or park areas to discover and explore.
It's the contrast between technology and tradition that makes Japan such an alluring destination for luxury travel, but with so much to see, careful planning is required. For the ideal 'beginner's guide to Japan' the starting point has to be Honshu - the main island - and home to Tokyo, Kyoto and even more cities worth seeing. For the time-pressed, there's a lovely loop taking in Tokyo, the beautiful rural area of Hakone (home to magnificent Mount Fuji), venerable Kyoto and then most likely the harrowing Hiroshima and elegant Miyajima island. A well-trodden route, but understandably so given what a perfect combination of experiences this represents - ultra-modernity, ancient capitals, urban energy and rural idylls, and a superb range of accommodation options from luxury hotels in Tokyo taking up the top floors of skyscrapers to luxury ryokan traditional Japanese inns in pristine countryside. For the smitten (trust us, you will be) looking to return, or the fortunate few with longer to explore, we passionately urge exploration beyond the above. Honshu itself has other unmissable luxury travel highlights, from bathing hot spring snow monkeys and skiing in Nagano to the UNESCO World Heritage old town of Takayama, confirming that this is a place to explore.
Further afield the islands of Hokkaido, Kyushu, Shikoku and Okinawa are all fascinating as well. For luxury skiing in Japan, the place to visit is northerly Hokkaido, and in particular the resort of Niseko. Beer drinkers, it's worth noting that Hokkaido is also home of the Sapporo brand. Kyushu island, to the south west of Honshu, is renowned for onsen hot springs, spectacular volcano lakes (as seen in the classic Bond You Only Live Twice) and the beautiful southern city of Kagoshima, known as the 'Naples of Japan' thanks to its coastal setting and brooding volcano. Kyushu is already well off the tourist trail, and neighbouring Shikoku island even more so, but the place to go for temples and long distance walking trails; and then there's Okinawa for a taste of the tropics. Stay in a luxury ryokan by the beach for the ultimate in original beach holidays (that are perfect in July) and escape from the busyness of the cities.