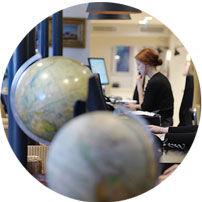 There's a lot to love about visiting Japan, but one of the greatest pleasures is train travel in Japan. The unbelievably fast (we're talking up-to-185-miles-per-hour-fast) and efficient (we're talking delays-are-measured-in-seconds-efficient) Shinkansen - or Bullet Trains - connect Japan's major cities in the blink of an eye, while equally well-organised local and regional trains connect the major hubs to some of the lesser-known, untouched towns and islands where time has stood still. This makes getting around this long, linear country a complete breeze. In fact, there should be little or no need to ever sit in a car on the entire trip,
so your time in Japan will also be extremely sustainable.
Japan Train Travel Ideas
A few suggestions to get the holiday planning process started
A few of the benefits of travelling with us
What our clients say about us
Japan customer reviews (2 reviews)
4.5/5
Thanks for arranging such a great holiday, we had a wonderful time. All of the guides were excellent, we can't praise them enough. The hotel choices were inspired, each for different reasons, and we had a great experience overall. So again thanks for a terrific holiday, we look forward to coming back to you soon to consider next year.
Japan Guide
Practical advice, client testimonials and inspiration to help you prepare for your holiday
Contact one of our Japan specialists