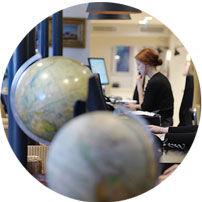 Jam-packed with jungle-shrouded temples and brimming with colourful customs, it is no surprise that Cambodia is known as the 'Kingdom of Wonder'. Submerse yourself in culture in Cambodia's capital, Phnom Penh, with a wander through the enormous, carved wood doors of the National Museum into a trove of ancient treasures, followed by a tuk-tuk ride to the Royal Palace of Phnom Penh and the Silver Pagoda to gain an intriguing insight into Cambodia's past and present on a private tour with a local guide. History enthusiasts should be sure not to miss a visit to the Choeung Ek Genocidal Centre and Tuol
Sleng Genocide Museum which tracks the dark and turbulent past of this now optimistic country. And of course, the main attraction of Cambodia cultural holidays – the UNESCO-listed cache of tree-entwined temples deep in the jungle in Angkor Wat, where Buddhism and Hinduism come together. Ta Prohm or 'Jungle Temple' is a particular highlight. Here, architecture aficionados will find endless pinecone-shaped domes, crumbling cornices braided with ancient tree roots and the serene stone-carved faces of early god-kings looking over their empire that has since succumbed to the natural world. Unpeeling layers of history on a cultural voyage through Cambodia should be at the top of your bucket list.
Cultural Holidays by country
Other Cambodia collections
A few of the benefits of travelling with us
What our clients say about us
Cambodia customer reviews (3 reviews)
4.5/5
Firstly we had a great holiday. Thank you for organising everything at such last minute. We thoroughly enjoyed the trip from start to finish and it all worked very smoothly (thanks!). Pace was really good too - not too hurried but never felt we were killing time.
Cambodia Guide
Practical advice, client testimonials and inspiration to help you prepare for your holiday
Contact one of our Cambodia specialists