Itinerary Highlights
Cruise around Halong Bay and the Mekong Delta in Vietnam
See sunrise over Angkor Wat in Cambodia
Get culturally immersed in Laotian classic Luang Prabang
Contact one of our Cambodia specialists + 44 (0) 20 3958 6120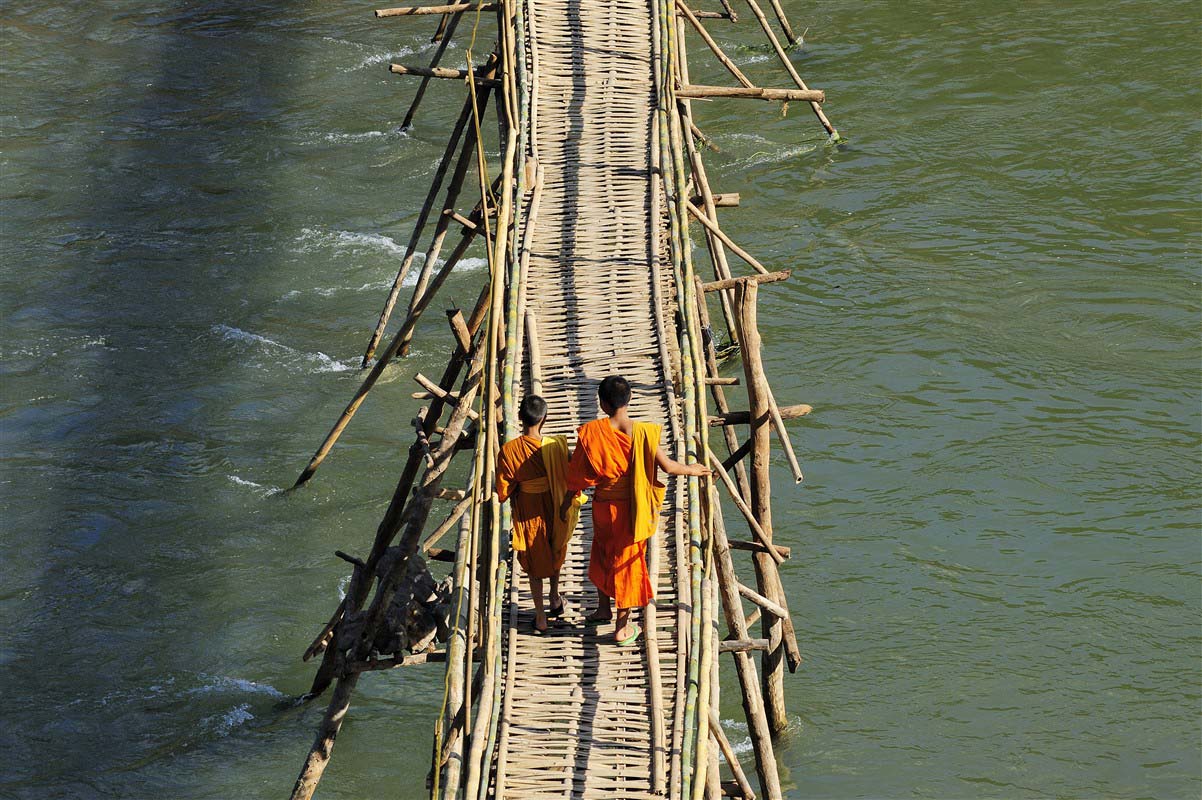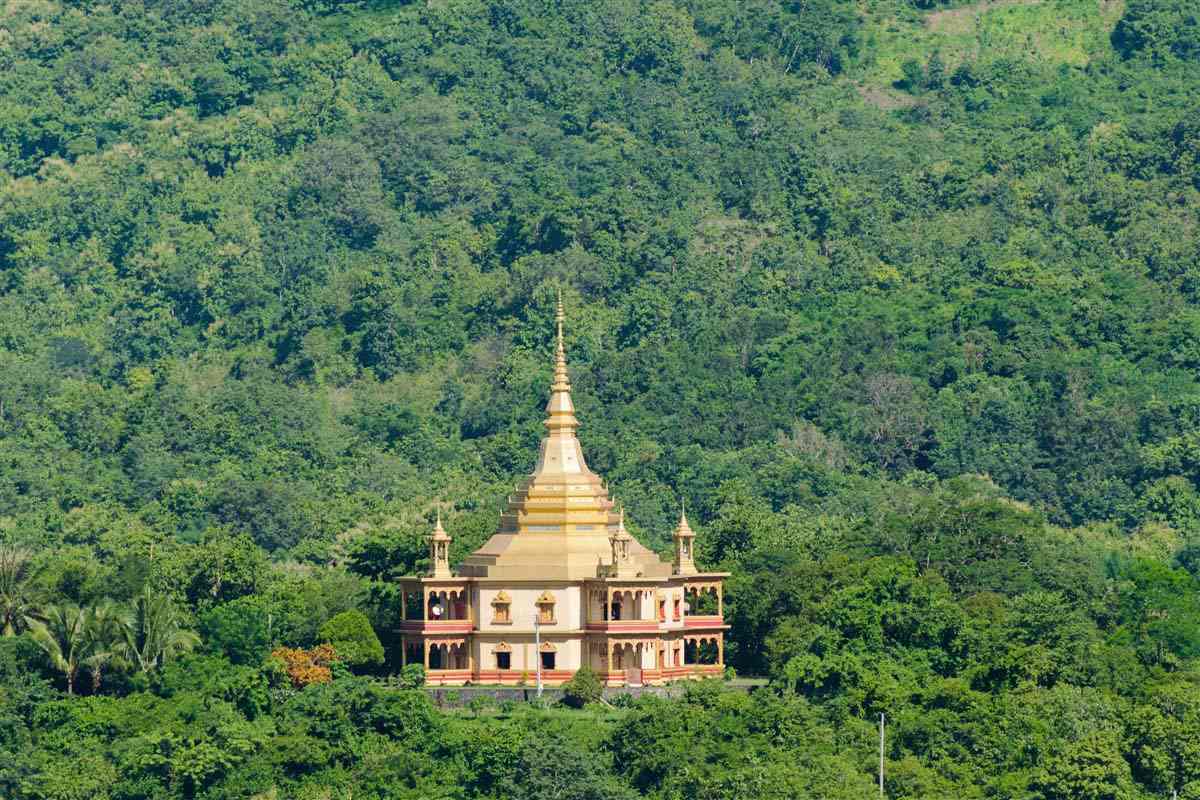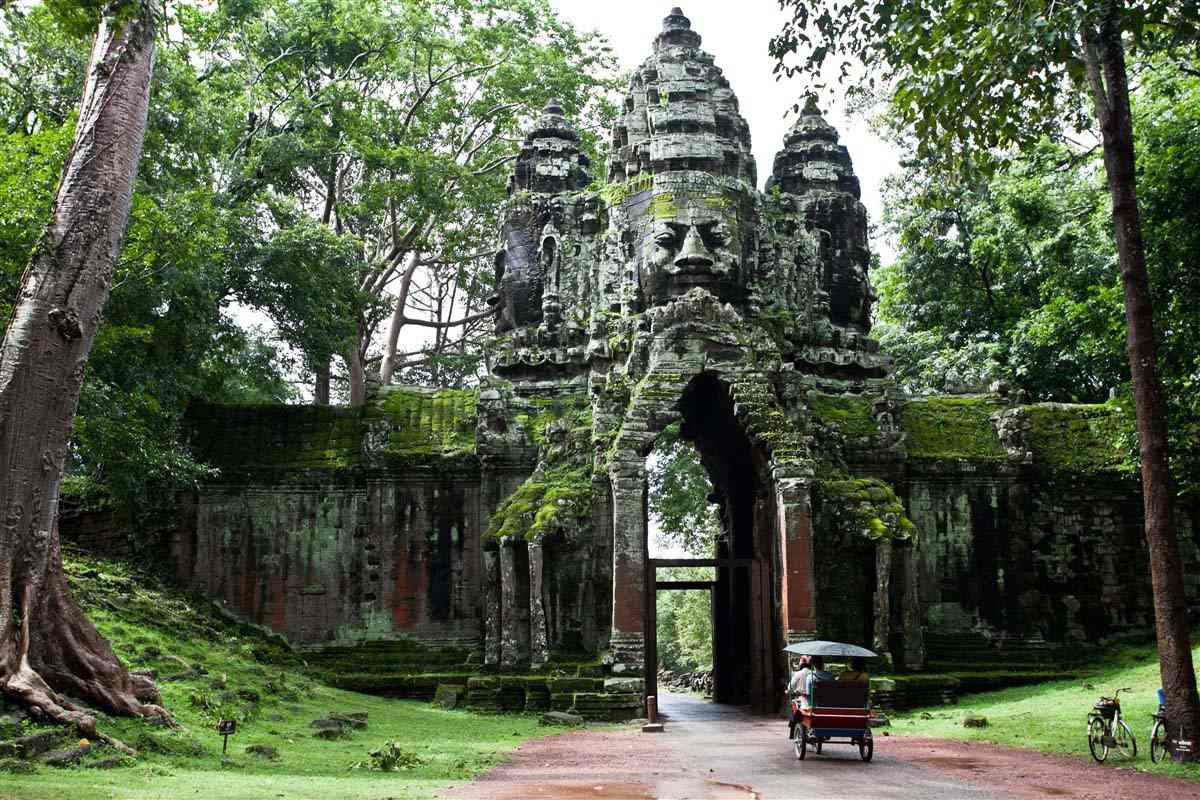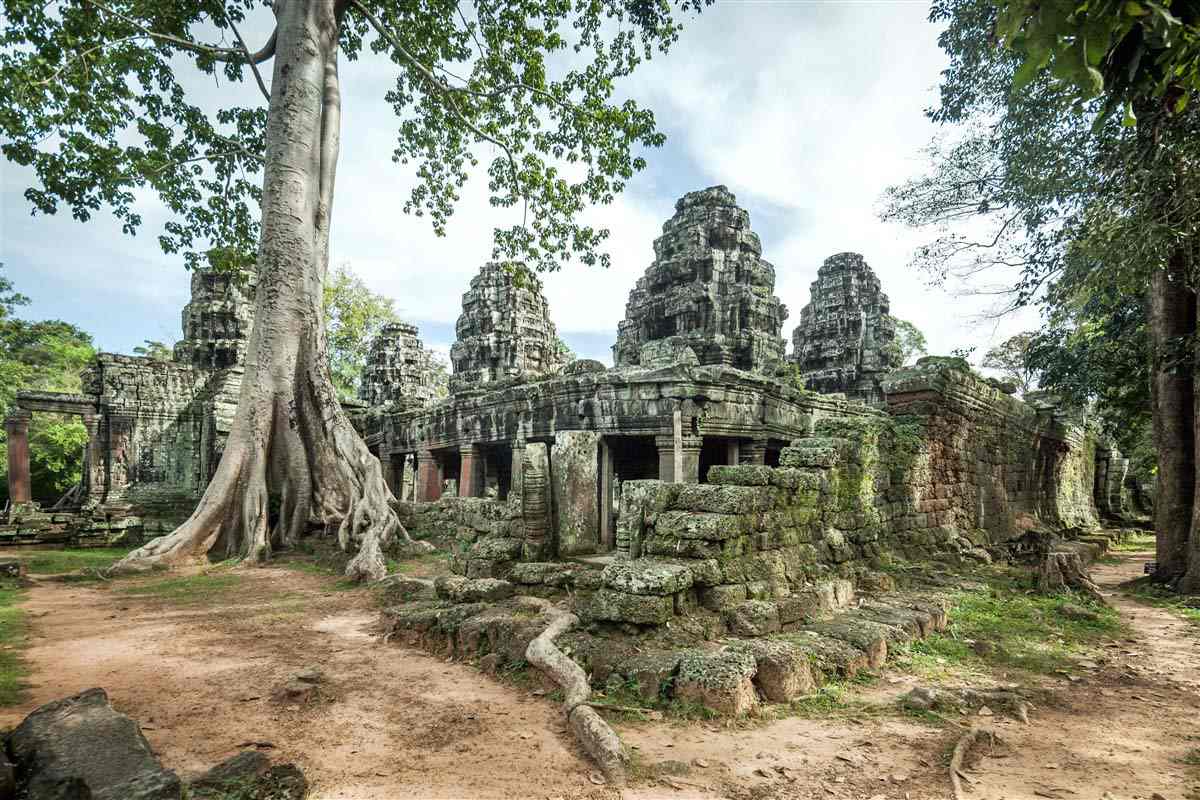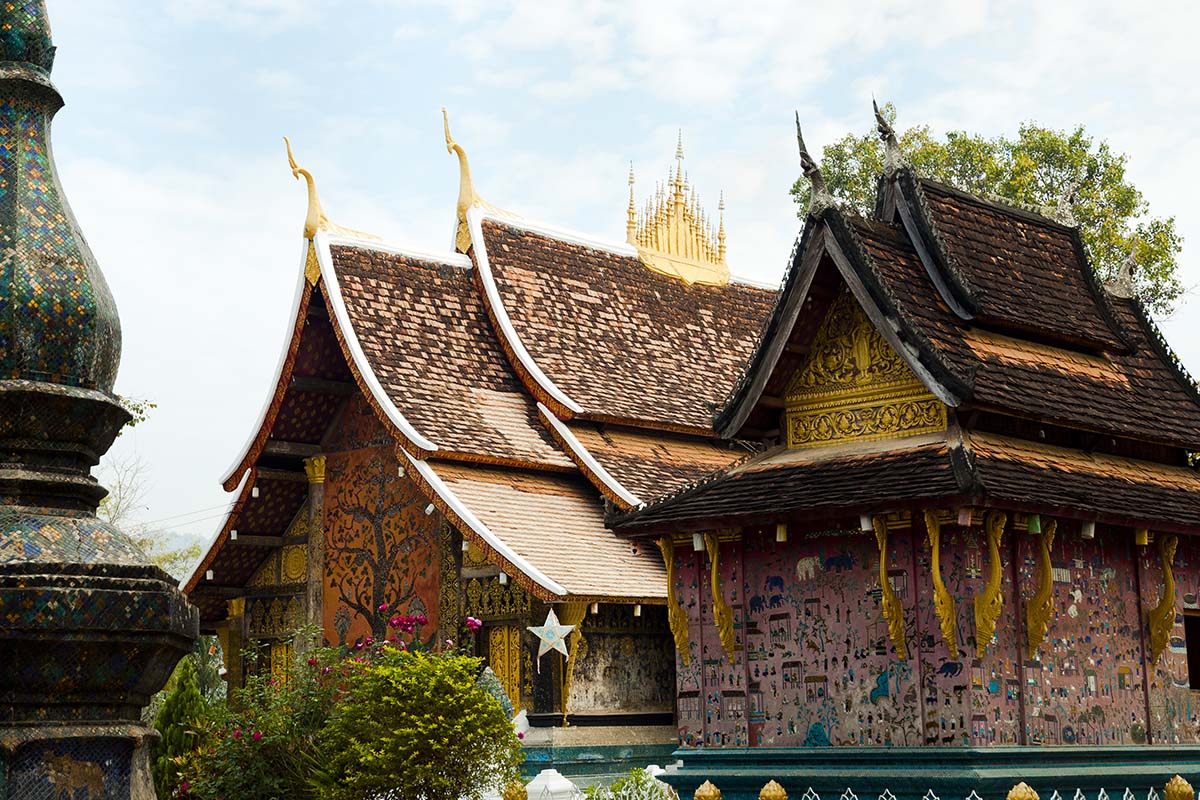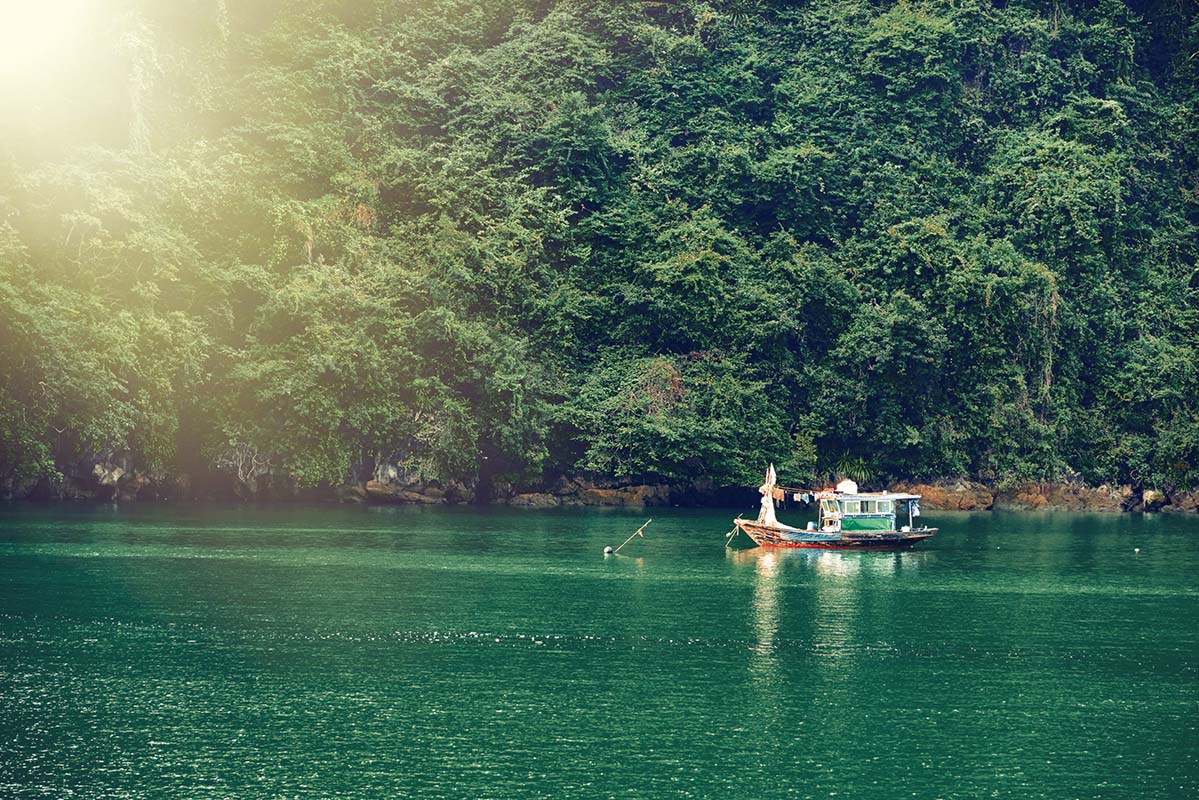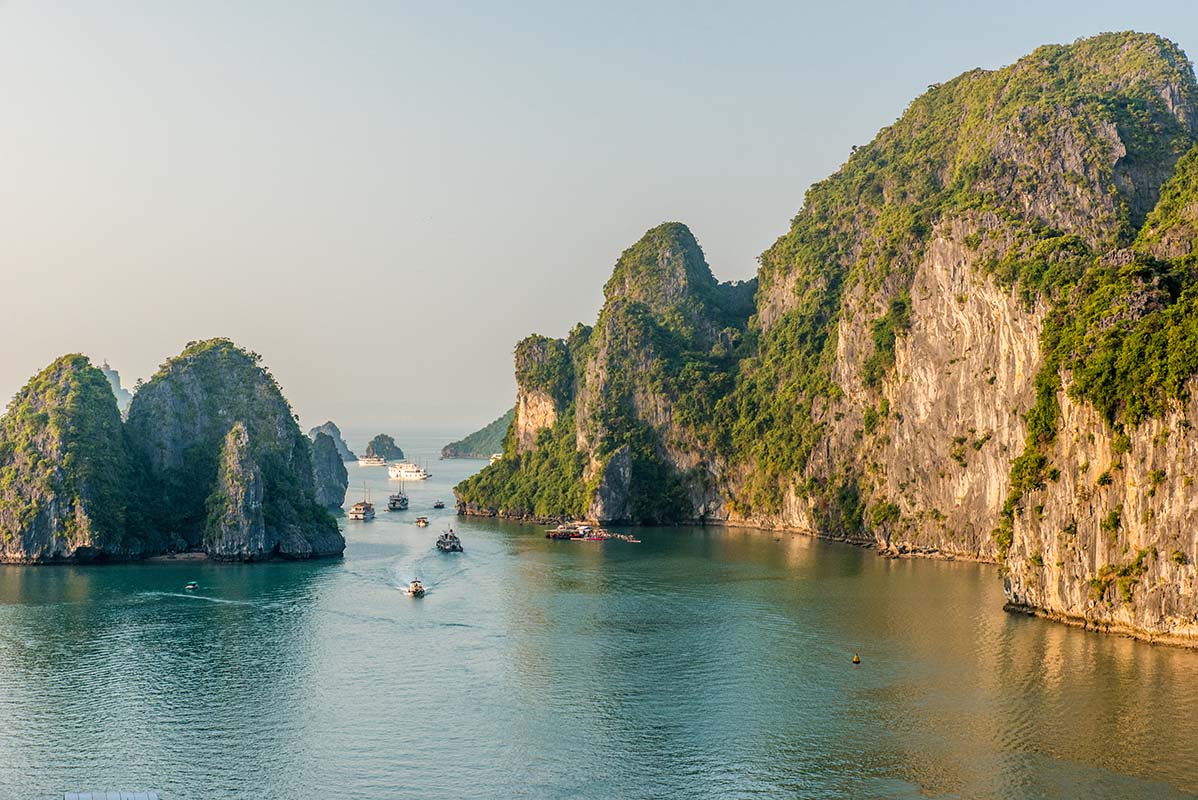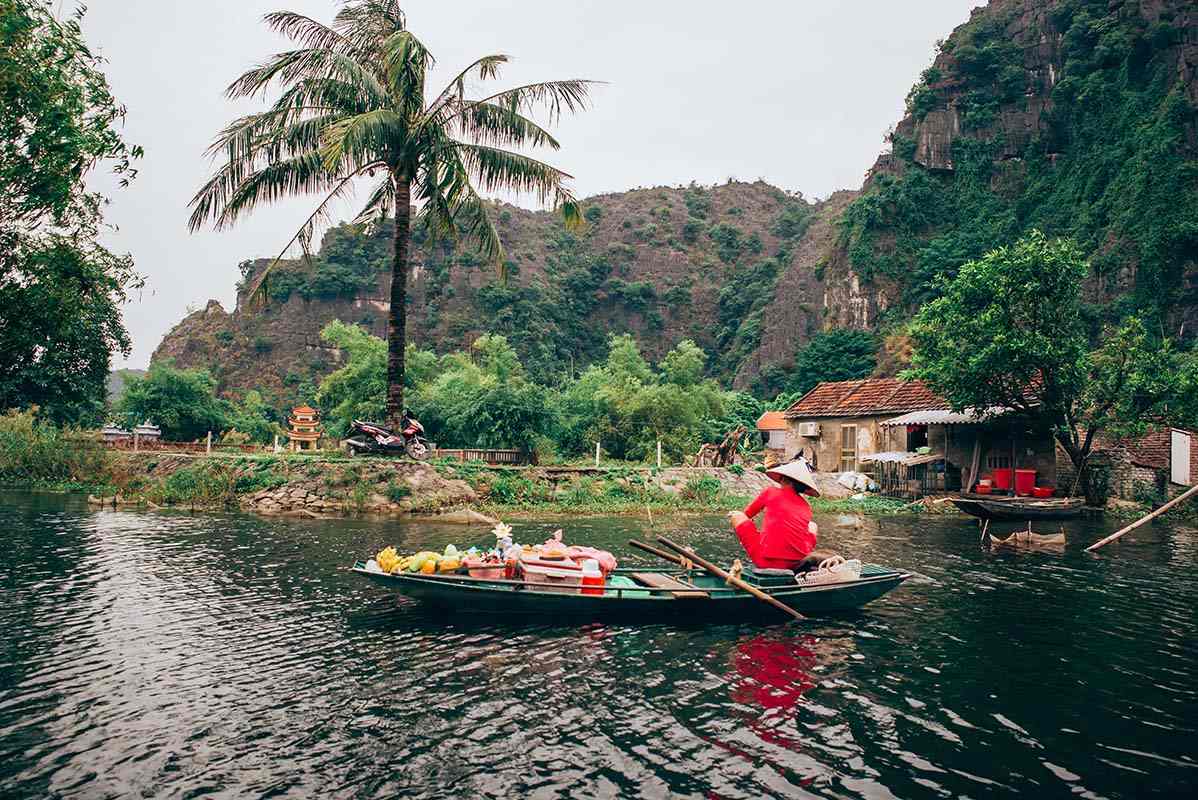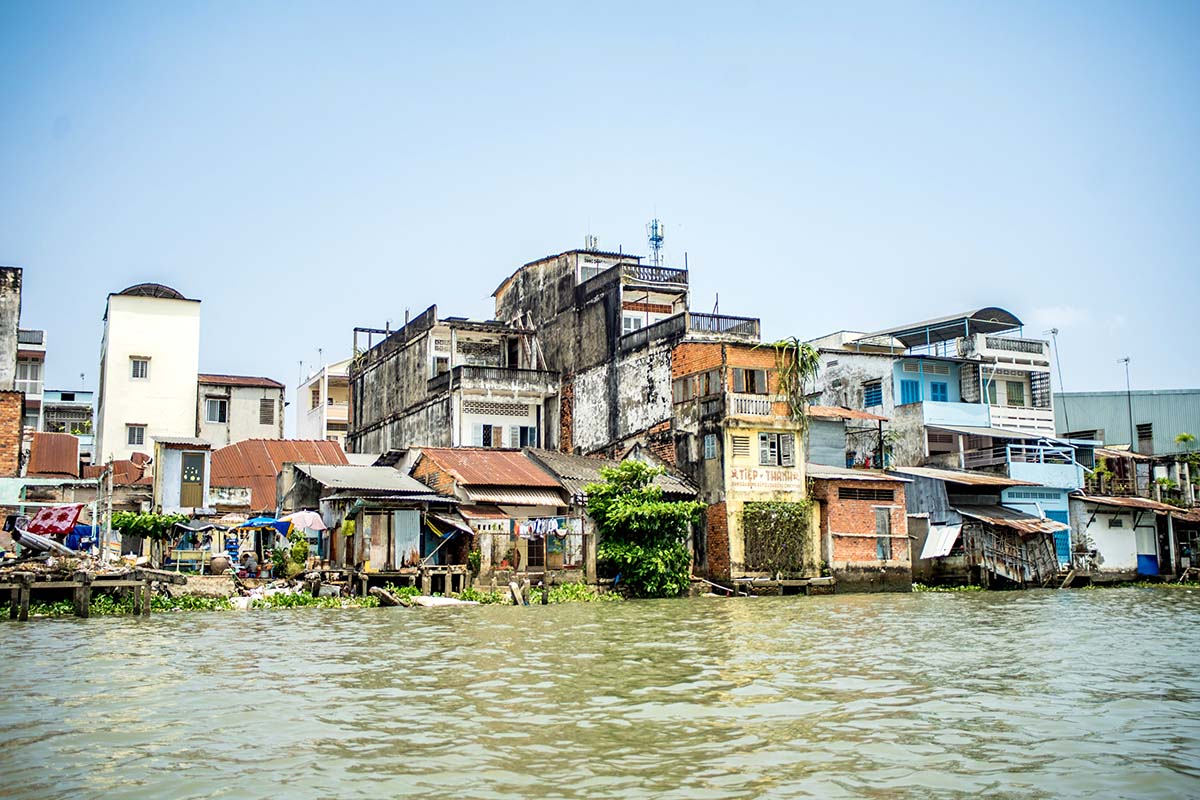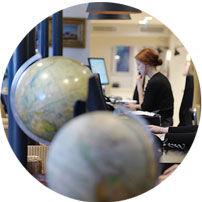 Long trips around Asia aren't just for backpackers, and the temples, scenery and culture in Vietnam, Cambodia and Laos are some of the most impressive and interesting in the world. So, block that time out of your diaries and make this 29-day adventure of a lifetime - we promise you won't regret it!
Route
Everything is 100% tailored to you
DAY 1
International Flight
This is one epic trip, and it all begins with a flight from London to Bangkok. The overnight flight takes 11-and-a-half-hours, leaving around lunchtime.
You will arrive in Bangkok in the early morning and connect across to the onward flight to Hanoi (with your bags checked straight through), which takes just under two hours. You will be met at the airport for the transfer to your city centre hotel, and the rest of the day is yours to spend as you please. Perhaps take a stroll, armed with our detailed destination Dossier, and enjoy a leisurely lunch or, simply enjoy some R&R at the hotel.
Spend a full day today getting to know the historic and vibrant city of Hanoi. You'll be met by a local guide at your hotel and taken to West Lake, where your private guided tour begins. Admire the 6th century Tran Quoc Buddhist pagoda, then move on to the Ho Chi Minh complex, where you'll visit the revered Vietnamese leader's mausoleum, his stilted house and the One Pillar Pagoda, an iconic Hanoian sight. Next up is the Temple of Literature, and then a stop for a delicious local lunch.
After refuelling, the tour continues with an educational visit to one of the city's museums, either the Ethnology or Women's Museum. Both offer a really interesting insight into the city's culture and history before you move on to the city's Old Quarter. This area of vibrant laneways is one of our favourite parts of the city and leads nicely to Hang Be Market and Hoan Kiem Lake. Then, as the afternoon draws to a close, your tour will then finish at the water puppet theatre for the evening performance.
Leave Hanoi behind today and instead head for the calmer waters of Halong and Bai Tu Long Bay. You'll be transferred two hours via the longest bridge in South East Asia to the harbour where your boat awaits. Find your cabin and return to the deck as you embark. The first stop is the islet of Da Chong, where you can see a lighthouse built by the French over 100 years ago. You'll have lunch here before continuing past two beautiful limestone karsts that rise up out of the sea. This area is largely untouched, as not many cruise ships use this route into Halong Bay.

During the afternoon you'll cruise into Lan Ha Bay and stop for a while. This area is known for its pristine beaches and many (400 plus) beautiful islands, so jump in and go for a swim or a kayak to explore.

Be back on board in time for sunset and some evening drinks - perhaps try the local purple liquor, ba kich, before you join the chef for a cooking class or indulge in a massage. Dinner will then be served and you are then free to enjoy the beauty of the bay at night from the top deck, or to have a go at some shrimp fishing.
Wake up before sunrise this morning to enjoy Halong Bay at its very best. As the sun creeps up take part in a tai chi class on the deck, then tuck into a full breakfast in the restaurant. Feeling rejuvenated after a coffee and some food, head out in kayaks to explore more of the bay and explore the Sang Toi cave. It's time to set sail for shore now, but not before you're had brunch and joined the crew for a traditional Vietnamese tea ceremony.

You'll arrive back to dry land on the south side of the bay and will then be transferred to Hanoi airport for an afternoon flight to Hue. Once landed there you'll be collected by a driver to make the short drive to your hotel.
This evening get stuck into local life as you are met by guides to spend an evening zipping around Hue riding pillion on the back of Vespa scooters. You will stop to enjoy the stunning views over the Perfume River from a hilltop with a drink, and then finish off the night by visiting a local family to have dinner and learn about their daily life.
Spend today enjoying a private guided tour through Hue with a knowledgeable local guide. Begin your day at the UNESCO celebrated Imperial Citadel, where your guide will teach you about the ancient and modern history of the Nguyen Dynasty and really make the various monuments come to life. Then, pay a visit to the tomb of Minh Mang before enjoying a home-cooked lunch in a peaceful village. After that, spend a few hours meandering through the lush ornamental gardens that once hosted the royal family. Finally, round off the day with an afternoon boat ride along the Perfume River, and a visit to Hue's iconic Thien Mu Pagoda.
For dinner, ask your guide or us for recommendations or simply wander and graze on street eats.
Leave Hue behind and continue your journey south today as you head to Hoi An. A driver will meet you at your hotel for the three-hour drive, passing through some truly spectacular scenery including the famous Hai Van Pass.
When you arrive in the city and your new hotel, settle in and then head out to begin exploring. We can recommend a restaurant or you might like to simply consult your handy Dossier.
DAY 8
Hoi An Like a Local
Though you might have done some exploring for yourselves yesterday, there's nothing quite like being introduced to somewhere by a local guide. Today, meet yours at your hotel and then head out into the ancient, UNESCO protected town. Learn all about the city's trading history and take in the remarkably well preserved traditional houses as you stroll to the Japanese Covered Bridge. One of only two such bridges in Vietnam, the bridge spans a small waterway and was built more than 400 years ago to connect the Japanese community with the Chinese who lived on the other side of the water. After taking in the carvings that adorn the bridge, move on to a Chinese communal hall and then wander into various handicraft shops and galleries surrounding the main market.
With a greater appreciation of the charming town you then have the afternoon to revisit some of your favourite spots or simply enjoy wining and dining on some lovely local delicacies. You can also spend the afternoon on the beautiful sandy beach just outside of town.
DAY 9
Out Into the Countryside
After a few days soaking up life in the centre of town, it's time to see some greenery on a day trip out into the rural areas surrounding Hoi An. In the comfort of a very cool, open-air renovated US army Jeep, climb into the Truong Son Mountain Range where you'll find rice paddies and tea plantations aplenty. Stop at one of the plantations and see the ancient techniques in use before travelling through the woods to Ba Hom Village, home to the Co Tu people. One of the few remaining hill tribe villages in Vietnam this is a really unique opportunity to see this ancient way of life still in practice.
After lunch on the nearby riverside, opt to either enjoy a scenic trek along the former Ho Chi Minh Trail, or soak in the mountain hot springs. You'll then return to your Jeep and cruise back into Hoi An in time for sunset.
Wake up early today and head to Da Nang Airport with your driver. Here you can catch a direct hour-and-a-half flight to Ho Chi Minh, where you'll be collected and taken to your new hotel in the heart of this bustling city. We have organised a full afternoon of exploring for you. Meet with a respected local scholar and head out for an afternoon exploring the city known as the 'Pearl of Indochina'. With numerous unique and historically significant examples of architecture Ho Chi Minh is a great example of how Indochina's culture has changed over time. Your guide will introduce you to the pagodas, museums and European architecture of the city's recent past to the growing number of skyscrapers, explaining the history behind them all as you walk.
This evening, settle in to this new city with dinner and drinks at a recommended local restaurant.
After a lie in and a leisurely breakfast, enjoy a half day excursion to the Cu Chi Tunnels today. Start by heading down to the banks of the Saigon River, where you will then board a boat to cruise an hour and a half along the water to Cu Chi. Enjoy the scenic views as the city fades into countryside along the river banks as you travel.
Once you dock at the tunnels your guide will lead you into the 124 mile network of tunnels. As you crawl underground you'll get a real understanding of what life was like for the soldiers who lived and fought here during the American Vietnamese War, and your guide will be able to show you various relics and tell stories that bring the experience to life.
After an educational time exploring, board the boat again to head back to Ho Chi Minh for the evening. When you arrive, you can enjoy an evening street food tour with one of our local foodie guides.
Your time in Vietnam has nearly come to an end, but not before you head to the famous Mekong Delta for a few days experiencing rural life on the waterways. Meet your driver at your hotel and make the four-hour drive south to Can Tho, the small city at the heart of the delta. After checking into your hotel, spend this afternoon cycling around the quiet lanes and dirt paths. Cycling is the perfect way to get around here as the roads are flat and the sites are all close together. See little cottages, farms harvesting or planting rice, hidden temples and lots of friendly locals who are keen to interact with visitors. The evening is then yours to enjoy soaking up the atmosphere here.
DAY 13
Floating Market Fun
Rise early this morning and leave your hotel in Can Tho to transfer to the river and board a small boat to explore Cai Rang floating market. Here, during the early morning market hours, larger boats anchor and create lanes that smaller boats weave in and out of. The main items sold here are fruit and vegetables and each boat has a long upright pole at its bow from which samples of the goods for sale are displayed. As visitors and sellers arrive the waterways become a maze of boats packed with all kinds of produce - depending on the season you can expect to see mangos, bananas, papaya, pineapple and even floating pho (a meat and noodle stock - the delicious national dish) vendors. This is the iconic Mekong Delta experience and makes for a really fun morning of bartering and chatting to the locals.
With your fill of shopping, return to dry land and have lunch in Can Tho before you make the three-and-a-half hour drive to Chau Doc. This is the boarding point for tomorrow's cruise which will take you into Cambodia, so enjoy a final Vietnamese meal and then an early night.
After two weeks exploring Vietnam, it's time for part two of your Indochina adventure today. Start your day with breakfast before hopping aboard a luxurious transfer boat to Phnom Penh in Cambodia. The journey is around five hours long and takes you up the Mekong past beautiful scenery and local life on the riverbanks. You should arrive at around lunchtime and will be greeted at the dock in Phnom Penh by a driver who will drop you at your new hotel.
This evening, enjoy a guided food tour as an introduction to the city, which really comes alive at night. Start with a sundowner at the city's highest restaurant before being whisked off by tuk-tuk (motorised rickshaw) to a local restaurant to whet your appetite with some local 'tapas'. Your main course will be at a hidden gem of a restaurant, an absolute local favourite, where you will feast on Cambodian barbeque dishes and local beer. End the evening on the riverfront with coffee and pudding at one of the city's night hot spots or if you'd prefer, you can continue your exploration of Phnom Penh's nightlife from the back of your tuk-tuk.
This morning, you will visit the infamous Tuol Sleng Genocide Museum. This is a former high school that the Khmer Rouge converted into an interrogation centre and prison during the genocide of 1975-1979. More than 17,000 people were tortured there before being murdered at the killing fields outside of the city. After your visit to the museum, visit the killing fields memorial at Choueng Ek, a mass grave site from the genocide.
Pol Pot's brutal attempt to create a society without class resulted in nearly two million people deaths from execution, starvation or disease in Cambodia, and though this might be an extremely morbid morning, it's an incredibly important part of the city's history and a must-do for culturally curious visitors. Thankfully, Cambodia is now an extremely peaceful country, and you can spend the afternoon enjoying that fact as you wander around the city and eat dinner.
Leave Phnom Penh behind today as you meet your driver at your hotel and make the transfer to the airport. From there you'll catch a short 45-minute flight to Siem Reap where you will be met and taken to your new hotel. Over the next few days you'll have plenty of time to explore the famous Angkor temples and other sites around Siem Reap, so today enjoy some R&R. You might like to go for a dip in the pool or enjoy the sunshine with a good book before dinner.
Early this morning you will be met at your hotel before travelling by car to Srah Srang and Ta Prohm Temples. You will then have the opportunity to explore the temples with a walk through the park from the west entrance to the east entrance, where you will meet your driver again. From Ta Prohm you will walk with your guide, through the forest to the less-visited temple of Ta Nei. Since it's relatively remote there is a chance of having this beautiful Angkorian temple to yourself.
While at Ta Nei you will be provided with a light breakfast before exploring further. End the morning at Ta Keo Temple, known as the 'mountain with bronze peaks', and admire its five-tiered pyramid structure, before you return to Siem Reap for lunch.
This afternoon is yours to relax and enjoy a siesta before a fun-filled evening at Phare Circus. Here tightrope walkers, contortionists and acrobats take to the stage for a dynamic artistic spectacle blending visual arts, traditional music, modern dance and classic circus skills.
DAY 18
See Sunrise and Sunset
Rise before the sun today so that you can watch it light up the sky over Angkor Wat temple. With your guide on hand to take you to the least crowded spot and to pass on tips for taking the best photos, you'll see the stunning sunrise sight at its very best. You then have some time to explore the temple up close before returning to your hotel, probably to doze by the pool.
This afternoon, your guide will meet you and take you to nearby Tonle Sap Lake. Once there you'll spend your evening on the water, sitting on a traditional wooden boat as the sun sets, cocktail in hand and listening to bird calls and watching riverside life passing by. There are very few tourists around the lake and after the bustle of Angkor this morning it'll be a welcome relief to feel as though you have the lake to yourselves.
You were up early yesterday so today make the most of the chance to enjoy a lie in. The rest of the morning is then yours to relax at the pool or wander into the centre of Siem Reap to do some shopping.
This afternoon, meet a guide at your hotel for an adventure into the lush and relatively unexplored countryside away from the Angkor complex. Travel through rice paddies, through woodland and across gardens to meet families and local monks who call this part of the country home. You'll travel by various means of transport, in an ox cart, on foot and via boat, and will learn about Khmer culture from your guide, a local himself.
Polish off the day with a traditional dinner in a villa surrounded by rice paddies and overlooking the Western Baray reservoir. As you sip on a sunset drink and the chef prepares your meal, enjoy the unspoilt views and soothing traditional Khmer music.
Nearly another week has passed and today the third and final leg of your trip begins. A driver will collect you from your hotel and take you to the airport in Siem Reap, where you can then catch a direct hour-long flight to Pakse in Laos. Deep in the south of Laos, where most tourists don't venture, Pakse and the surrounding Bolaven Plateau is a beautiful, riverside region. With a driver-guide to meet you from the airport your explorations will get under way straight after the flight. During the day, visit Tad Fane and Tad Yuang waterfalls and a local coffee plantation, where you'll stop for lunch and be taught how the locals harvest and process the beans. You'll also visit the three staggered waterfalls at Tad Lo and meet the local weaving women in Ban Houay Houn village, before eventually arriving at your hotel for dinner.
Visit one of UNESCO's lesser known gems this morning as you are taken on a guided tour of Wat Phou. This tiered temple is built on three levels; the bottom level is focused on the baray (water reservoir) and promenade, the second level features pavilions and galleries of carvings, and the top level is the sanctuary. Though it might not be well known by tourists, this is one of Laos' most revered temples and is all the more memorable for its lack of crowds. Let your guide fill you in on the historic and spiritual significance as you wander around.
Then, when you've soaked up the atmosphere enough, head back to your hotel for an afternoon at leisure, or you can borrow bikes and explore on two wheels.
With history and spirituality, the name of the game yesterday, today is all about nature. Your guide will collect you from your hotel and drive you to the Siphandon region, famous for the 4,000 islands in this stretch of the Mekong River. Once you arrive you'll hop in a boat to travel to your first stop, one of the islands which is perfect for cycling around. Later in the day you'll also travel to visit Lippi Falls, which are called Tad Somphamit, meaning 'trap spirit' by the locals due to their strong spiritual significance, and might spot Irrawaddy dolphins as you cruise between islands.
There will be time for lunch and plenty of time to meet the local residents and simply enjoy exploring. Come late afternoon you'll make your way back to your hotel in time for sundowners and dinner.
It's time to move on to your new destination this morning. Meet your driver and make the drive back to Pakse airport where you'll be able to catch a direct flight north to the under-rated Laotian capital, Vientiane. The flight is again less than an hour long so you'll be arriving in this new city before you know it.
After checking in to your hotel, spend a few hours wandering around and exploring before this evening's food focused tour. With a local guide by your side you'll spend the evening winding through the vibrant street markets, starting with a cold beer at sunset and then moving on to sample a range of local fare from noodles to fried insects (!) and barbequed meat to fruity ice cream. The streets really liven up at night and this is a great way to sample some delicious delicacies and a slice of local life.
It might only have been a flying visit but today you'll leave Vientiane behind and head further north again, this time to Luang Prabang, the jewel in the Laotian crown. A driver will meet you at your hotel after you've had time for a leisurely brunch and will then whisk you off to the airport. The flight from there to Luang Prabang is less than an hour long so you'll be in the capital and meeting your driver by early afternoon.
Once settled into your hotel, the rest of the afternoon and evening is yours to spend exploring and adjusting to the fact that this is the last stop on your epic Indochina adventure. Our Dossier should come in handy when it comes to deciding where to eat tonight.
There is no better way to really get to know a city than on a guided tour with a local expert. So, get up and meet yours at your hotel before setting off for a morning of exploring. A UNESCO protected city, Luang Prabang is full of beautiful temples and secrets spots. Start by visiting the former Royal Palace, which is now a museum, and the neighbouring Wat Mai (wat means temple) temple, which is known for its gold bass relief. Next, move on to Wat Sensoukarahm and then Wat Xieng Thong, Laos' most revered temple, famous for its ornate carvings and beautiful mosaics.
You'll no doubt take plenty of photographs while your guide fills you in on the history of the temples before taking you back into the centre of town. From here you have the choice either to head back to your hotel for lunch or to explore the markets and restaurants in town.
DAY 26
What About Weaving
Weaving and textiles have been at the heart of Luang Prabang's industry for centuries. In that time little about the methodology has changed and so getting to know a bit more about the artisans work is all part of understanding the culture of the city. During a full day's guided tour you'll visit Ock Pop Tock, a crafts centre on the banks of the Mekong River, here you can meet the workers and learn about the processes. Start from the beginning with a visit to the silkworm farm, and then head to the handmade dying area. Next there will be time for a lunch on the riverside before you have the opportunity to get crafty and join the workers weaving this afternoon. As the day draws to a close, head back to town armed with souvenirs and new skills.
It's been one heck of a trip and after 26 days of adventuring, exploring and learning about numerous different cultures, today is your chance to sit back and try to take it all in. You might like to simply sit by the pool and catch some last rays of sunshine, or wander around the city picking up a few trinkets to take home.
However you spend your day, enjoy your last evening at one of the city's best restaurants - our Dossier will help you find the perfect place - and make a toast to a trip of a lifetime.
Just because it's your last day today, doesn't mean it all has to be doom and gloom. In fact, we have planned a special morning experience for you to end the holiday on a real high. Get up early to start by watching the monks on their daily alms collection in the city centre, then head out with your driver guide to the Kuang Si Waterfalls, which are around 45-minutes away in the rural areas surrounding Luang Prabang. Enjoy a gentle walk around the falls before stopping for a delicious and locally sourced picnic breakfast overlooking the turquoise pools.
After you've eaten, spend some more time wandering between the various levels of waterfall and maybe even go for a dip in one of the pools. Then, on your way back to Luang Prabang, stop in at the bear sanctuary and meet the friendly, furry residents.
You'll be back in the city with plenty of time for lunch before you are then taken to the airport for your evening flight home. The flight to Bangkok takes an hour-and-a-half before you connect on to the overnight flight to London, which takes 13-hours.
The flight back to London arrives in the early morning.
A Rough Idea of Price
Dependent on season, accommodation and activities
The estimated cost for this trip is £5,710 to £8,570 per person. The final cost of the trip depends on the way we tailor it especially for you. The final cost varies according to several factors, which include the level of service, length of trip and advance booking time. The exact price will be provided on your personalised quote. The average price for this trip is £6,345 per person.
A few of the benefits of travelling with us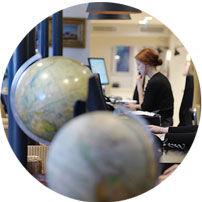 Get in touch
Our experts have the inside track on the destinations they sell and will tailor-make a holiday to your unique requirements.
Contact one of our Cambodia specialists