Itinerary Highlights
City tour of Phnom Penh and its surroundings
Experience colonial era Kep and its famous seafood
Explore the many temples of Angkor, on and off the beaten track
Participate in Luang Prabang's centuries-old alms giving ceremony
Shop for souvenirs at Luang Prabang's colourful night market
Contact one of our Cambodia specialists + 44 (0) 20 3958 6120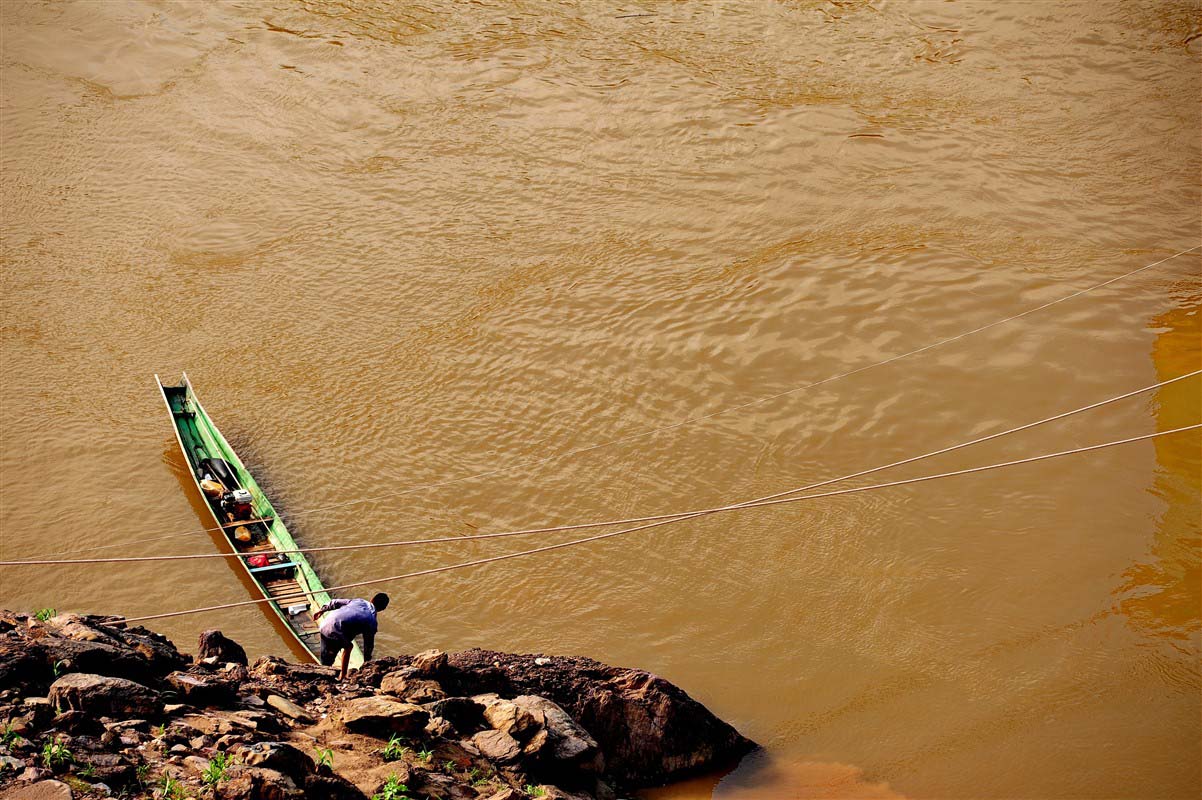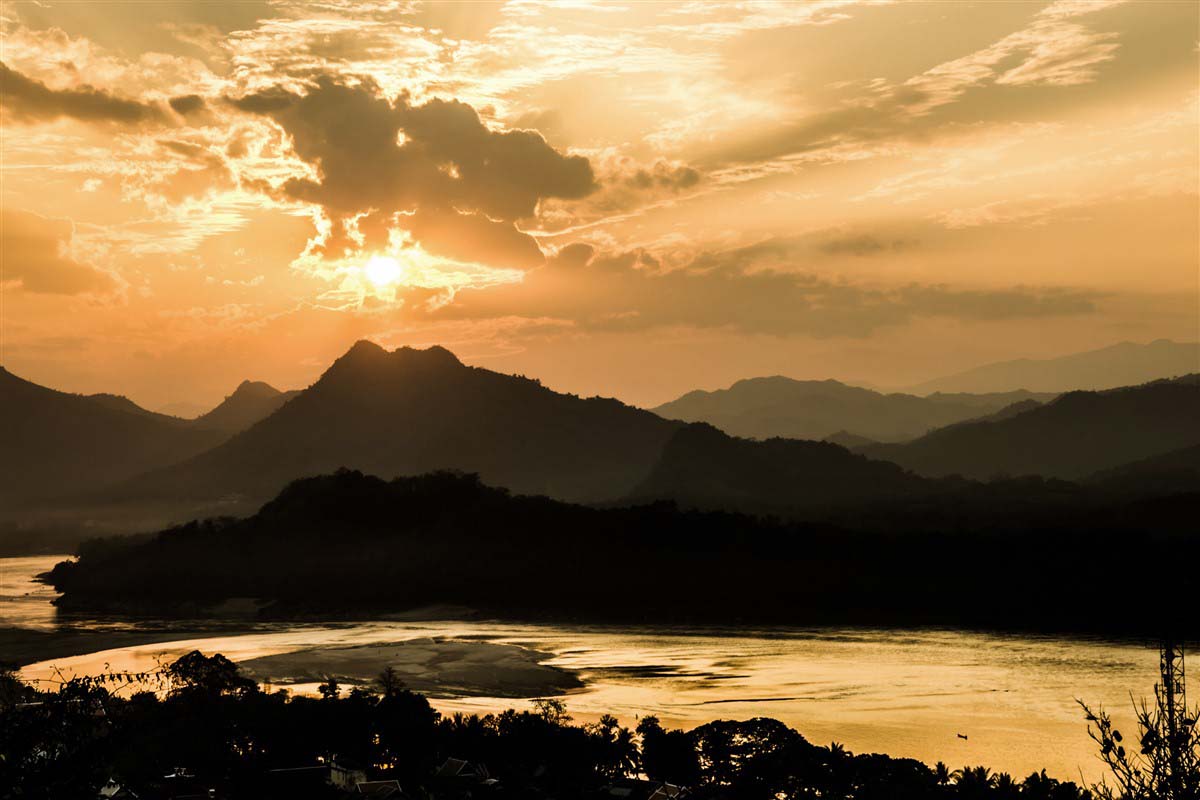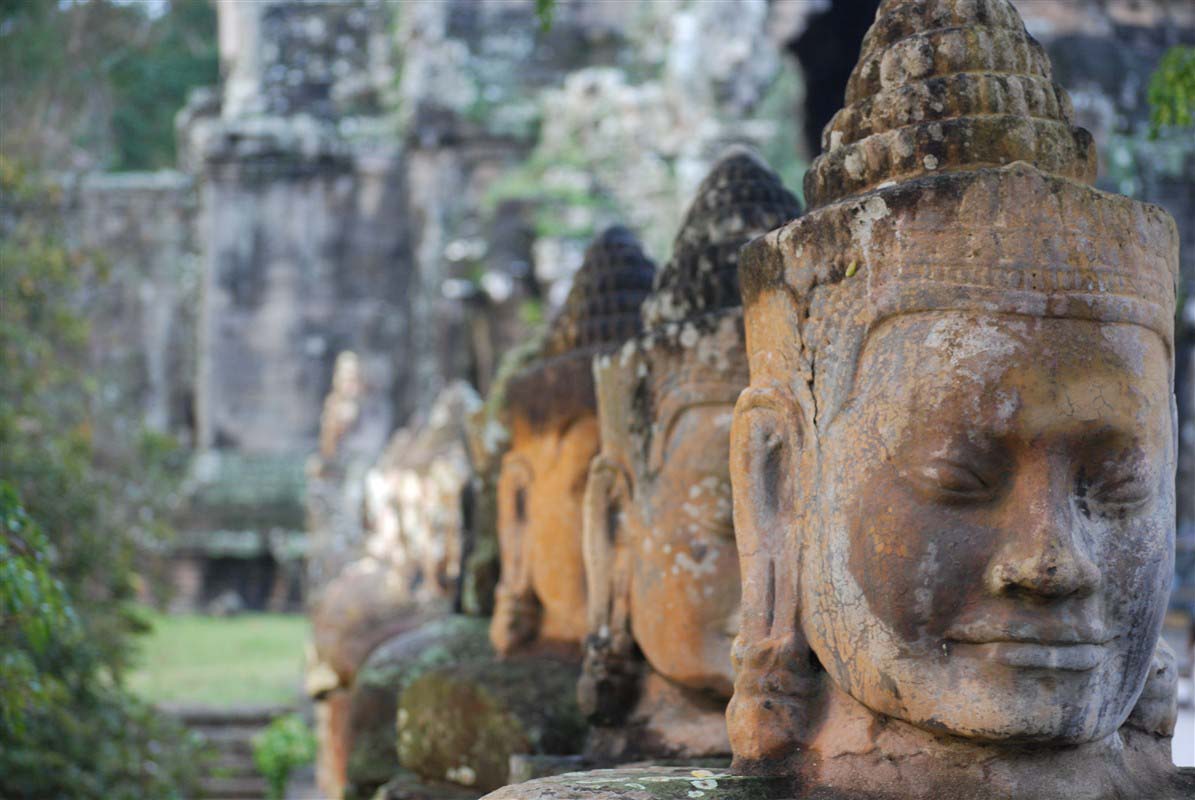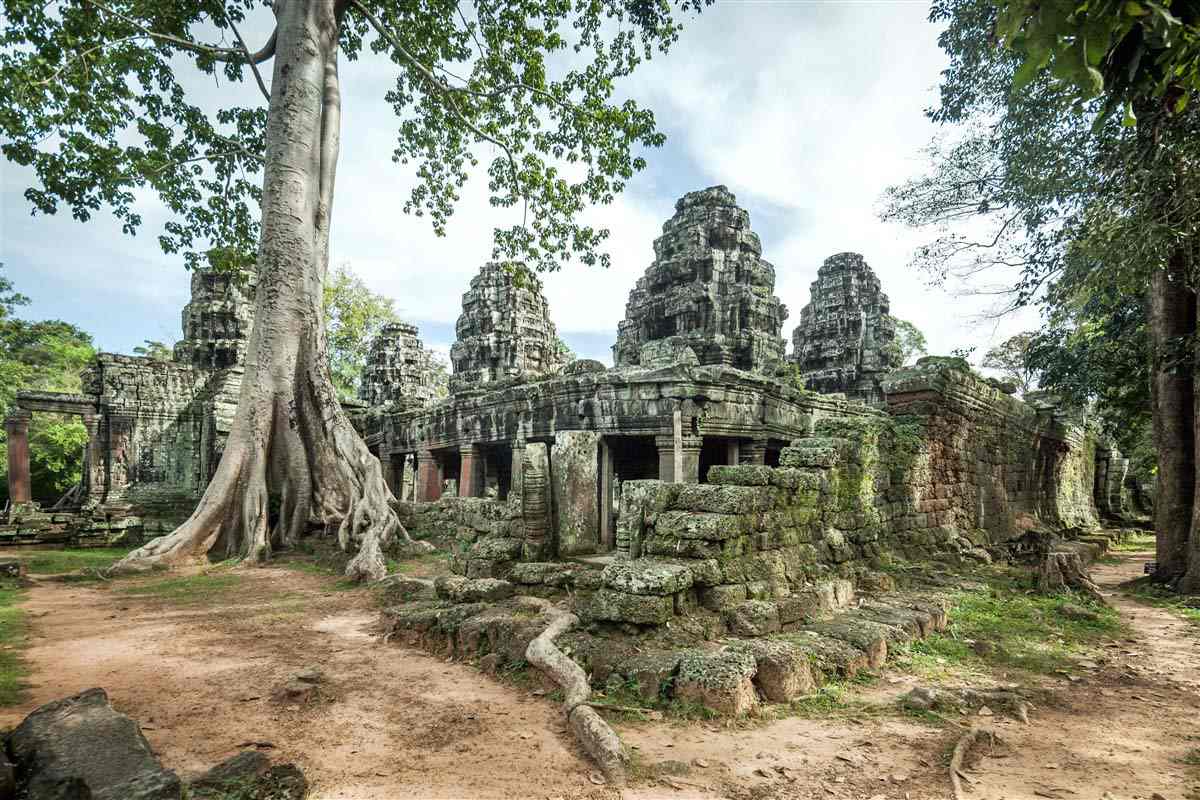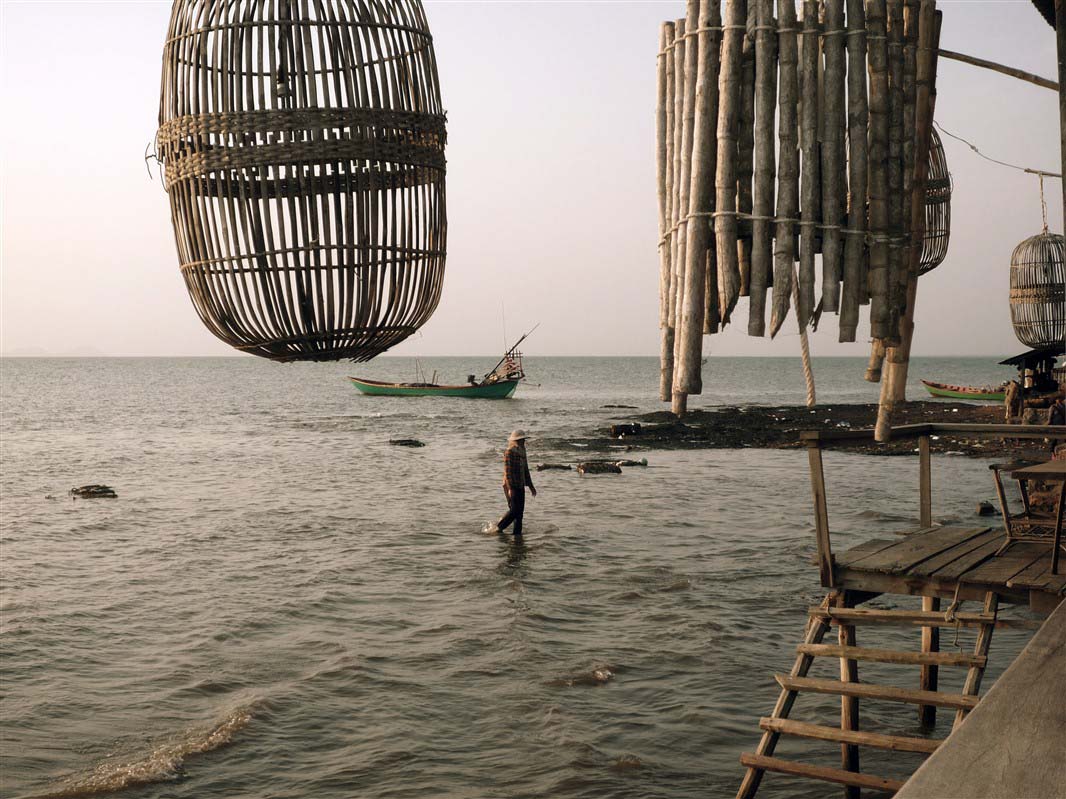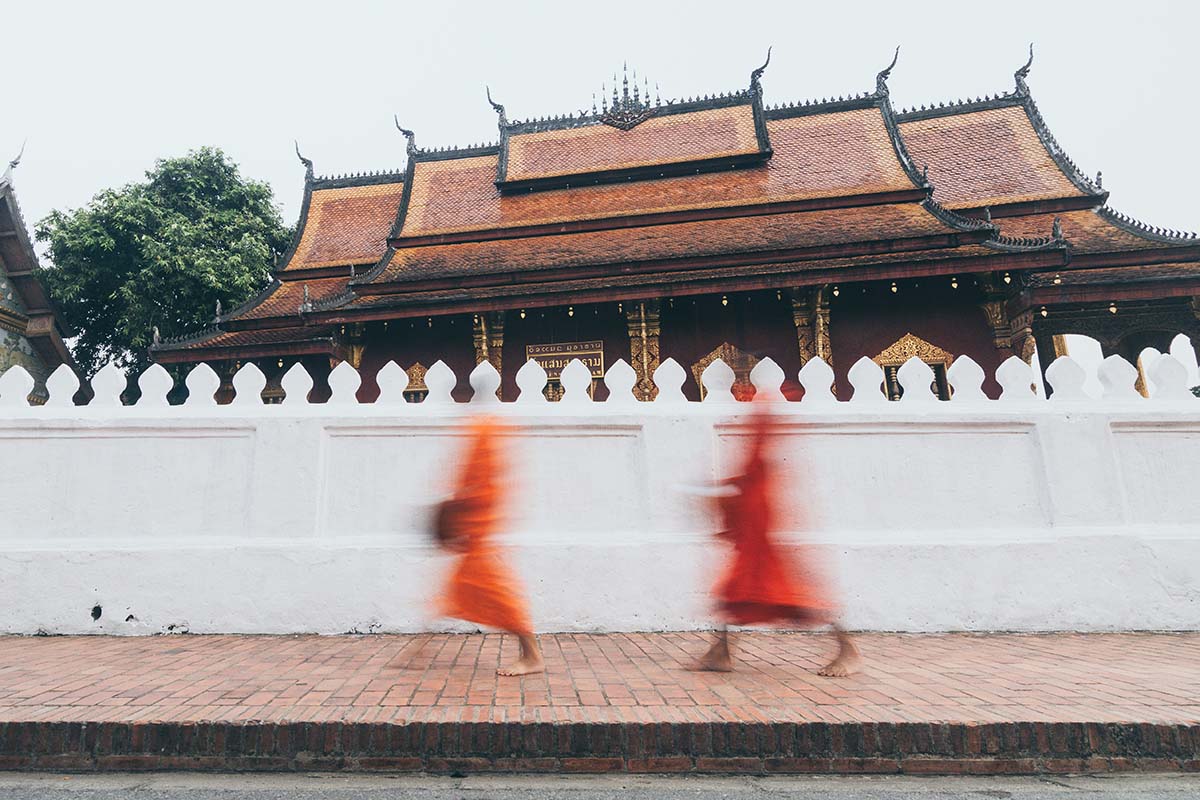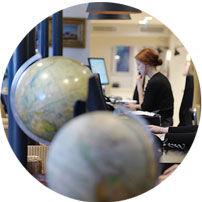 Explore Phnom Penh, the capital of Cambodia and delve into the country's recent and distant past. Next, relaxed Kep with its French colonial architecture and laidback coastal vibe will delight. Angkor's temples are hugely impressive, yet Luang Prabang supplies an equally memorable experience as the trip's splendid finale.
Route
Everything is 100% tailored to you
DAYS 1 & 2
Take off for Cambodia
Take off for Cambodia.
DAY 3
Cambodia Past and Present
Transfer across to a shorter onward flight (anywhere between two and three hours) and arrive into Phnom Penh, the Cambodian capital, in the early morning. We can arrange for a VIP welcome package to skip the queues ready to take a private transfer to your hotel.
We think the best way to beat jetlag is to hit the ground running, so after you've freshened up, you will begin with a city tour of Phnom Penh. Highlights include a visit to King Norodom's Royal Palace and the glittering Silver Pagoda. Spend the rest of the morning admiring Khmer art in the National Museum or browsing the boutiques in Street 240.
After lunch, the programme is harrowing but essential to your understanding of the complicated Cambodian psyche. You see, gentle Cambodia hides a dark past. In the late 1970s, the reign of terror of the infamous Khmer Rouge, led by Pol Pot, tore the country apart. The resultant genocide left the survivors with both visible and intangible scars. You'll visit the Tuol Sleng Genocide Museum, once an interrogation centre and museum, and later the poignant Killing Fields Memorial at Choueng Ek. The term refers to the mass graves dug for the victims of the genocide. Today, the country is finally at peace. Reflect on all this as you sip a nightcap at the bar of the Foreign Correspondents' Club, the former hangout of journalists and now the meeting place for expats and adventurers.
DAY 4
Contrasting Phnom Penh with Kep
They say the best way to get to know a city is with someone who lives there, so we've arranged for you to take a cyclo tour with a local architecture student. As you weave through the traffic of Phnom Penh's vibrant streets at pedal pace, you'll uncover a raft of hidden gems that you'd otherwise have overlooked. From Chinese shophouses to New Khmer via French colonial streets, Phnom Penh's diversity is impressive. This afternoon, you'll transfer by road (roughly three hours) to beautiful Kep, once the jewel in the crown of Cambodia's colonial era towns and now a renowned centre for seafood. Unwind until sunset, when we recommend you stroll down to the pier of the Knai Bang Chatt Sailing Club for a well-deserved sundowner
Once the base for many of Cambodia's expat French community, post-colonial Kep is sleepy; its languorous atmosphere making it a favourite with visitors. Its many abandoned villas become ever more decrepit, but their location against the lush hills behind only gives the place more charm. Today, we'd recommend you try some of that famous seafood, perhaps freshly-caught crab cooked with sweet, fiery Kampot peppercorns. The rickety crab shacks sit in stark contrast with King Father Norodom Sihanouk's residence. Kep's an enchanting place. Exploring the coastal roads, hillside temples and statues overlooking the sea is a real pleasure. Kep's sunsets are legendary and you may wish to take advantage of our optional sunset boat cruise to enjoy it from the water. Alternatively, it's possible to arrange a private dinner at the end of the Knai Bang Chatt Sailing Club's jetty.
DAY 6
Explore Kep your own Way
Today's programme has been left flexible for you to pursue your own interests. Watersports enthusiasts will be keen to rent out a Hobie cat, kayaks or speedboat. Perhaps you'd prefer to spend the day fishing or taking a class in Khmer cookery. You could take a tour to explore some of the caves and Buddhist shrines hidden within the surrounding limestone hills. Hikers will be keen to explore the nearby Kep National Park. A self-guided walk or bike ride on a well-maintained five mile trail circumnavigates the park, winding through shady forest with breaks to view the area's spectacular ocean setting. Other paths lead to sites such as Nun's Pass, Stone Horse and Little Buddha, while a 600ft climb gets you to Sunset Rock to watch dusk descend into night.
DAY 7
Transfer to Siem Reap
Today's destination is the bustling town of Siem Reap, gateway to Angkor and its treasures. First, you'll transfer by road to Sihanoukville, approximately a two-hour drive. From there, catch a domestic flight to Siem Reap where you'll be met on arrival. A private transfer to your hotel has been arranged. What's left of the day is yours to do as you please.
DAY 8
Temples and Terraces
This morning, you'll begin to explore a place on many people's bucket list: the UNESCO-listed Angkor Archaeological Park. First, gape at the awe-inspiring Ta Prohm, where the fat fingers of kapok roots still grasp the temple stones as they have done for centuries. Further off the beaten track lie Ta Nei, buried in the forest, and the 'mountain with bronze peaks', otherwise known as Ta Keo. This afternoon visit sprawling Angkor Thom. This was the world's largest city in the 12th century and today draws travellers from across the globe. Key sites include the Terrace of the Leper King, atmospheric Preah Palilay and the lakes of Phimeanakas. It's possible to arrange a blessing of luck and longevity from a Buddhist monk within the temple grounds. Saving the best until last, you'll come face to stone face with the Bayon before embarking on a leisurely sunset boat ride on Angkor Thom's moat, where the clink of your G&T glasses and roosting birds provides the soundtrack.
DAY 9
Carvings, Causeways and Contortionists
One of Angkor's prettiest temples is surely the pink sandstones of Banteay Srei. Located 22 miles from Siem Reap, it's more than worth taking the time to reach it, passing traditional villages and rice paddies along the way. Admire Banteay Srei's exquisite carvings which cover every inch of the temple walls with depictions of flowers, geometric shapes and religious motifs. Returning to Siem Reap, break the journey at Banteay Samre, built in a similar style to Angkor Wat. Don't miss its stone lions and Naga balustrades as you cross its causeway. After a free afternoon, it's time to head out to the circus. An enthralling blend of tightrope walkers, contortionists, dancers and acrobats create a critically-acclaimed artistic spectacular which will impress and entertain in equal measure.
DAY 10
Awesome Angkor Wat and its Legacy
At first light, the sun's rays appear behind Angkor Wat's distinctive lotus-shaped towers, flooding the sky with an ethereal rose glow. It's a magnificent sight. This was once a Hindu mountain temple, later converted to a Buddhist monument. Wander the courtyards and corridors to gaze at intricate bas-reliefs which depict battles and tales from Hindu mythology. Climb the steep steps up to the Bakan, Angkor Wat's inner sanctuary, for views across the surrounding countryside. This afternoon explore a rural landscape little changed for centuries. Ride in an ox cart and explore on foot or by boat those off the beaten track areas to gain an intriguing insight into the legacy of the Khmer Kingdom. Marvel at the Western Baray man-made reservoir, receive a blessing from Buddhist monks and sip a sundowner in the still of the sunset hour. Be serenaded by traditional Khmer musicians while you enjoy a delicious dinner in this magical setting.
DAY 11
Transfer to Luang Prabang
This morning there will be time to do some last minute souvenir shopping in Siem Reap's boutique shops and markets, or take a leisurely swim in the hotel pool. You'll need to be ready for an early afternoon transfer to the airport in time to catch your direct flight north to Luang Prabang. Flight time to the most beautiful city in Laos is under two hours, just enough time to dip into your guidebook or our detailed Dossier to prepare you for what's on offer. On arrival, our guide and driver will be waiting for you at the airport to transfer you to your boutique hotel. Pop out to buy your offerings for tomorrow's alms giving; rice, fresh fruit or snacks are all acceptable. Tonight, dine at L'Elephant which serves Lao and French cuisine, using produce grown in their garden.
DAY 12
Exploring the UNESCO-Listed Luang Prabang
Rise early this morning to witness the alms giving, a practice that has taken place since the 14th century. You'll need to take your place before the monks process down the street to show the appropriate respect; if you wish to take photographs, it's acceptable to do so as long as you step back from the line. When the monks pass, kneel barefoot as you make your offering, head bowed. After breakfast, head out again with your guide to tour the Royal Palace (now the National Museum) and nearby Wat Mai, a Buddhist temple with spectacular gold-leaf bas reliefs. Your next stop, Wat Sensoukarahm, is similarly dazzling. Finally, stop at 16th century Wat Xieng Thong. After a free afternoon, we'd recommend you visit Luang Prabang's famous night market, with its rows of colourful piles of handicrafts and enticing street food stalls.
DAY 13
Venture into the Lao Countryside
It would be a shame to leave Luang Prabang without seeing something of its surroundings. Hop in a tuk tuk to travel beside the Mekong River as far as Wat Chom Piet, an ancient temple once used by the King as a retreat. Visit Wat Long Khoun to admire its well-preserved murals. Venture further into the countryside to meet residents of a Khmu village who subsist off the land and maintain the traditions of their ancestors. Next, pay a visit to the Hmong village of Ban Pak Leung before catching a boat to Ban Chan, known for its pottery. The boat will take you back to Luang Prabang, the breeze on your face as you drift through the verdant surroundings. This evening, we've arranged a blessing ceremony at the delightful hillside temple of Wat Phou Kouey. Rhythmic chanting for luck and good health is followed by the solemn practice of knotting a bracelet around your wrist.
This morning is free for you to relax though you may wish to head out to pick up any last minute souvenirs or gifts. After lunch, transfer to the airport or your departing flight, travelling overnight back to London and connecting through your chosen Southeast Asian hub city. The return legs should take some 15 or so hours.
This morning you will arrive back into London.
A Rough Idea of Price
Dependent on season, accommodation and activities
The estimated cost for this trip is £3,655 to £4,465 per person. The final cost of the trip depends on the way we tailor it especially for you. The final cost varies according to several factors, which include the level of service, length of trip and advance booking time. The exact price will be provided on your personalised quote. The average price for this trip is £4,060 per person.
A few of the benefits of travelling with us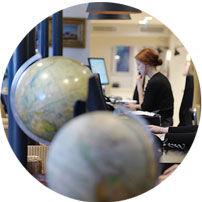 Get in touch
Our experts have the inside track on the destinations they sell and will tailor-make a holiday to your unique requirements.
Contact one of our Cambodia specialists